Add & stake to earn your share of $25000 in incentive rewards on Ethereum!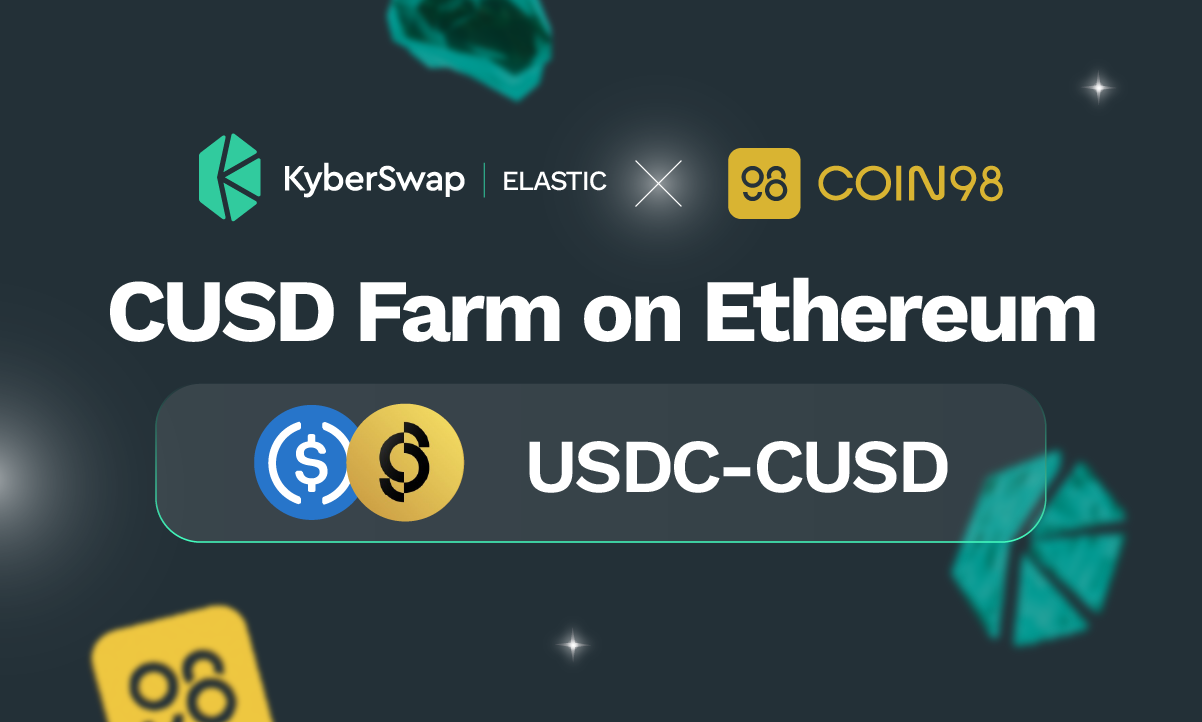 Coin98 CUSD Farm on KyberSwap
Coin98 (C98) has chosen to enhance liquidity on Ethereum for their newly launched stablecoin CUSD on KyberSwap Elastic!
Dubbed as an all-in-one DeFi platform designed to provide DeFi's most prominent features in one place, Coin98's infrastructure features a decentralized exchange, multi-chain wallet, coin launching, financing, and auditing services.
DeFi is fragmented, therefore it becomes difficult for new DeFi traders to discover all these tools at once and/or switch chains. Coin98 solves that by combining all popular features in one platform — providing accessibility from the same wallet.
KyberSwap has been long-time partners with Coin98, with Coin98 Wallet being one of the first supported wallets on KyberSwap's platform.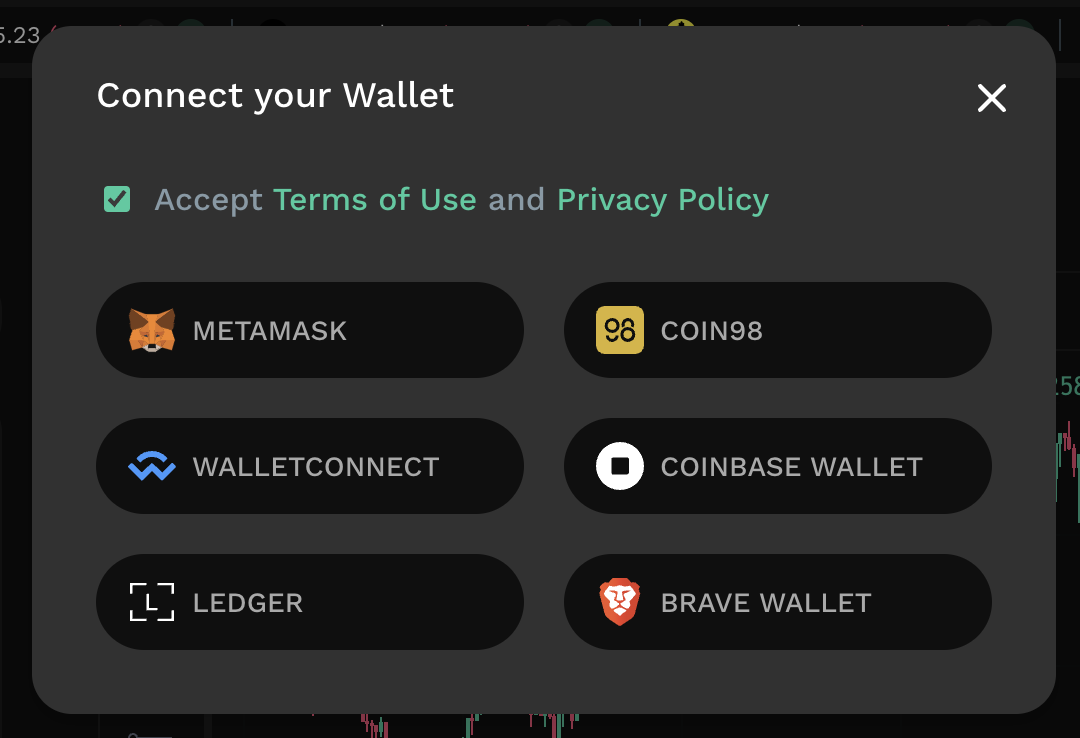 Coin98 Wallet on KyberSwap
And now, KyberSwap is proud to show further support for Coin98 by hosting a liquidity mining campaign for their newly launched stablecoin CUSD!
From 19 Sept, CUSD & USDC LPs can deposit and stake their liquidity position NFT on KyberSwap Elastic and earn $C98 rewards!
With KyberSwap's Elastic protocol, LPs can enjoy concentrated liquidity and compounding fees, giving you higher capital efficiency and maximising rewards!
*Learn more about KyberSwap Elastic here.
What is CUSD and how can I get it?
Coin98 Dollar (CUSD) is a USD pegged stablecoin related to other stablecoins like USDC, USDT and BUSD, providing cross-chain liquidity for all chains. CUSD is absolutely insured and backed by reserve assets. The audit of CUSD contracts is public.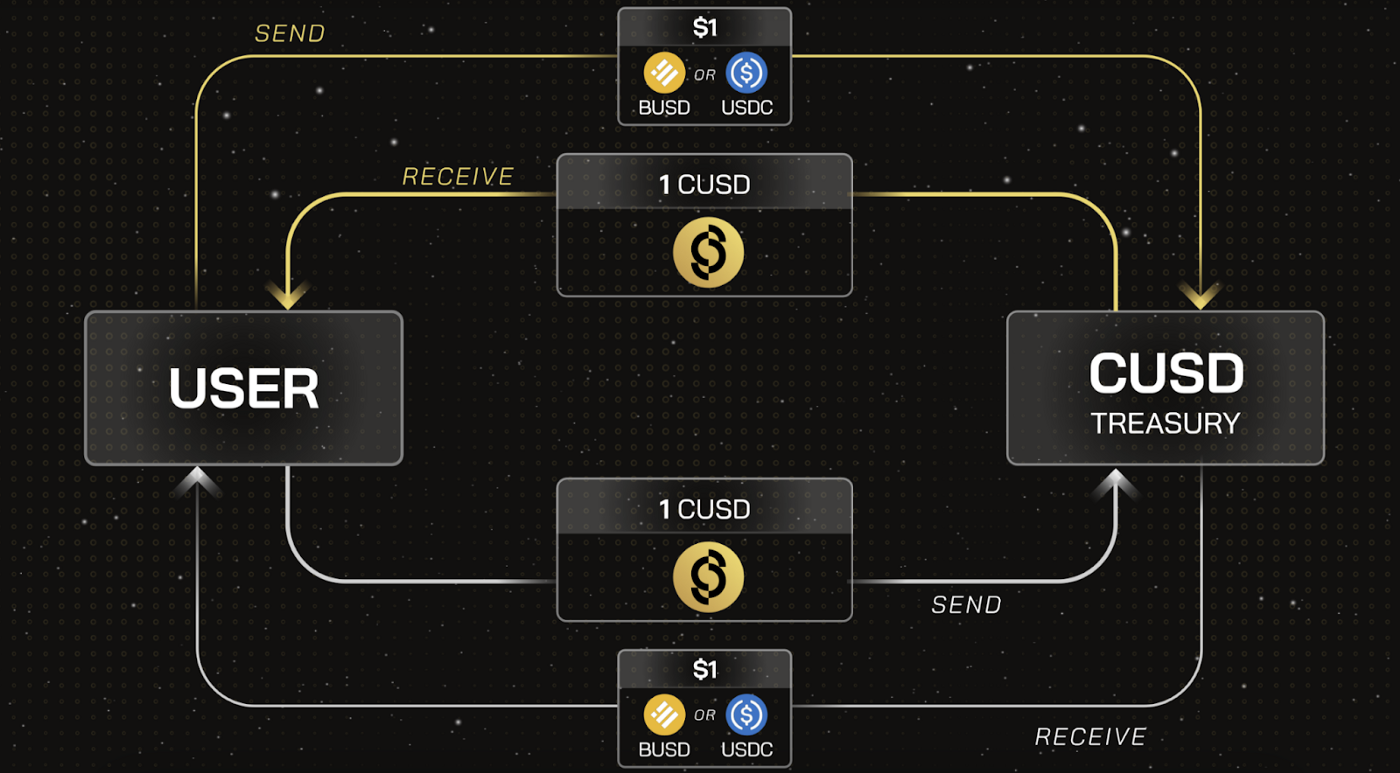 Coin98 CUSD
CUSD is developed to be the "lifeline" of the Coin98 ecosystem, bringing a seamless, unified cross-chain liquidity movement to present / approaching infrastructures.
The consumer ought to submit Treasury in USD (CUSD Treasury) a single of the two stablecoins is BUSD or USDC to release CUSD. Conversely, if it is not essential to use, the consumer has to spend CUSD re-enter Treasury in USD to get it back BUSD or USDC.
The easiest way to get CUSD would be to buy directly on KyberSwap Ethereum. Buying on KyberSwap gets you the best rates too!
Learn more about CUSD here.
What is C98?
C98 is Coin98's native cryptocurrency, and has a spot on the Ethereum blockchain, the Binance Smart Chain, and then the Solana Network.
C98 holders enjoy multiple benefits. First off is those who hold the coin earn network transaction fees, and they can stake the asset as well to earn rewards. Token holders have a say in governance as well, enabling users to both submit and vote on proposals and updates.
As users buy and hold more C98, they earn additional benefits like airdrop participation, early access to new project launches within the network, and more.
Important Details:
Eligible Pools (Fee Tier):
Farming on KyberSwap Elastic
Deposit Liquidity
On KyberSwap, under "Earn => Pools", select [Elastic Pools]
Add liquidity to the eligible pools at the fee tiers mentioned above.
Key in your deposit amount for the token pair. Approve the tokens if you have not done so earlier.
Input a custom price range in which you would like to provide liquidity by indicating the min price and the max price of that range. A narrower range gives your higher concentrated liquidity and more fees, while a bigger range would give a higher chance of the pool always being active (and get yield farming rewards).
After adding liquidity, you will receive an NFT (non-fungible token) that represents your liquidity position. (You can view your liquidity positions on the "Earn -> My Pools" page.)
Note: While you can deposit both 'Out of range' and 'In range' liquidity positions, only your 'In range' liquidity positions will earn you farming rewards.
If your 'Out of range' liquidity position becomes active again, and you've already deposited it into the farming contract, you'll start earning rewards for this liquidity position as well.
So make sure when you add liquidity, input a min and max price for your chosen token pair that would not go out of range!
Staking
On the "Farm" page, select the same farm you added liquidity for. Click [Deposit] and select your liquidity position NFT (ID number). Click [Deposit Selected], approve and wait for your transaction to be confirmed.
*IMPORTANT* After depositing your liquidity position NFT, click the [+] button to stake your deposited NFT.
Note: If the [+] button is disabled, it means that you haven't deposited your NFT liquidity positions into the farming smart contract yet. You MUST stake your liquidity position NFT in the farm to start accumulating rewards (depositing the liquidity position NFT earlier is not enough).
Harvesting & Claiming Rewards
On the "Farm" page, click the "axe" icon button on the far right of the farm you want to harvest from, or the "Harvest All" button.
A "Harvest" popup will be displayed and you can see the rewards you have accumulated so far in terms of total dollar value and in terms of individual tokens. Click on "Harvest".
To claim rewards, click on [Vesting] on the Farm page and click on [Claim] button under [Vesting Schedules] to claim the harvested rewards that have been unlocked.
If there is no vesting period, your rewards are unlocked immediately after harvesting them.
Unstaking
To unstake your NFT, simply click on the [-] button on the Farm.
You will see a popup prompting you to select the liquidity position NFT you wish to unstake. Make your selection and click [Unstake Selected]. Confirm and wait for your transaction to go through.
For more detailed instructions on farming with Elastic pools, please visit: https://docs.kyberswap.com/guides/how-to-farm
You can also view farming tutorials directly on KyberSwap or watch our tutorial video here:
Looking to make the most of your assets during the Bear Market? Check out our other Farms on Polygon & Avalanche!
More rewards and incentives are coming soon so stay tuned to our announcements!
KyberSwap — Trade & Earn at the best rates