Swap and earn tokens at the best rates on KyberSwap.com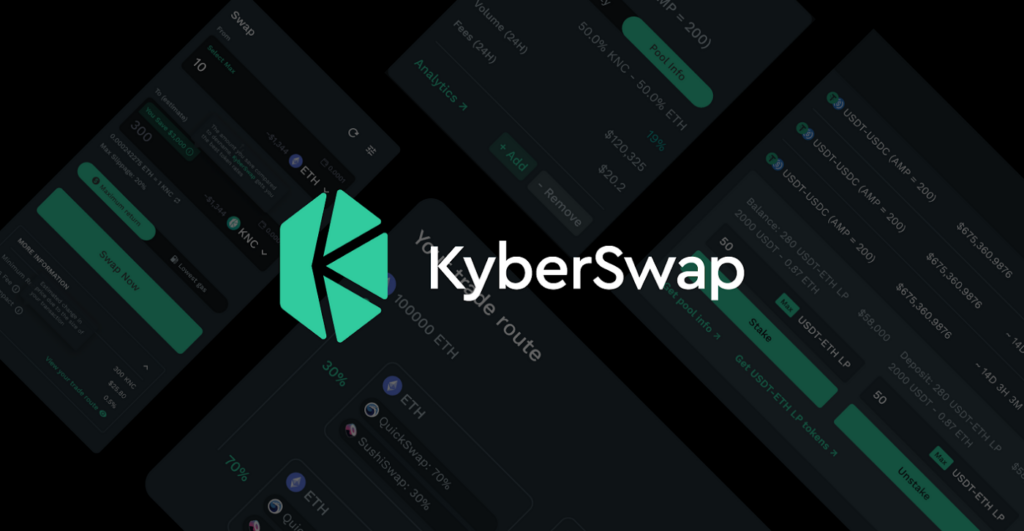 Kyber's DMM protocol (dmm.exchange) has now rebranded to KyberSwap (kyberswap.com), marking the end of our beta phase and symbolizing a renewed focus on providing the best venue to swap and earn tokens in DeFi.
The beta version of DMM was created as DeFi's first dynamic market maker protocol, with significant advantages over typical AMMs/DEXs, especially in terms of capital efficiency and fee optimization. Since our beta launch, we have sought to bring value to traders, liquidity providers, and developers in DeFi.
DMM has already achieved various milestones while in beta:
Multi-chain deployment on Ethereum, Polygon, BSC, Avalanche, and Fantom
Launched Dynamic Trade Routing to aggregate liquidity for the best rates, as well as Single Token Deposits for providing liquidity easily
ATH of $50B+ in AMP liquidity
~$4B in trade volume
$30M+ in liquidity mining incentives awarded
$4M+ in fees for thousands of LPs
Integrations with Coin98 Wallet, Kattana Trade, Rome Terminal, as well as other top Aggregators such as 1inch, Paraswap, 0x API, Matcha and Slingshot.
The original name used in the beta phase, 'DMM', was meant to quickly remind users of what the protocol does and its unique features and benefits; Dynamic Trade Routing for the best rates, Dynamic Fees for higher returns, and Amplified Pools for higher capital efficiency. Having a separate domain dmm.exchange from Kyber Network also highlighted the fact that DMM is just one of multiple protocols within the Kyber liquidity hub.
Say Hi to the New KyberSwap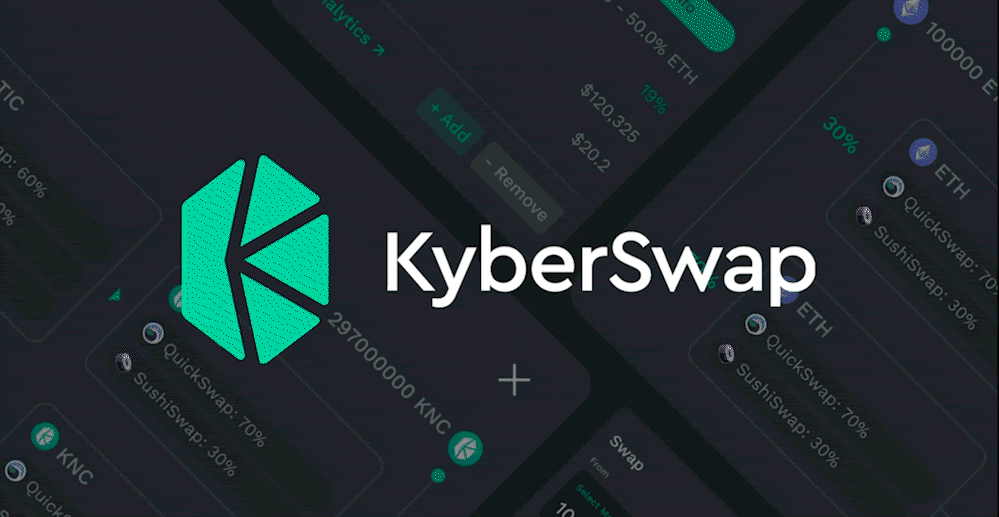 Kyber is a community-driven project and we always welcome more suggestions to help us improve. We are incredibly grateful to our community for their valuable feedback about the DMM protocol during its beta phase.
Now, as we make plans to transition out of beta into a full-fledged DEX and liquidity aggregation platform catering to millions of users around the world, we realize that 'DMM' may no longer be a suitable name for the protocol. This sentiment has also been echoed by the Kyber community, with many feeling that 'DMM' is not easily remembered and does not adequately reflect what the product does or its association with Kyber and KNC.
As such, we have decided to give DMM a makeover — introducing the new KyberSwap!
KyberSwap is a short, succinct name that connotes power and performance, representing how the protocol enables users to instantly swap tokens at the best rates.
By sharing the same logo and 'Kyber' prefix, KyberSwap has a much stronger association to Kyber Network and KNC and our ultimate vision of creating a sustainable liquidity infrastructure for DeFi. This brand consistency also allows us to streamline our marketing assets, developer documentation, and education materials to make understanding, using, and integrating the liquidity protocol a breeze for everyone.
Swap and Earn Tokens at the Best Rates
KyberSwap may be a new name for the protocol, but we remain committed to our mission to be the best place in DeFi for users to swap and earn tokens at the best rates, with the best user experience.
For Traders
Swap thousands of tokens at the best rates instantly, without limits. With dynamic trade routing, we aggregate liquidity from multiple DEXs to find the best trade route and price for you on each chain in the most efficient manner.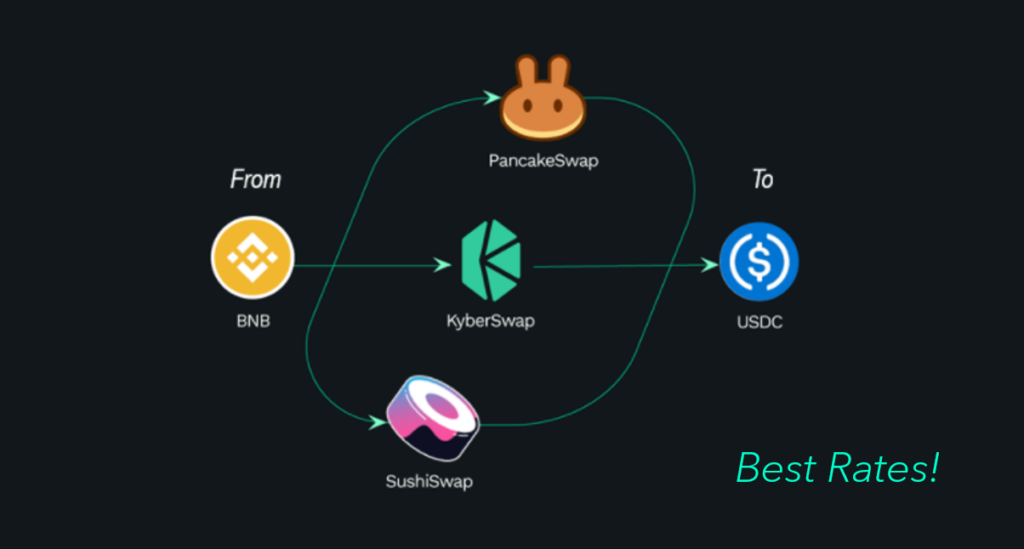 KyberSwap's DEX Aggregation helps you save!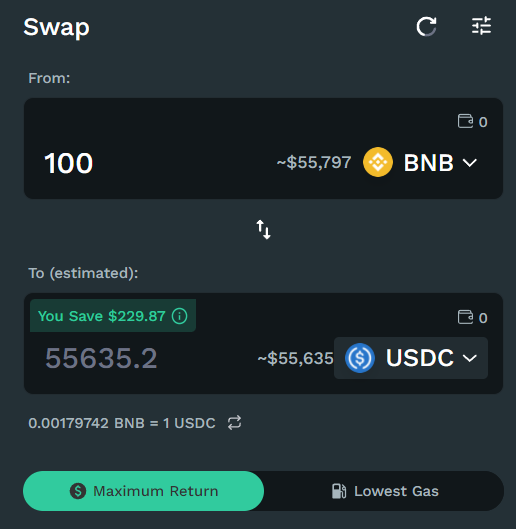 For Liquidity Providers
Earn more fees and rewards with your crypto assets by depositing tokens into our pools. Enjoy much higher capital efficiency with amplified pools and lucrative yield farming opportunities (check out the ongoing $50 Million liquidity mining campaign with Sipher!). This is permissionless and open to any liquidity provider.
For Developers
Integrate KyberSwap with your Dapp to allow your users to access the deepest liquidity and the best swap rates. This is open to any Dapp or DEX Aggregator. Reach out to us here.
Moreover, KyberSwap is reliable and secure, allowing you to trade with confidence. The codebase has been audited by external auditors such as Chain Security and is open source on Github for community review. In addition, KyberSwap doesn't use 3rd-party oracles so it is not vulnerable to external oracle risks and it is covered up to $20 Million by decentralized insurance provider Unslashed Finance.
New features include:
Upgraded Aggregation Algorithm: KyberSwap now can find the optimal route and split trades through 30 DEXs (over $26 Billion in combined liquidity catering to 20,000+ tokens), including KyberSwap's own liquidity pools, to find the best rate on five different chains — Ethereum, Polygon, BSC, Avalanche, Fantom, and Cronos.
Popular exchanges such as Uniswap, Sushiswap, Curve, Balancer, QuickSwap, Pancakeswap, Traderjoe, Pangolin, SpookySwap, SpiritSwap, VVS Finance, and more have already been integrated.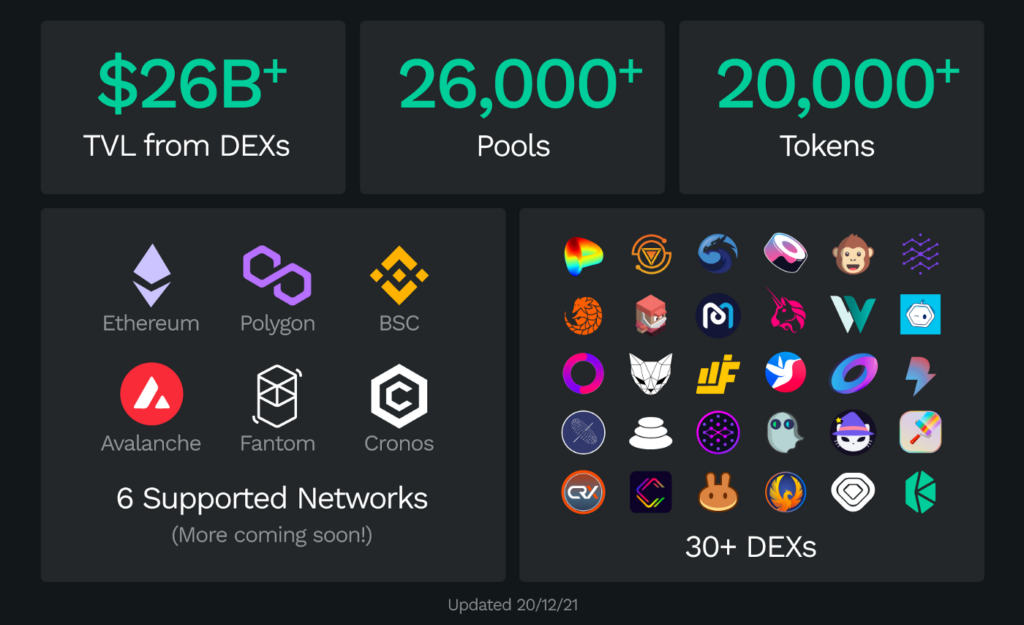 Single Token Deposit: UI/UX has been significantly improved based on users' feedback, and users now can provide liquidity with one single token and receive the corresponding liquidity provider (LP) tokens.
Multi-Chain Expansion: Kyber will soon deploy NEAR (Aurora) and other networks to provide the best trading and earning experience for more DeFi users.
Improved Swap API for developers: By using KyberSwap's improved API, it is now even easier to integrate token swaps into your Dapp and enjoy liquidity aggregation for the best token rates.
What does KyberSwap mean for existing DMM users?
NO ACTION IS REQUIRED from current traders, liquidity providers or yield farmers. You can just continue using the protocol while having an even more seamless trading experience. Dapps and aggregators that have integrated the DMM protocol previously at the smart contract level will continue to enjoy access to the deep liquidity offered.
However, the previous DMM name and logo should be replaced by the new KyberSwap branding. The official url is now kyberswap.com and users visiting dmm.exchange will be automatically redirected to kyberswap.com (please bookmark the new url).
We will work closely with Dapps and data analytics sites such as CoinGecko, Coinmarketcap, DeFi Pulse, DeBank, DeFi Llama, vfat.tools, APY.vision, Token Terminal, and DEXTools to accurately update all the DMM virtual real estate on their sites to the KyberSwap branding.
As a core part of the protocol, the KNC token will continue to exist and will play an increasingly important role on KyberSwap, incentivizing trading and liquidity, as well as enabling governance. KNC token holders will greatly benefit from the growth of KyberSwap.
Increasing KyberSwap Adoption
With the various improvements made during our beta phase, KyberSwap is now well positioned for growth and adoption. Projects like Pegaxy, Elpis Battle, ZukiMoba, Unbound, Evrynet, DeFi Warrior, Creator, StepHero, and many others have already chosen KyberSwap to be their liquidity platform of choice right after their token sales.
We are also running a $50 Million liquidity mining campaign with Sipher!
KyberSwap is a constantly evolving product that gets enhanced over time and strong community support would help bolster future success, so please continue to share your ideas! It is up to us as a community of KNC holders to shape Kyber's future together.
More exciting updates and initiatives are coming to acquire more users and boost volume and TVL, including those with new DeFi partners!
Stay tuned and thanks again for your strong support!
---
About Kyber Network
Kyber Network is building a world where any token is usable anywhere. KyberSwap.com, our flagship Decentralized Exchange (DEX), provides the best rates for traders in DeFi and maximizes returns for liquidity providers.
KyberSwap powers 100+ integrated projects and has facilitated over US$7 billion worth of transactions for thousands of users since its inception. Currently deployed across 11 chains including Ethereum, BNB Chain, Polygon, Avalanche, Fantom, Cronos, Arbitrum, Velas, Aurora, Oasis and BitTorrent.
KyberSwap | Discord | Website | Twitter | Forum | Blog | Reddit | Facebook |Developer Portal | Github |KyberSwap| KyberSwap Docs