~$30M in rewards to liquidity providers to enhance liquidity on both Ethereum and Polygon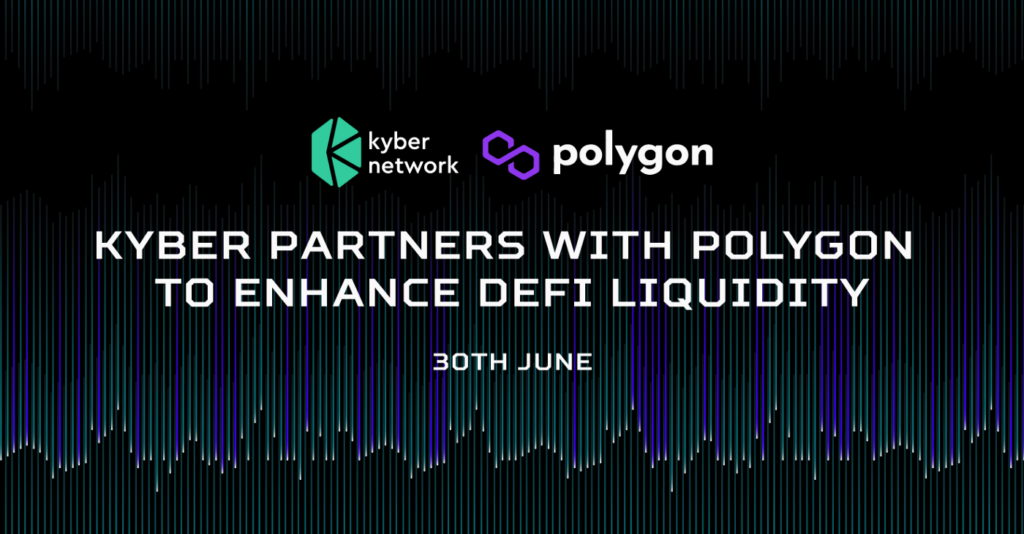 UPDATE: DMM has now rebranded to KyberSwap.com! Learn more.
Following the approval of KIP-9 by KyberDAO, we are excited to share that the KyberSwap (previously known as DMM), a new multi-chain DEX protocol in Kyber's liquidity hub, will be deployed on the Polygon network on 30th June.
This is coupled with the launch of 'Rainmaker' — our very first liquidity mining program on Polygon and Ethereum with approximately $30M in rewards!
What is Polygon?
Polygon is a popular and easy-to-use platform for Ethereum scaling and infrastructure development. More than $6.5 billion worth of Ether and Ethereum-based tokens have been locked within smart contracts on Polygon, and over 356 projects are building on Polygon's ecosystem. Polygon presents an attractive Ethereum scaling solution for DeFi users, with lower gas costs and a faster block processing time.
Partnering with Polygon to Enhance DeFi Liquidity
Kyber will be working closely with the Polygon team to ensure a successful KyberSwap deployment, enhance liquidity for DeFi, and bring more users, developers, and Dapps to Polygon.
Being an extremely capital efficient and flexible liquidity protocol, KyberSwapcan cater to Polygon's diverse ecosystem of Dapps and DeFi use cases, and enable liquidity providers to maximise the use of their capital. In addition, using KyberSwap on Polygon allows for a cost efficient user experience during trading and liquidity provision.
As a DEX aggregator, KyberSwap also provides the best rates to traders!
With the deployment of KyberSwap on Polygon, a portion of trading fees generated will go to KyberDAO, complementing the existing KyberSwap protocol deployment on Ethereum.
"Liquidity is a crucial element in any DeFi ecosystem and we're glad to work with Kyber Network to help enhance liquidity on Polygon through the KyberDMM protocol!"
– Sandeep Nailwal, Co-founder and COO, Polygon
Rainmaker Liquidity Mining Program
Beginning on 30th June, the Rainmaker program will distribute an estimated total of $30M in rewards over the course of 3 months to eligible KyberSwapliquidity providers (LPs). The aim is to incentivize liquidity providers and developers to use KyberSwap by providing high yield on eligible token pairs, and in the process enhance liquidity for both the Polygon and Ethereum DeFi ecosystems.
Liquidity providers on KyberSwap receive LP tokens (representing their liquidity pool share) which they can stake in the eligible liquidity mining pools to earn additional KNC or MATIC (Kyber's and Polygon's governance tokens) rewards on top of protocol fees during the program period.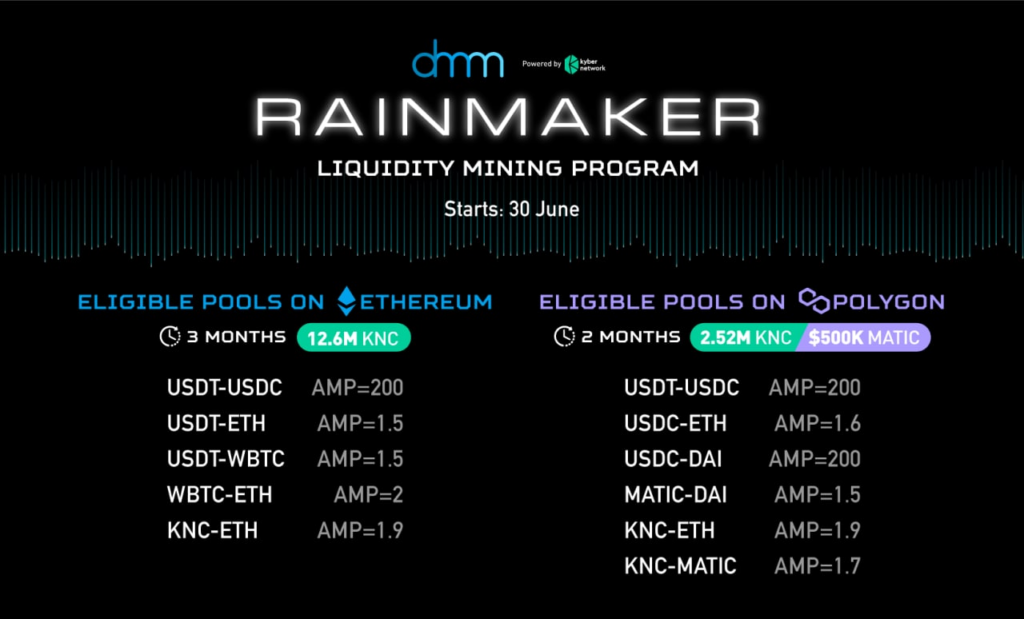 AMP = Amplification factor. Amplified pools have higher capital efficiency; achieving better rates with less capital when compared to other protocols. Higher AMP, higher capital efficiency within a price range.
1. Liquidity Mining on Polygon
The Polygon phase of the program on KyberSwap will run for 2 months. As part of our partnership, Kyber and Polygon will be distributing a total of $5.5M worth of KNC + MATIC tokens across six eligible amplified pools on KyberSwap:
USDT-USDC (AMP=200)
USDC-ETH (AMP=1.6)
USDC-DAI (AMP=200)
MATIC-DAI (AMP=1.5)
KNC-ETH (AMP=1.9)
KNC-MATIC (AMP=1.7)
KNC and MATIC rewards can be used to add liquidity to the KNC or MATIC pools to earn even more rewards. In addition, KNC can be staked on KyberDAO to participate in Kyber's governance and earn voting rewards.
2. Liquidity Mining on Ethereum
The Ethereum phase of the Rainmaker program will run for 3 months and 12.6M KNC (~$25M) in rewards will be distributed across five eligible amplified liquidity pools:
USDT-USDC (AMP=200)
USDT-ETH (AMP=1.5)
USDT-WBTC (AMP=1.5)
WBTC-ETH (AMP=2)
KNC-ETH (AMP=1.9)
More details on Rainmaker will be shared soon closer to June 30th!
Besides receiving additional KNC and MATIC yield, KyberSwap liquidity providers enjoy a host of important benefits that are not available on typical AMMs.
Amplified Pools: Liquidity providers have the flexibility to select amplified liquidity pools that greatly improve capital efficiency and help reduce trade slippage. With the same pool and trade size, stable token pairs with low variability in the price range (e.g. USDC/USDT) can be up to 100–400 times better compared to other platforms. Liquidity providers can provide better prices and earn more fees with less capital.
Dynamic Fees: Protocol fees are adjusted dynamically based on market conditions to maximise returns and reduce the impact of impermanent loss for liquidity providers, with fees automatically accruing in the pool.
Fully permissionless: Anyone can add liquidity to KyberSwap pools; while any Dapp, aggregator, or end user can access this liquidity. KyberSwap is already integrated with 1inch and Matcha, with more aggregators and Dapps on the way.
No 3rd-party oracles: Not vulnerable to external oracle risks.
Committed to security: KyberSwap's codebase has been audited by both the team and external auditors such as Chain Security with no critical issues found, and is open source on Github for community review. KyberSwap is also covered up to $20 Million by decentralized insurance provider Unslashed Finance.
An Invitation to DeFi Builders and Liquidity Providers
Kyber's vision is to deliver a sustainable liquidity infrastructure for DeFi, and this also extends to fast-growing ecosystems such as Polygon. This Polygon partnership and the $30M Rainmaker liquidity mining program will help showcase the powerful benefits of the KyberSwap protocol and is an important step towards greatly boosting liquidity for DeFi, as well as growing the number of users, developers, and Dapps in the Kyber and Polygon ecosystems.
"Through this partnership, Polygon's vibrant ecosystem will gain access to the highly capital efficient and flexible KyberDMM protocol, and we believe this will empower more liquidity providers, traders, and developers to effectively engage in the world of decentralized finance."

– Loi Luu, Co-Founder, Kyber Network
Note: DMM has rebranded to KyberSwap
We welcome all DeFi participants to add liquidity on the KyberSwap to enjoy dynamic fees, higher capital efficiency, and additional KNC and MATIC yield.
For developers looking to build with KyberSwap, please check out our developer documentation. We also have bounties for the upcoming ETHGlobal HackMoney online hackathon!
More information on how to bridge assets to Polygon and participate in the Rainmaker program will be provided around the 30th of June.
Follow us on Twitter and Discord to stay updated!
Onward, Kyber Network!
---
About Kyber Network
Kyber Network is building a world where any token is usable anywhere. KyberSwap.com, our flagship Decentralized Exchange (DEX), provides the best rates for traders in DeFi and maximizes returns for liquidity providers.
KyberSwap powers 100+ integrated projects and has facilitated over US$7 billion worth of transactions for thousands of users since its inception. Currently deployed across 11 chains including Ethereum, BNB Chain, Polygon, Avalanche, Fantom, Cronos, Arbitrum, Velas, Aurora, Oasis and BitTorrent.