Cheaper, faster, secure. KyberSwap aims to be the best place to trade all Ethereum tokens with expansion into Arbitrum Network.
As part of our on-going strategy to widen adoption, the KyberSwap multi-chain DEX aggregator and liquidity protocol has been deployed across 6 networks (Ethereum, Polygon, BSC, Avalanche, Fantom and Cronos), allowing KyberSwap to give the best token rates and achieving a Total Trade Volume of over US$6B.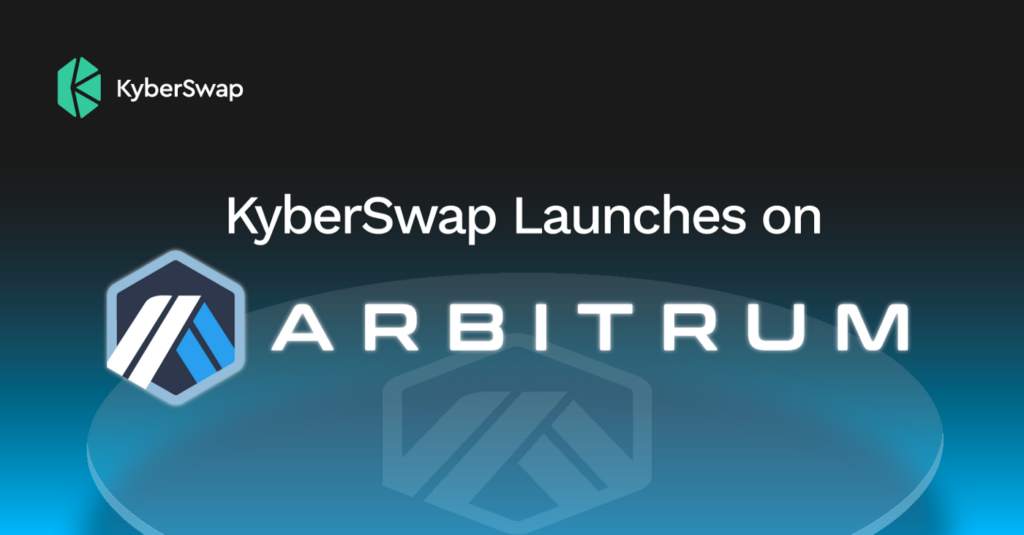 To amplify and capitalize on this success, we are excited to share that KyberSwap will now expand to Arbitrum network, a Layer-2 scaling solution that enables near-instant transaction finality and low transaction fees without sacrificing security. This means KyberSwap users now have another convenient option totrade tokens at faster speeds and with lower costs, while getting the best rates!
As a recap for those who were at ETH Denver 2022, both Arbitrum and Kyber Network were discussed as part of Ethereum's ecosystem and innovations in 2022 — all while this partnership was under wraps.
The challenge for retail traders with Ethereum network transactions is how expensive gas fees have become and the network congestion due to its popularity. This congestion leaves many users put off by the issues and exploring other chains, creating a need to solve it through Layer-2 scaling and other efforts.
"With decentralization comes challenges of scaling, and solving for congestion, gas fees and slippage bring us closer to a truly seamless decentralized economy. This partnership between KyberSwap and Arbitrum is a big step forward towards creating the most user-friendly experience for users, as well as robust and highly extensible trading API for partners," Victor Tran, CEO and Co-Founder, Kyber Network
What is Arbitrum?
Arbitrum is a suite of Ethereum scaling solutions that enables high-throughput, low cost smart contracts while remaining trustlessly secure. Arbitrum's extremely efficient rollup technology is able to cut fees down to a fraction of what they would have been on Ethereum while its trustless security, rooted in Ethereum, allows any one party to ensure correct L2 results. Combined with its scalability and high EVM compatibility, Arbitrum has already been deployed on a wide variety of Ethereum DApps.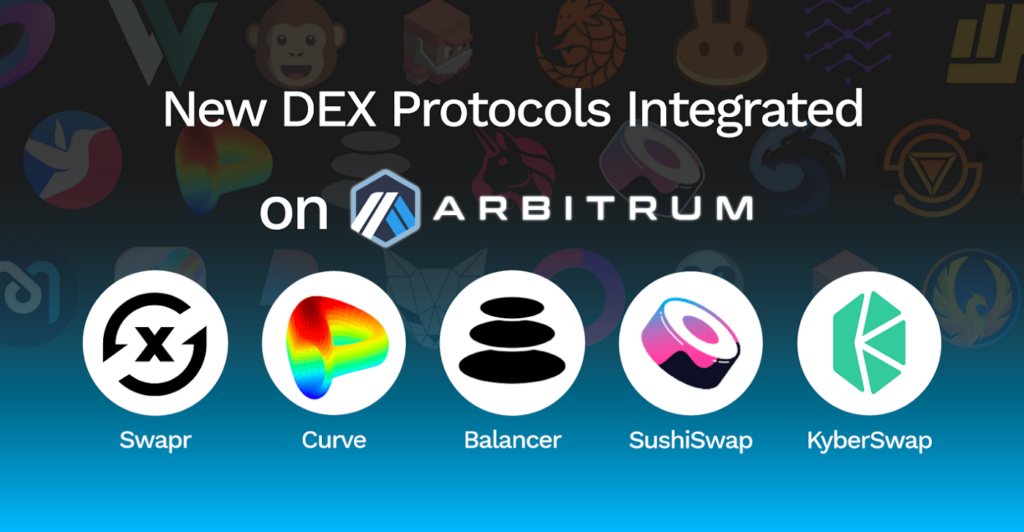 At launch, we are proud to announce that in addition to KyberSwap, we have also integrated 4 DEX protocols on Arbitrum, with more DEXs coming soon!
Bringing Faster and Cheaper Trades to KyberSwap with Arbitrum
How do I switch my network to Arbitrum on KyberSwap?
On KyberSwap, simply click on the Ethereum button at the top to switch your network to Arbitrum or change your network via your Metamask Wallet extension directly.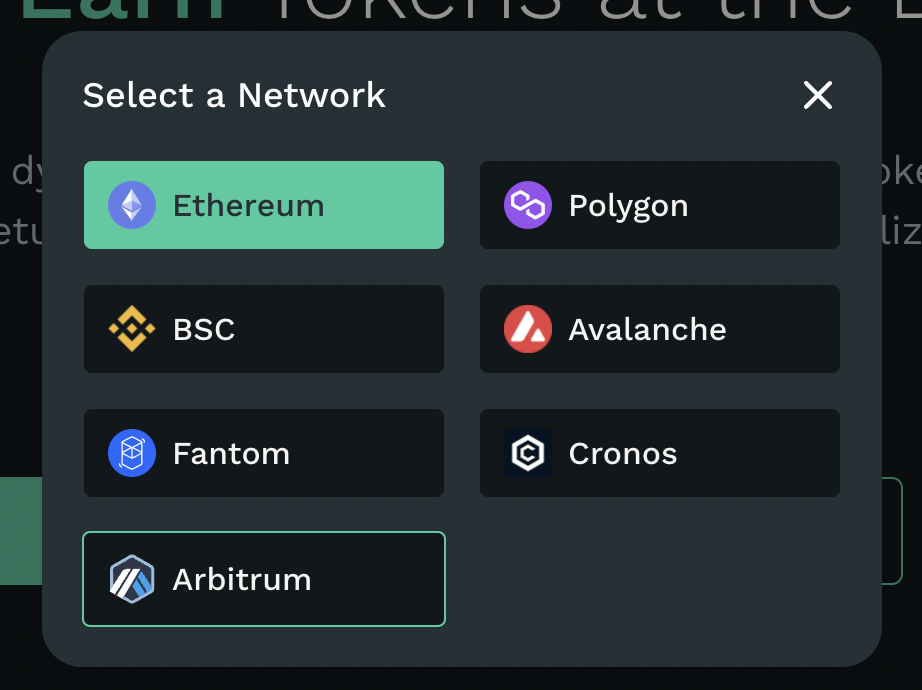 *Do take note that ETH is the gas token for Arbitrum and is required to conduct transitions on the network.
How do I bridge assets between the Ethereum and Arbitrum networks?
To move Ether or ERC20 token assets from Ethereum to Arbitrum, simply use the Arbitrum Bridge.
When you are on the Arbitrum network on KyberSwap, click the 'Bridge Assets' button at the top of the page to access the bridge. Note that this button is not displayed if you are on the Ethereum network; change your network to 'Arbitrum' on your Metamask first.
The entire process is fast and simple. Please read this tutorial from the Arbitrum team to learn how!
Important Details
Adaptation of fee: Adapting KyberSwap's product to Arbitrum requires removing the element of dynamic fee. Instead, KyberSwap will support static fee options: 0.01%, 0.05%, 0.3%, 0.5%, 1%
For example, a retail user with a transaction worth USD$1,000 would pay a maximum of USD$10. This means much lower fees, yet with Ethereum's security, high throughput and low latency.
How to Create a New Pool on Arbitrum Network
Step 1: Ensure you are on the Arbitrum network.
Step 2: Go to the "Pools" page and click on the "Create New Pool" button on the right.
Step 3: Select the token pair for the pool you wish to create and input details such as the amount of tokens you wish to deposit, the AMP and the static fee options (0.01%, 0.05%, 0.3%, 0.5%, 1%). Keep in mind that as the first liquidity provider for a new pool, the ratio of tokens you supply will set the initial price.
Step 4: Once ready, click "Create" and confirm the transaction on your wallet. You will be able to view your pool on the "Pools" page and under the "My Pools" tab.
How to Add Liquidity to an existing pool on Arbitrum
Step 1: Ensure you are on the Arbitrum network.
Adding liquidity to your pool
Step 2: Click on the "Pools" page and select the token pool you wish to add liquidity to.
Step 3: Click on the "+" icon on the right to add liquidity and input the amount you wish to add, either as a token pair or single token.
Step 4: Once ready, click "Supply" and confirm the transaction on your wallet. You can view your liquidity positions under 'My Pools' tab.
Start Trading on KyberSwap using Arbitrum Now
Maybe you have been putting off trading on Ethereum due to high gas fees, or you are already a long-term supporter. Now with Arbitrum integration, everyone can make faster and cheaper trades while getting the best rates on KyberSwap.com. Try it out and tell us what you think!
[GIVEAWAY ALERT!]
Using KyberSwap on Arbitrum?
Share this blog on Twitter and tag us at @KyberNetwork and @arbitrumalong with 3 friends who you think would love Arbitrum and 5 random lucky winners will win 50 $KNC each!
Deadline: 31st March 2022 11:59pm GMT+8
To commemorate this collaboration, Kyber will be hosting an AMA with Arbitrum! Stay tuned to our socials for further updates!
---
About Arbitrum
Arbitrum is a layer 2 scaling solution for Ethereum.
Arbitrum's architecture uses Optimistic Rollups to bundle all transactions done on the Arbitrum chain, and subsequently posts it on Ethereum. Arbitrum is an optimistic rollup which enables anyone to verify that transactions on Arbitrum are not fraudulent before they are posted on Ethereum through interactive proving. Interactive proving is a method that allows a dispute between two parties, the proposer and the challenger, to solve their dispute off-chain so that it's more efficient & not as costly to post on Ethereum.
Arbitrum is a leading Ethereum Layer-2 scaling solution developed by OffchainLabs. Based on the Optimistic Rollup scheme, Arbitrum provides ultrafast, low-cost transactions without sacrificing the security of the Ethereum ecosystem. Launched on August 31st, 2021, Arbitrum has attracted 200+ ecosystem projects. Arbitrum is Marketing Playbook 3 currently EVM-compatible to the bytecode level. In the next upgrade, Arbitrum Nitro, Arbitrum will further increase developer experience by incorporating WASM support.
---
About Kyber Network
Kyber Network is delivering a sustainable liquidity infrastructure for DeFi. As a liquidity hub, Kyber connects liquidity from various protocols and sources to provide the best token rates to Dapps, aggregators, DeFi platforms, and traders.
Through Kyber, anyone can provide or access liquidity, and developers can build innovative applications, including token swap services, decentralized payments, and financial Dapps — helping to build a world where any token is usable anywhere. Kyber is powering more than 100 integrated projects and has facilitated over US$6 billion worth of transactions for thousands of users since its inception.
KyberSwap, the latest protocol in the liquidity hub, provides the best rates for traders and maximizes returns for liquidity providers.