At KyberSwap, we are dedicated to helping our community make the best trading decisions possible. What better way to do that than by introducing our new KyberSwap UX upgrade: Pro Live Chart!
Integrated with TradingView, KyberSwap's new Pro Live Chart gives traders a new tool to help with their technical analysis and in turn, make better trading decisions.
Traders can simply toggle between the "Basic" and "Pro" tabs on the Swaps page to access the Pro Live Chart, which comes loaded with features for a complete technical analysis.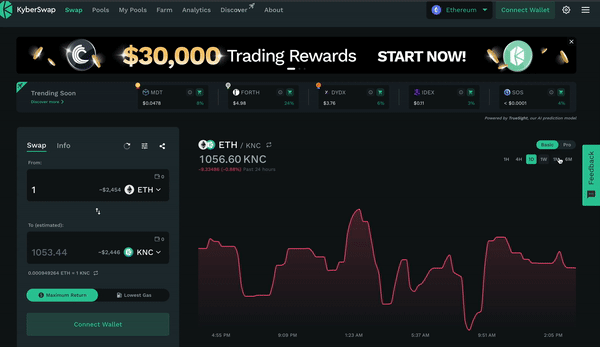 Traders can access the Pro Live chart in full-screen mode, and even on their mobile devices when they are on-the-go! To view the chart on mobile, simply head to kyberswap.com, tap on the settings icon and switch on the Live Chart display settings. Plan your best trades, anytime, anywhere!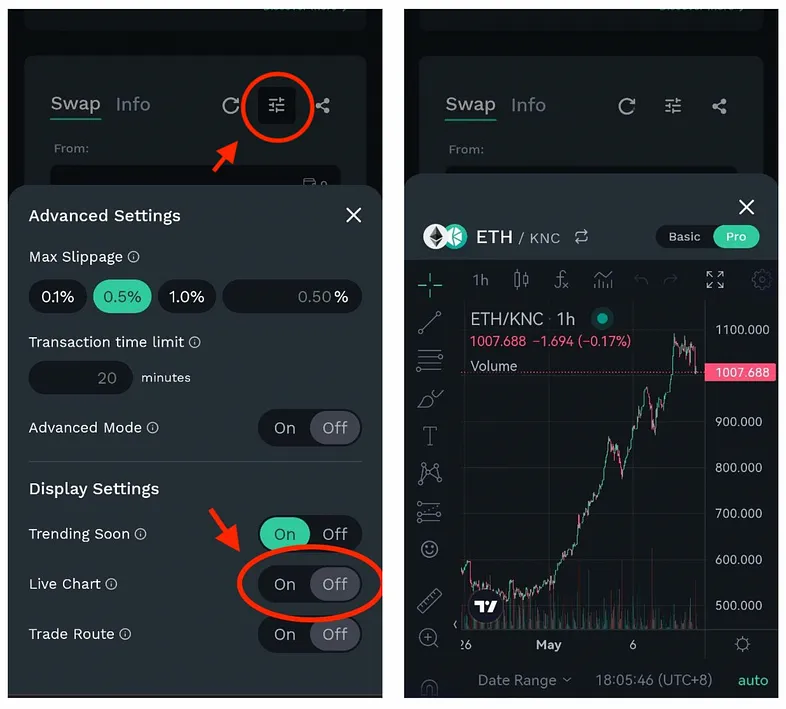 Not only does the Pro Live Chart come with a vast array of drawing tools to map and conduct a technical analysis, traders will also now have access to the charting data of thousands of tokens and hundreds of chart types and indicators! Check it out below!
To add on to this amazing new feature, we've also implemented a few neat tricks to make your user experience as seamless as possible. Some of them include automatically saving your technical analysis so you can come back to it anytime, and displaying the token price in almost real-time!
At KyberSwap, we aspire to provide our users with the best trading insights and tools, and we are proud to release this new feature as yet another step in that direction.
And we're not done yet! Our team will continue to improve and expand our Pro Live Chart feature to bring our traders more data for more tokens so that you can make your best trading decisions, all on 1 DEX, all on KyberSwap.