Get your stakes on! Simply trade any tokens on 5 networks: Polygon | BNB Chain | Ethereum | Avalanche | BitTorrent and stand to be one of lucky traders of KyberSwap's Trading Contest!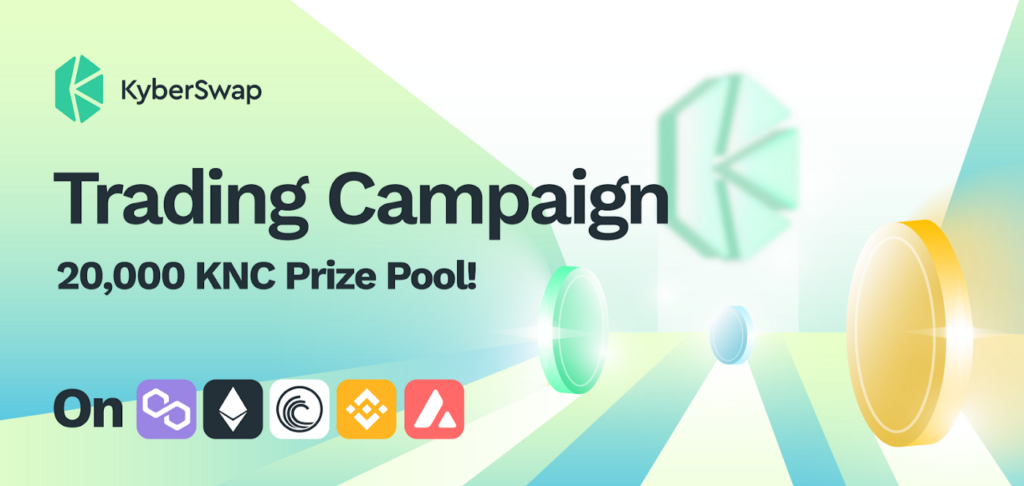 Greetings loyal Kyberians!
As promised in Kyber Network's 5 Year Anniversary — we're bring you more trading competitions!
We know everyone has been eagerly waiting in anticipation for our next Trading Campaign, so without further ado, we are delighted to announce the launch of KyberSwap's Trading Campaign with 20,000 KNC rewards!
In this campaign, 600 winners will earn a share of 20,000 KNC rewards to take home! Simply make a trade with a minimum $100 trading volume on either Polygon, Ethereum, BitTorrent, BNB Chain or Avalanche and you hold an opportunity to be one of our winners in KyberSwap's Trading Campaign!
That's not all!
With our new Trading Leaderboard function, you can view your ranking directly on KyberSwap.com with full transparency!
KyberSwap's Trading Contest Details
Total Rewards: 20,000 KNC for 600 lucky winners
Each wallet that trades at least $100 in total trading volume will be eligible for this trading contest.
Swaps must be made in a token pair. Swaps between wrapped and unwrapped tokens (Eg: ETH ➡️ WETH, BNB ➡️ WBNB, AVAX ➡️ WAVAX, etc) will not be eligible.
Swaps must be completed on KyberSwap on any 1 of the following 5 chains
– Polygon
– Ethereum
– BitTorrent
– BNB Chain
– Avalanche
Out of the trading prize pool, rewards will be distributed by the ranking system. Check out our ranked rewards below!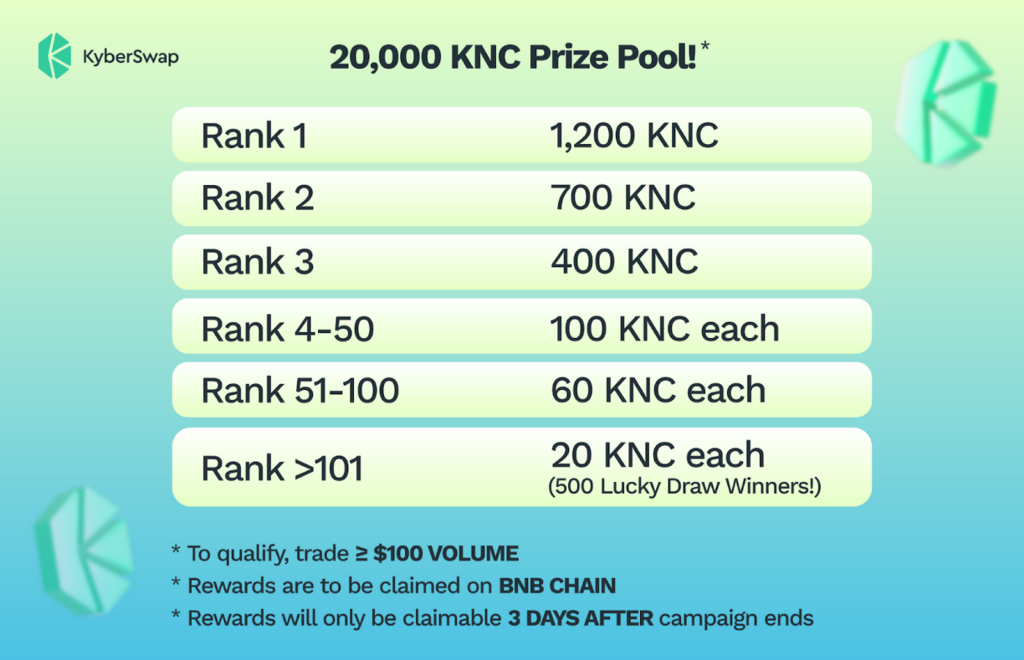 600 Winners in total!
Rank 1–1st Winner
Rank 2–2nd Winner
Rank 3–3rd Winner
Rank 4 to 50–47 Winners
Rank 51 to 100–50 Winners
Rank 101 onwards — 500 Winners (To be chosen at random)
Note: Ranking system is based on points. $1 Trading Volume equals to 1 point on the Leaderboard. Example: $100 trade vol = 100 points, $500 trade vol = 500 points. The Leaderboard will refresh every 5 minutes.
The more you trade, the higher your rank and the higher your rewards!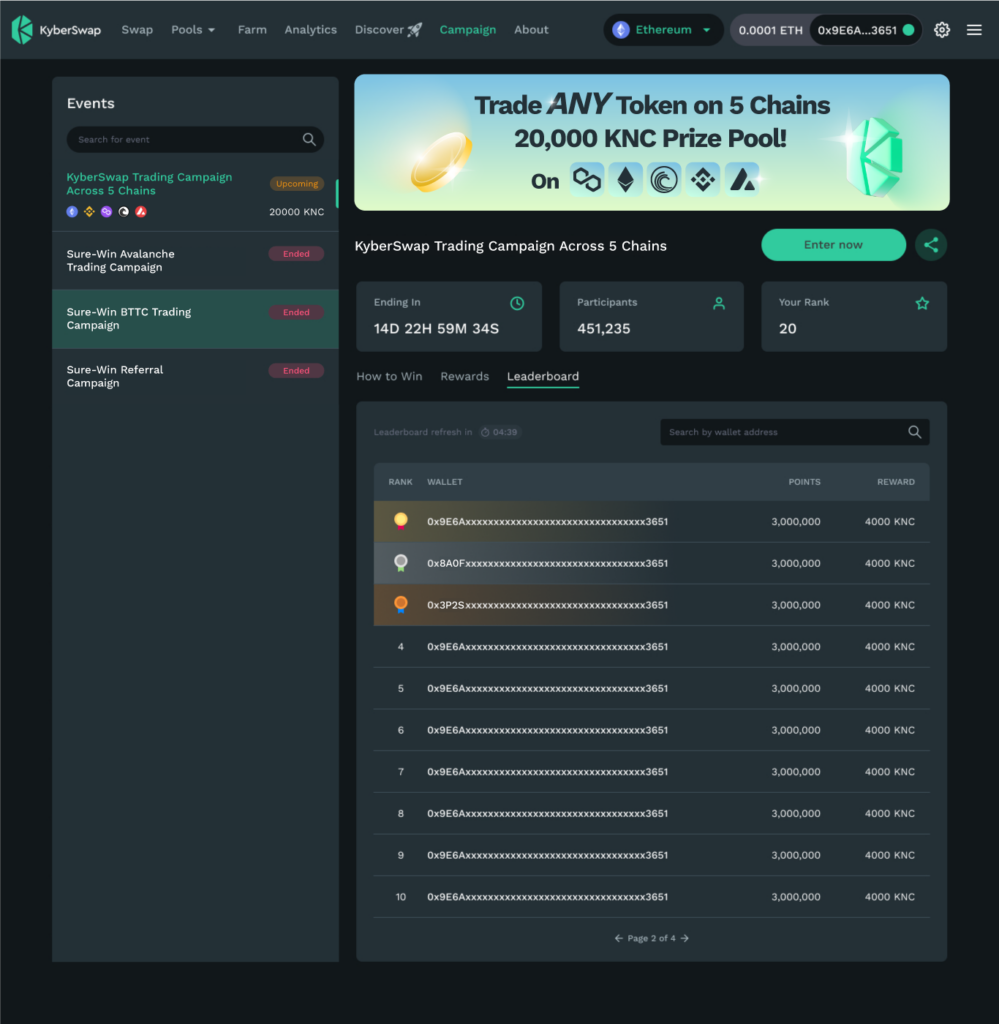 Example 1 — Tania's trading volume was $200, but she swapped on Arbitrum chain. She does not qualify for this trading contest.
Example 2 — Imran's total trading volume is $5000, putting his wallet at Rank 1. However on the last day of the Trading Contest, a different wallet makes a trade of $6000. Imran's rank has now dropped to Rank 2.
Example 3 — On the 1st day of the campaign, Ly makes a swap of $50 on Polygon chain. On the 2nd day, she swapped another $50 on BitTorrent chain. Ly is now eligible for the Trading Contest. However, her rewards will be based on her ranking position on the Leaderboard. If her wallet is ranked 51–100, she will win 60 KNC. If her ranking falls below 100, she may or may not win, depending on the results of the lucky draw.
Check out your rankings directly on our Trading Leaderboard and see how close you are to winning the big prize!
Duration: From 06 July ~03:00 UTC to 15 July, ~23:59 UTC
Further Details:
*Prizes will be claimable on directly via the KyberSwap Trading Leaderboard (BNB Chain) 3 working days after the campaign has ended. Users will have to claim the rewards on their own. There is no time limit to claim your rewards
**Traders will be able to view their ranking placement directly on the Leaderboard to know whether or not they qualify for the Trading Contest and what ranking tier they fall in
***Kyberswap reserves the right to disqualify any user that violates, cheats, or abuses the campaign at its own discretion. All decisions made by the Kyber team are final.