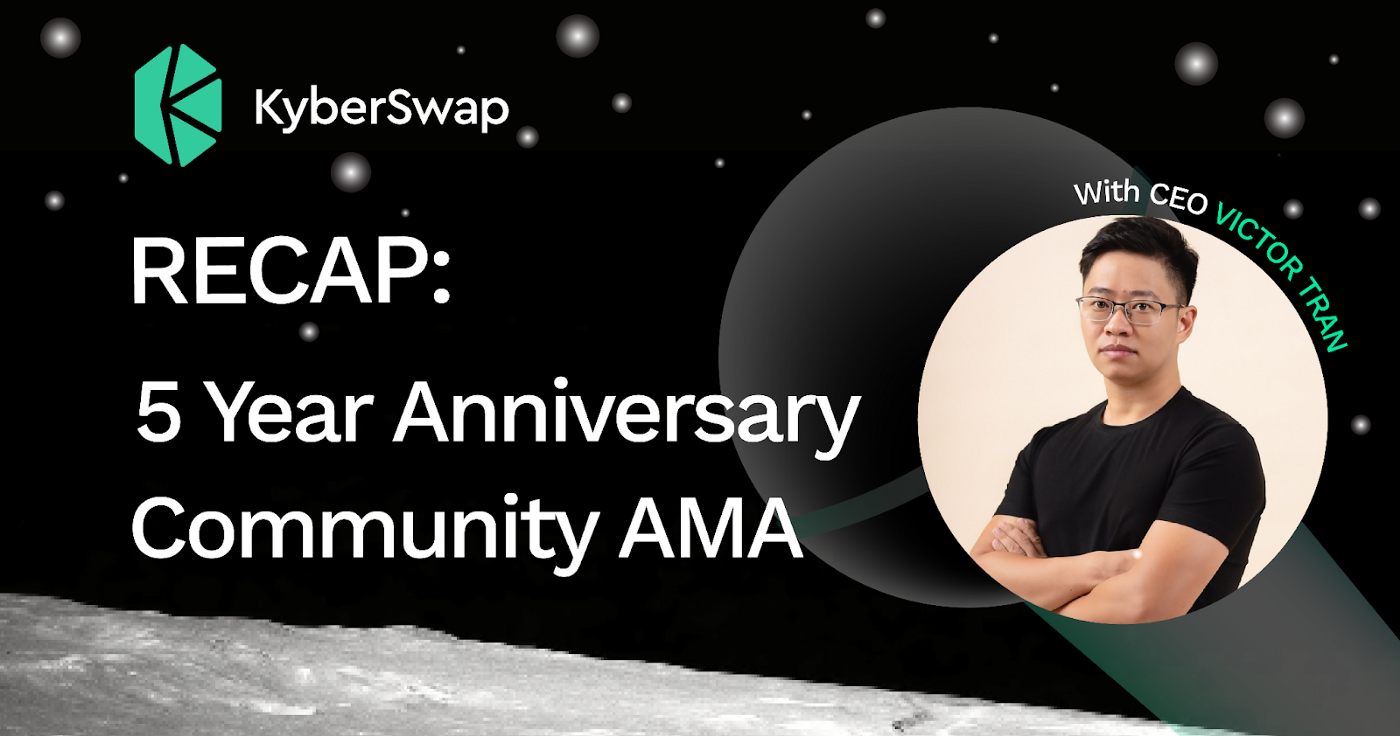 What's up KyberSwappers! Thanks to everyone who managed to tune in live for our first-ever Community AMA with Kyber CEO Victor Tran and Head of Strategy Shane Hong!
We had a wonderful time engaging with the Kyber Network community during our first AMA last June 9th, 2022. Our CEO, Victor Tran, and the team are grateful to all Kyberians for participating, bringing us inspiring questions, and showing your support!
For those who missed it, no problem! Either catch the full version on our YouTube channel:
Or read our summary recap below!
Part 1: Q&A with Victor Tran
Question 1: Why did Victor become Kyber's CEO?
As Co-founders of Kyber Network, Loi and I took a step back and re-evaluated Kyber. Our original vision of Kyber, which worked well in 2017, was vague and needed to be refocused to match the current DeFi landscape.
After taking a step back and self-reflecting, Loi and I decided to construct a new vision for Kyber Network, evolving from its initial start-up concept to a management system more befitting of a long-term corporation. This included rebuilding the product and shipping it closer to the users and the communities.
To accomplish this, Kyber Network required a re-shift in organization and restructuring of personnel according to the new Kyber vision and individual team strengths.
As someone who's been with Kyber Network since its conceptualisation and growth, I, with the technical expertise as CTO and as a leader who's been building and developing Kyber's core team, was the natural choice to lead Kyber's new vision as CEO.
Question 2: KyberSwap is the core and future of Kyber Network. Why?
Firstly, Kyber has several products tied to its name, such as KyberDAO, DMM (Dynamic Market Maker), Kyber.network, KyberPro and KyberSwap. So when the name Kyber is mentioned, it's difficult to know exactly what people are referring to. So our goal is to establish Kyber as KyberSwap and vice versa.
Secondly, KyberSwap's vision now is to be a real decentralized chain, giving users all the benefits of decentralization but with better safety, privacy & fairness to all. This long-term goal presents many challenging technical problems. Namely regarding privacy and ensuring the team can resolve all the user experience issues with the blockchain.
This goal will be complicated and challenging for the team to achieve. Hence it would be best to focus the team's attention onto 1 key product instead of splitting the attention amongst multiple products.
Ultimately, Kyber wants to stay focused, long-term, and keep pushing forward.
Question 3: It's been 5 years since Kyber was launched and now you're [Victor] is taking over as CEO. Over the years, what has changed and what has remained the same?
Firstly, Kyber has been built by ethical people and will always remain so. In today's market, where the environment is volatile with short-term trends, the potential of short-term gains, and other unstable factors, the value of being ethical has become undervalued. Therefore, being ethical as a team and remaining committed to being ethical is one of the values we will keep consistent and never change.
Secondly, Kyber will continue to remain as transparent as possible. We believe that transparency is a key philosophy of public blockchain and is a core value of DeFi, where everything is visible and verifiable on-chain. Hence, transparency is and will remain a priority in our organisational culture.
Thirdly, Kyber has been dedicated to serving 2 main groups; KNC holders and Kyber Network itself. The priority has been to our KNC holders, putting them first before making any decisions that could impact KNC's utility and value. Kyber's next priority is to Kyber Network. In full transparency to our community, for Kyber Network to be sustainable as a business for generations to come, the team must serve Kyber in a way that best benefits the company. In full transparency, we will also be upfront about which business aspects will be for KNC holders and Kyber Network.
Fourthly, Kyber will always have security as our main priority. Some people may think Kyber is slow when it comes to trends. The reason for this is because for the sake of security and our users safety, the Kyber team invests the extra time needed for security assessments. Putting aside growth, benefits and profit-making, security has always been our top priority for our users' safety.
Finally, when Kyber conducts business, our team does so by working towards progress and better efficiency. Even as we compete with other dApps, we do so by showcasing and comparing ways we are more effective rather than bringing other projects down.
These values are what will remain unchanged for the public to rely on Kyber as a team, company and financial product.
However, there are changes. Namely, the above-mentioned change to Kyber vision to better suit a long-term strategy. As the market trends have changed since 2017, more adoptions and users will follow, and so in turn, Kyber must always continue to grow. There is a demand for higher quality and Kyber must redefine our vision to match these needs in order to serve as a long-term product. Another change was mentioned also previously in that the team will focus on KyberSwap as its only flagship product. Everything built will be brought to KyberSwap.
Last but not least, since my appointment as CEO, the biggest change was to the internal team structure, which was designed for Kyber Network to accomplish more in terms of execution and long-term goals.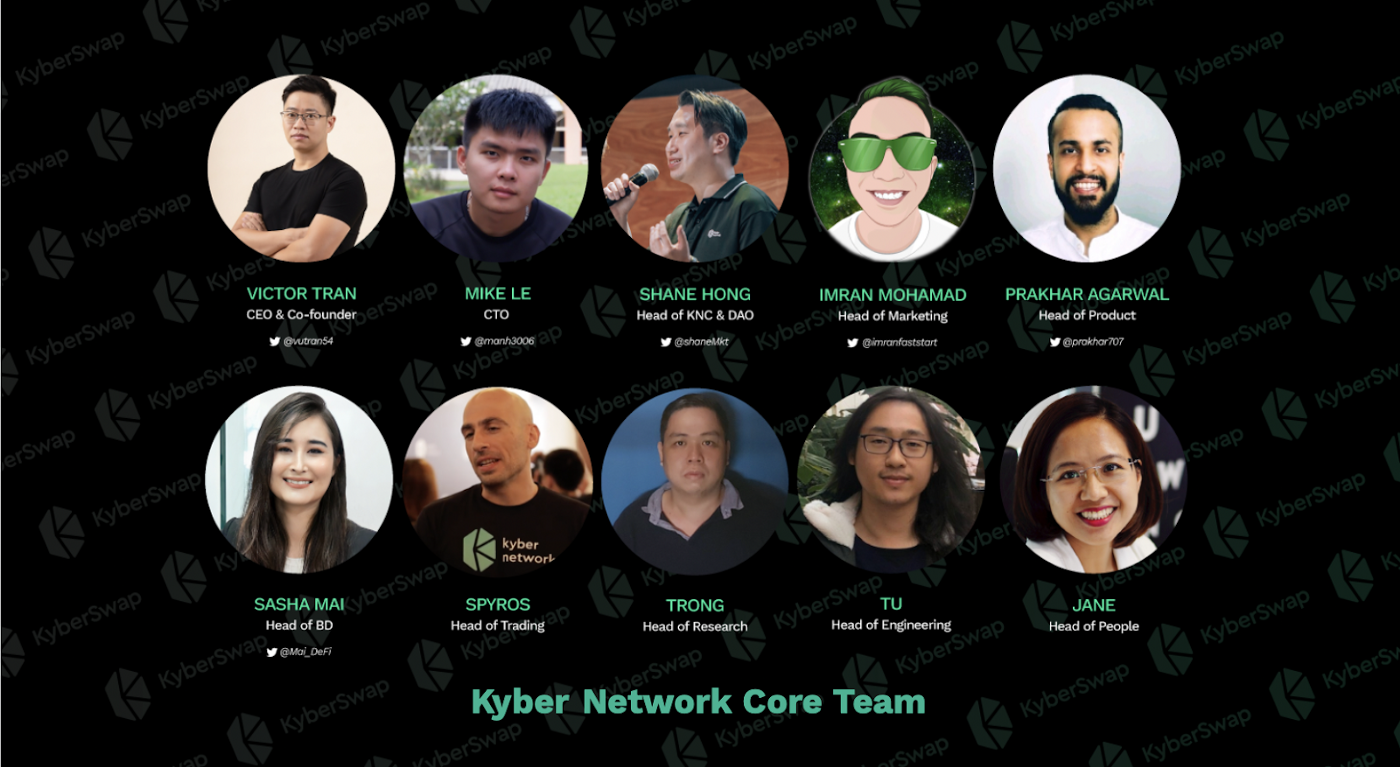 Question 4: What does the future hold? What is the key focus plan and objective?
Part of Kyber's long-term vision is to give our users a safer DeFi. Combining safety and non-custodial privacy is an important element to consider and so the team has split this into different phases to accomplish. One of these phases is focusing on making KyberSwap a useful place for traders and trading activities.
To focus on that, Kyber is expanding to the data mining business, gathering data and information using analytics tools such as Luna Analytics, CoinMarketCap, TradingView, Twitter, etc in order to gather insights and bring them to users, providing the information needed to help make better and faster trading decisions.
As a DEX aggregator, KyberSwap commits to bringing users the best rates. However there are other aggregators that claim to do the same. KyberSwap's additional commitment to users is that the platform will never take fees/cuts from users, making it free for everyone to use and giving the best possible returns.
So with these data insights, risk management features and promise of best returns, users will be able to make faster and better trading decisions with KyberSwap, knowing they can manage their risks and get the best returns.
Kyber also believes in the future of mixing Professional and Retail Market Makers. From running Kyber Reserves and DMM Protocol, we've gained insights into the landscape of market making. When market makers come to KyberSwap, they should find optimised protocols for their own needs and market breaking. This requires more than 1 curve and each curve must be optimised for different use cases for different macro market sentiments (eg. Bull Market vs Bear Market). For the next 2 years, KyberSwap will be focusing on this approach, to create more optimised protocols both on-chain and off-chain, providing for more multi-making services.
Part 2: Questions from the community
Question 1: What is your strategy to anticipate hacking possibilities on Kyber Network? What plan do you have in order not to let your project get hacked and cause investors to panic?
[Victor] In the past 5 years, we have never had a security breach. So based on our experience the only way for a company or a project to ensure that the protocol is secure is to first commit their codebase to a thorough audit process, and invest in a solid technical foundation.
In addition to working with the highest reputable auditors possible, we also have all internal teams working and testing the protocol and conducting internal hackathons.
These steps are time consuming but it is how Kyber commits fully to user security, reducing chances of hacks and vulnerabilities in the protocol. In addition, KyberSwap has also been working with insurance companies for further protection for the protocols.
[Shane] KyberSwap's engineering team is world-class when it comes to innovation and launching a new project, feature or protocol. A considerable amount of time,effort and resources goes into ensuring that user security is of paramount importance. Over these past 5 years Kyber has facilitated over 8 billion dollars in trading volume with no issues or major vulnerabilities. In addition, when launching big initiators like wrapped bitcoin, KyberSwap earned the support and trust of many top DeFi projects. Today, WBTC is the number one traded wrapped version of Bitcoin.
All these are testament to Kyber's commitment to security. Internally as Kyber team members, we are all daily users of KyberSwap, so we trust in our ability to ensure security. Even externally, other projects also have a lot of respect for Kyber's commitment to its security.
Question 2: Are there any new functions you intend to add to your site? If so, what are they and how will they contribute?
[Victor]: We plan to introduce a two-sided feature running with data mining algorithms in order to aggregate data to get more insight for users. Our Trending Soon feature is an example. In the future, these data insights will give traders the information needed to make better and faster trading decisions.
Another plan is to launch a few more liquidity particles that are enabled with more unique features, such as limit orders. We also have different protocols optimised for different needs on the way. We are also planning a set of risk management features so users can view the risk factors of their portfolios
[Shane]: Kyber features could also come from your own feedback and comments.
We value feedback from our community and our product team regularly checks with our marketing team to gain insights on our users needs & wants. Our community can easily leave us feedback via our 'Contact us' form on KyberSwap.
Another thing to highlight is that at Kyber, we are looking to improve KNC token utility, how to use KNC on Kyber Swap, and yield benefits for traders, equity providers, holders and more.So stay tuned for more updates about the KNC token as well.
Question 3: What are your security mechanisms in such an environment, how do you provide this, why should users trust you?
[Victor] Our security mechanisms were mentioned previously so I wouldn't go further. Why and How users trust you is an interesting question.
First of all, whenever a user interacts with a product there has to be trust in 2 factors: The Team and The Product.
Regarding The Team, the level of trust is based on an evaluation of our human resources (Eg. what is the team's reputation, competencies, level of experience, etc), whether what the team provides meets your needs and how the team communicates with the public. At KyberSwap, our team has openly disclosed ourselves as real people behind the product, with channels to facilitate our community/partners to reach out to us anytime. So with these factors we believe the ingredients needed to build your trust in us are there. Kyber has been in DeFi for 5 years and we're not going anywhere.
Regarding The Product, KyberSwap has been contributing value in the DeFi space since our launch in 2017. Now, we are pushing for liquidity protocols with better efficiency and quality. Our new team structure allows us to work towards that and ultimately form a better product. With our past success and commitment to constant improvement, not only can you expect to see a high quality and professional product, but users can also rest assured that we have a dedicated team to support users who experience issues with our platform.
These are long-term strategies to inspire trust in our users.
[Shane]: KyberSwap is also insured for up to $20 million with Unslashed and we plan to purchase more insurance coverage. So keep using KyberSwap, observe the rates and figures and we hope users can appreciate how much effort goes into the product design process, especially with our Discover feature. Whether you are a user with questions regarding the product, a developer looking for integration or are concerned with security, we are always ready to answer your questions on Telegram, Twitter, Discord, etc
Question 4: Could you give an overview of what happened with Coinbase? How does Kyber Network work with Coinbase and users on this?
[Shane]: We truly understand that the Coinbase migration issue is a point of frustration for many of us, including Kyber team members and myself. Some of us have hit the old KNC token also on Coinbase, so on behalf of the team, I really like to thank all of you in the community. For your patience and understanding during this period where we are trying to get the new KNC token listed on Coinbase.
When we first upgraded the KNC token last year, we initiated a migration process that allowed anyone or any centralized exchange to migrate the token on their own. We also spoke with a lot of the top centralized exchanges including Binance, FTX, Kucoin, Crypto.com, Gemini, and even Coinbase. Because we understood the importance of proactively talking to them and ensuring that the migration was smooth, most of the top exchanges supported the new KNC token within a month. But unfortunately, Coinbase had a different process. Although KNC was already listed there, they were treating the migration as a listing of a new token altogether. While we respect the due diligence process which is very comprehensive and it takes a long time. We can not deny that it has already been many months. But the good news is over the past couple of months, they have dedicated a multi-disciplinary team to actually work on ensuring that the KNC migration on Coinbase goes through successfully. They have people from the Compliance, Listings, Audit and Engineering teams to help us with that. Their review gave us a few pointers about how we can improve the decentralized aspects of the KyberDAO and how to improve our capital operations as well. For example, they suggested to us that we should increase our voting quorum like the number of KNC that is required to pass a vote. They suggested to us to increase the passing margin, which is the amount of KNC percentage between the accept and reject options before a vote can be passed. So we immediately addressed these concerns after we got it from them, we sent them all the technical documentation they required, and we proposed changes to the governance parameters on the DAO through the Kyber Improvement Proposal (KIP) that the DAO approved and now the ball is in their court. So it's really up to Coinbase.
There's other information that is confidential and we cannot share. We can share everything but rest assured that this remains a top priority for us and we are truly committed to ensuring a fair outcome for all KNC holders. We understand your pain because we are affected as well. Most of the requirements have already been fulfilled, so on their side to finish up the last part of their review and let us know. I really appreciate your understanding and we thank you once again for all your support in pushing us as a team and also pushing Coinbase on social media to get this through.
Question 5: What has the Kyber Network put in place to stand the competition and give potential users confidence in making use of Kyber Network over other networks?
[Victor]: With the developed market and massive number of users coming to DeFi, how we plan to set Kyber aside from the competition as a product is by committing ourselves to build a decentralized chain that can provide for all the same use cases as centralized but including the privacy aspect in decentralization. This is the long-term vision for KyberSwap.
For our more immediate, short-term goals, we will continue to focus on optimising different liquidity protocols, giving our users the best rates while continuing to take ZERO platform fees. We have a dedicated data scientist team working to achieve that along with risk management features to build KyberSwap as 1 product to provide users with convenience, confidence and reliability.
[Shane]: In terms of the value we want to provide users, we are constantly improving our DEX aggregation to give our traders the best rates. We will also continue to innovate by adding or improving our protocols to ensure LPs will always earn the most capital efficiency in a manner that maximizes the potential of their capital.
For developers looking to build on our technology, we will always be open to working with them and providing the documentation for them to integrate and access all the benefits that come with the Kyber platform. In these ways, we have kept consistent with our vision, professionalism and commitment to security, giving us a solid foundation to ensure that KyberSwap becomes the top place for everyone to trade and add liquidity.
Question 6: About the UI UX, you say beginners will be able to use Kyber Swap without a hitch, without getting frustrated with all the big terms of crypto, can you share this?
[Victor]: To be honest, we are trying to make the KyberSwap UI/UX as easy and high-quality as possible. But we do understand that the current KyberSwap can be challenging for beginners to use.
Users will first have to understand crypto wallets, tokens, concepts such as mean rates, slippage, gas price, nonce of transaction, how to interact with their wallets and so on. We are aware of that and have committed ourselves to 2 aspects in making this easier for users.
First is by educating users. Everyone in the crypto space, even centralized chains or decentralized chains should commit to having high-quality educational programs in order to push the whole community to have better comprehension. We also help prevent users from making mistakes such as sending tokens to a wrong address or setting the slippage too high which could result in getting sniped in a sandwich attack.
Second is by optimising KyberSwap so that users can avoid some technical problems, such as pending nonce, transactions that aren't mined, as well as making it easier for users to review works on Metamask and other wallets.
Third is part of Kyber's long term vision. We've set Kyber to be a decentralized chain that can provide our users with the same use cases as centralized chains. To do that, we cannot rely on on-chain blockchain dApps. So we are exploring possibilities to expand to higher levels of blockchain technology, such as L2. We have had experience running with ZKyber. So whenever we add new features on KyberSwap, we will immediately plan how we can make these as user friendly and seamless as possible.
[Shane]: In terms of education, I think the marketing team has done a very good job in organising AMAs like this event. AMAs with other projects we recently did one with a learning campaign, we have an ongoing learning campaign with Coingecko, one of the top data analytic sites in crypto. Through these educational activities, in general, I think more people would be aware of how to use Kyber Swap. In my opinion, I would say the Kyber Swap UI UX is one of the best in the space. Obviously, there's still a huge room for improvement and we are regularly getting feedback from users to optimise the UI UX as seamlessly as possible. We are even considering looking at fiat on-ramp integrations, so there is a possibility we are talking to some and we'll always look to improve the user experience.
— — — — — — — — — — — — — — — — — — — — — –
That's it for our summary recap! We hope you enjoyed it and learnt something new! We'll have more exciting activities coming your way to celebrate our Kyber's 5 Year Anniversary so stay tuned so ensure you don't miss out!