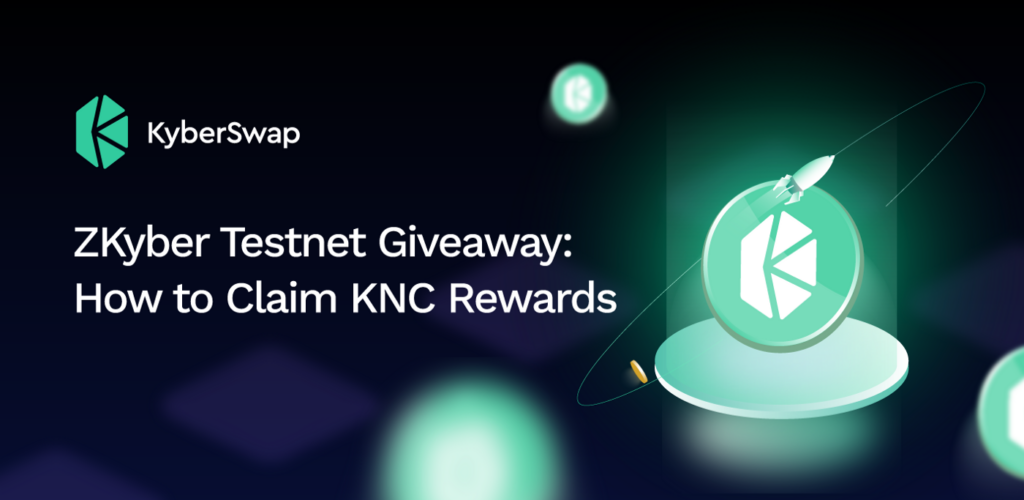 We would like to thank everyone who participated in our ZKyber testnet campaign and gave us feedback!
Since the early days of Ethereum and DeFi, Kyber had been at the forefront of Ethereum Layer 2 scaling research. Our research work on Elastico was the first proposed sharding solution for public blockchains and directly inspired the design of Zilliqa, a promising scalable blockchain project. We previously contributed to Plasma research and more recently we deep dived into the tradeoffs between different Rollup solutions. Ethereum remains a key pillar of DeFi and 'ZKyber' is Kyber's latest contribution towards L2 scaling research to help improve Ethereum's user experience and advance its ecosystem.
With our ZKyber testnet, we wanted to showcase the huge potential of a ZK-Rollup-based L2 scaling solution that makes trading on Ethereum faster, cheaper, and fairer, without sacrificing security. To recap, Zkyber has 100x better performance than Ethereum, close to the performance of a centralized exchange while preserving Ethereum's decentralization and security. ZKyber greatly reduces fees and latency, and also provides front-running and 'sandwich attack' resistance. Read our previous post on ZKyber.
ZKyber is an important step towards making DeFi trading truly seamless and effortless — We have taken these learnings and you will hear about more initiatives from us soon this year, the 5th Anniversary of Kyber Network.
$50,000 ZKyber Testnet Giveaway
5921 wallet addresses fulfilled the criteria stipulated earlier and are eligible to claim KNC rewards on KyberSwap. Each wallet will receive roughly 8 USD worth of KNC. Some further elaborations below.
To be eligible, ZKyber users must have completed the following before the deadline of 31 Jan, 2022, 11.59pm GMT+8.
On ZKyber
On Ropsten testnet, complete at least 2/3 of the following:
1. Swap Tokens
2. Add or Remove Liquidity
3. Deposit tokens from Ropsten testnet L1 to ZKyber L2
AND
On KyberSwap
On ANY mainnet chain/network KyberSwap supports (Ethereum, Polygon, BSC, Avalanche, Fantom, Cronos) make at least 1 trade or add any liquidity before the deadline.
How to claim
Claiming will be done on the Polygon network on KyberSwap instead of Ethereum as it has cheaper gas costs. Most users who participated in ZKyber also conducted transactions on Polygon.
1. Visit KyberSwap and connect your wallet. This has to be the wallet you used to fulfill the ZKyber campaign criteria
2. Switch your network to Polygon
3. Click on the menu option at the top right and then click the 'Claim Rewards' button
4. In the dialog that opens, you will see the KNC reward amount you are eligible to claim
5. Click the 'Claim' button
6. You have 6 months to claim your KNC rewards on KyberSwap Polygon
Note: You will need some MATIC tokens in your wallet to pay for gas before you can claim the KNC rewards
ZKyber On-chain Statistics
Number of Swap Transactions : 17,337
Number of Add Liquidity Transactions: 13,338
Number of Remove Liquidity Transactions: 9,149
Total ETH distributed through our faucet: 37.8 ETH
Total ETH deposited from L1 to L2: 19,726 ETH
Total ETH withdrawn from L2 to L1: 88 ETH
Number of Wallet Addresses used in the testing: 15,547
Other Statistics
Number of Feedback Responses — 2590 Responses
Total Page Views — 450,000+ Page Views
Number of Users by Country (Top 3):
India — 4,374 Users
Taiwan — 3594 Users
Indonesia — 3,021 Users
Scaling Ethereum Together
ZKyber is a product of Kyber's research and development initiatives and our way of giving back to the Ethereum community and we hope that it helps expedite the progress of L2 scaling research, especially in the field of ZK-Rollups. We welcome all Ethereum researchers and developers to reach out to learn more about how they can use ZKyber and work with us to advance the DeFi space together.
---
About Kyber Network
Kyber Network is delivering a sustainable liquidity infrastructure for DeFi. As a liquidity hub, Kyber connects liquidity from various protocols and sources to provide the best token rates to Dapps, aggregators, DeFi platforms, and traders.
Through Kyber, anyone can provide or access liquidity, and developers can build innovative applications, including token swap services, decentralized payments, and financial Dapps — helping to build a world where any token is usable anywhere. Kyber is powering more than 100 integrated projects and has facilitated over US$8 billion worth of transactions for thousands of users since its inception.
KyberSwap, the latest protocol in the liquidity hub, provides the best rates for traders and maximizes returns for liquidity providers.
Discord | Website | Twitter | Telegram | Forum | Blog | Reddit | Facebook | Github | KyberSwap | KyberSwap Docs
---
About Kyber Network
Kyber Network is building a world where any token is usable anywhere. KyberSwap.com, our flagship Decentralized Exchange (DEX), provides the best rates for traders in DeFi and maximizes returns for liquidity providers.
KyberSwap powers 100+ integrated projects and has facilitated over US$7 billion worth of transactions for thousands of users since its inception. Currently deployed across 11 chains including Ethereum, BNB Chain, Polygon, Avalanche, Fantom, Cronos, Arbitrum, Velas, Aurora, Oasis and BitTorrent.
KyberSwap | Discord | Website | Twitter | Forum | Blog | Reddit | Facebook |Developer Portal | Github |KyberSwap| KyberSwap Docs