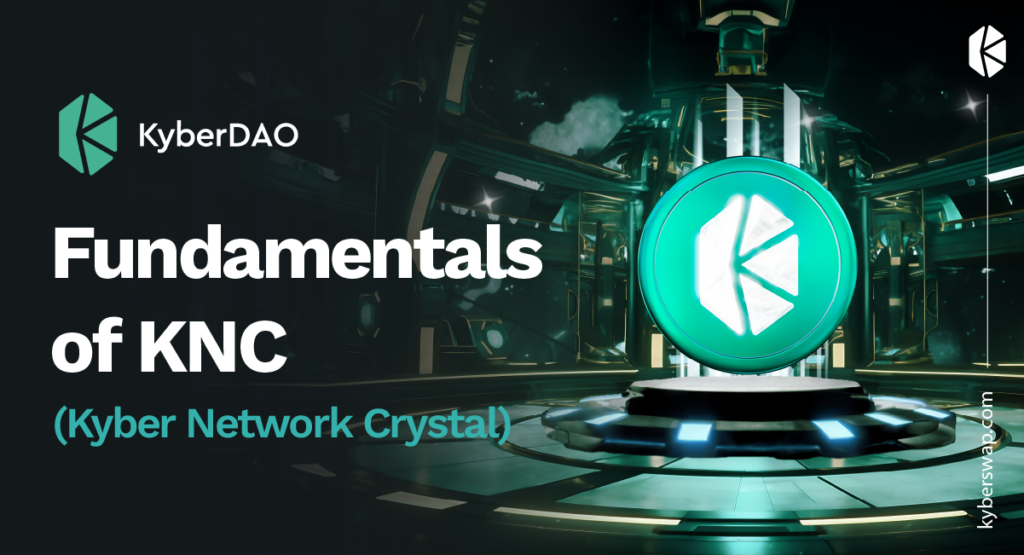 Since our launch in 2017, Kyber Network's KNC (Kyber Network Crystal) token has stood as a fundamental building block, underpinning product and ecosystem growth. As a utility and governance token, KNC is an integral part of Kyber Network and in turn, KyberSwap – our flagship multi-chain DEX aggregator and liquidity platform.
In this post, we will unravel the core attributes, use cases, and advantages that define the essence of the KNC token.


What is KNC?
KNC is a utility and governance token that serves as the bedrock of the KyberSwap ecosystem. KNC plays a critical role in governing KyberSwap through KyberDAO and facilitating its various operations. KNC holders who stake their tokens are empowered to participate in governance and influence key decisions. They also earn a portion of trading fees plus other auxiliary benefits, and thus are the main beneficiaries of increased activity and growth on KyberSwap.
Launched on Ethereum in 2017, KNC adheres to the ERC-20 standard, meaning seamless compatibility with EVM-based smart contracts. Since September 2019, all vested KNC tokens for founders and advisors have been unlocked and distributed.
In 2021, in order to evolve with the DeFi landscape, KNC was upgraded with additional functionality and flexibility, and the old token version was renamed KNCL (Kyber Network Crystal Legacy). Old KNCL holders can migrate to the current KNC version here at a 1:1 ratio.
KNC is supported on and can be bridged to other EVM-compatible networks such as Ethereum, Polygon, Arbitrum, Optimism, BNB chain, and BitTorrent.


KNC Features
Interoperability: KNC's ERC-20 standard ensures its compatibility with Ethereum and EVM-based tokens and smart contracts, facilitating seamless interactions within the DeFi ecosystem.
Flexibility and Adaptability: KyberDAO's ability to upgrade or mint KNC amplifies the token's adaptability, enabling it to support liquidity, innovation, and growth across KyberSwap.
Commitment to Security: Audit reports by reputable audit firm Hacken underscores our team's commitment to the security of the KNC token, instilling confidence in its role as a foundational element of KyberSwap. View the audit reports here.


KNC Use Cases
Governance Rights: KNC holders who stake their tokens possess voting power within KyberDAO, enabling them to vote on KIPs (Kyber Improvement Proposals) and influence key decisions that steer KyberSwap's development and enhancements.
Voting Rewards: In return for staking and participating in governance through voting, KNC holders receive a portion of protocol trading fees generated on KyberSwap. As more trades are carried out on KyberSwap, trading fees increase, resulting in more rewards for the KyberDAO. The more KNC staked by a user, the bigger their share of fees! Thus, there is a symbiotic relationship between KyberDAO stakeholders and KyberSwap's success. For details regarding fees to KyberDAO, visit our docs.
Gas Refunds: With our new Gas Refund Program, KNC holders who stake their tokens on KyberDAO are also able to enjoy gas refunds when they trade with KyberSwap. The percentage of gas refunds are based on their KNC staking tier, offering more rewards for higher levels of commitment. Visit our docs for more details on our Gas Refund Program.
Liquidity Provision: KNC holders can contribute to KyberSwap's liquidity pools (e.g. KNC-USDC), providing valuable liquidity and earning fees from the trading activity that flows through the pool.
Incentive Mechanism: KNC's role extends to incentivizing liquidity providers through liquidity mining rewards, on top of standard trading fees. This provides more value to liquidity providers, bootstraps liquidity, and further amplifies ecosystem growth.
Collateral for Loans: KNC is supported as a collateral asset on some lending/money market platforms for users to mint or borrow other tokens. For example, KNC can be deposited on QiDao vaults to borrow the MAI stablecoin.


Future Utility
As KyberSwap evolves and gets equipped with additional features, KNC's utility is poised to grow even further. User feedback, community engagement, and ongoing developments will collectively shape the token's future applications.
Visit the KNC Utility page and help us improve KNC by providing suggestions on our governance forum and making feature requests!


Managing KNC
Buying KNC
DEX (decentralized exchanges): KNC can be obtained via kyberswap.com on the Ethereum, Polygon, Arbitrum, Optimism, BNB chain, and BitTorrent networks.
CEX (centralized exchanges): KNC is available on all the top centralized exchanges including Binance, Coinbase, Upbit, Bithumb, Bitrue, Crypto.com, OKX, Huobi, Bitfinex, KuCoin, Kraken, Gemini, MEXC, HitBTC, Gate.io, and Tokocrypto.
You can view all KNC markets on CoinGecko here.


Storing KNC
As an ERC-20 token, KNC can be stored in any Web3 wallets you control such as Ledger, Trezor, Metamask, Coin98, Krystal, MyEtherWallet, Trust Wallet, Enjin, Argent, and Web3Auth.
Below we highlight a few categories of wallets.
Non-custodial wallets
Hardware Wallets: Hardware wallets a.k.a "cold wallets" are physical devices designed to securely store cryptocurrency offline. These wallets store your private keys on the device and require physical access and a PIN or passphrase to authorize transactions. Using a hardware wallet is recommended as it is among the most secure solutions accessible to users.
Multisignature Wallets: Multisig wallets require multiple private keys to authorize transactions. They enhance security by distributing the responsibility across multiple parties, reducing the risk of a single point of failure.
Hot Wallets: Hot wallets are suitable for users who prioritize convenience but still want to hold custody of their own cryptocurrency funds. There are different kinds of hot wallets: web, desktop and mobile. These solutions are convenient but might be more vulnerable to malware or viruses.


Custodial wallets
Custodial wallets: Custodial wallets are managed by a third party like a centralized crypto exchange. Custodial wallets are suitable for users who are willing to trust a third party to manage their funds and private keys. Due to custodial risks such as hacks or even an exchange going bankrupt, it is generally not advisable to keep large amounts of cryptocurrency in a custodial wallet. Remember, "Not your keys, Not your coins"!


Wallet examples
Hardware wallets: Ledger, Trezor
Multisig wallets: Gnosis Safe
Hot wallets: Metamask, Rabby, Coin98, Krystal, MyEtherwallet, Trust wallet, Argent on Desktop
Custodial wallets: Binance, Coinbase, Crypto.com, OKX, Upbit, KuCoin, Bithumb, Huobi, and other CEXes


Adding KNC to MetaMask
Adding KNC to MetaMask allows you to view your KNC token holdings, trade on decentralized exchanges, and more.
To add KNC, you'll need to import KNC as a token. You can copy KNC's contract address (0xdefa4e8a7bcba345f687a2f1456f5edd9ce97202) and import it manually, or if you've installed MetaMask's chrome extension, add KNC to MetaMask with one click on CoinGecko.


How to bridge KNC between Ethereum mainnet and other networks?
You may use the native, canonical cross-chain bridges provided by the respective network teams. Examples include:
We will also continue to work with 3rd-party bridges (e.g. Axelar/Squid) to better facilitate the seamless bridging of KNC cross chain!


Other KNC information
KNC token contract addresses on different chains
KNC token proxy smart contract details
Token contract address: https://etherscan.io/token/0xdeFA4e8a7bcBA345F687a2f1456F5Edd9CE97202
3 main roles managing the token contract:
Owner: Kyber: Multisig – Has the ability to withdraw tokens transferred wrongly to its address. https://etherscan.io/address/0x3EB01B3391EA15CE752d01Cf3D3F09deC596F650

Minter: Kyber Governance Long Executor – Has the ability to mint KNC if approved by KyberDAO after a successful vote. https://etherscan.io/address/0x6758a66cd25fef7767a44895041678fc4ae9afd0

Proxy admin control: Kyber Governance Long Executor – Has the ability to upgrade the KNC token implementation if approved by KyberDAO after a successful vote. https://etherscan.io/address/0x6758a66cd25fef7767a44895041678fc4ae9afd0


Audit Reports on KNC and KyberDAO
KNC and KyberDAO smart contracts were audited by Hacken. Read the reports here.
Other audit reports for KyberSwap can be found on our documentation page.


Stay updated on KNC and KyberDAO
KNC as a catalyst for growth
KNC is inextricably linked to KyberSwap's growth as the token incentivizes user adoption and voting on governance proposals that determine protocol upgrades, fee adjustments, and other crucial decisions. At its core, KNC embodies the principles of decentralized decision-making and participation. As KyberSwap matures and evolves, the utility and importance of KNC increases exponentially as well.
Over time, we expect more users from both KyberSwap and the wider DeFi ecosystem to join the KNC community, working closely together to improve liquidity, optimize our products, and enhance the utility of KNC, thereby helping to shape the future of KyberSwap.