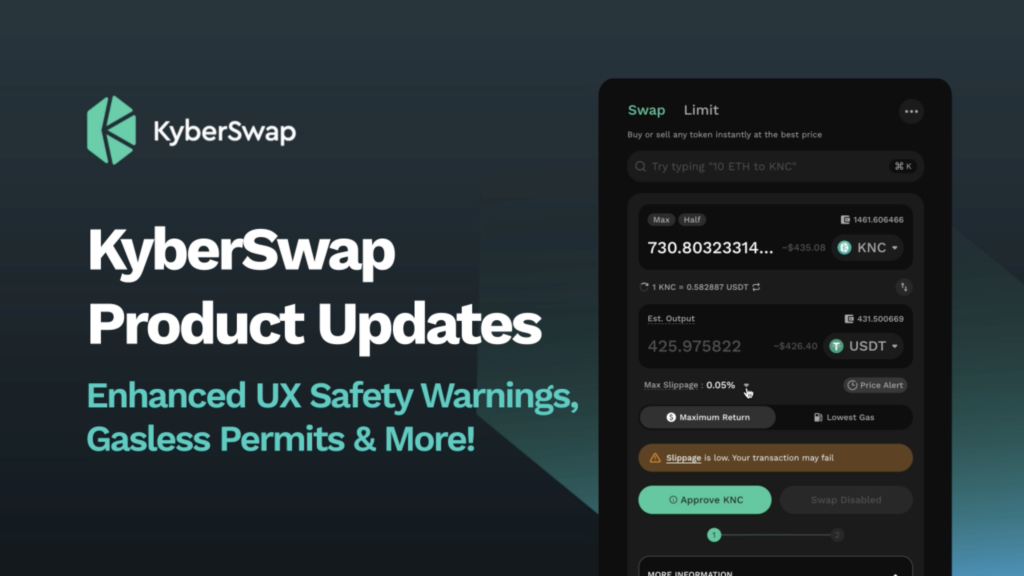 Welcome to KyberSwap's April Product Update!
As always, our team has been hard at work to bring you new features and improvements that will help you trade with ease on our decentralized platform. We are excited to share with you the latest updates that we believe will further enhance your trading experience.
We are committed to providing you with a seamless trading experience and hope these updates will help you make the most of your trading journey on KyberSwap. Let's dive in!


1) UI Improvements
Our team has made several improvements to our user interface to ensure that you can trade with ease and confidence. These include:
a) Additional safety warnings when:
– The price impact of the trade is too high,
– Slippage setting is too high or too low,
– Volatility in the market during the confirmation of the swap route.

b) Renamed "Advanced Mode" to "Degen Mode" to highlight that users are taking on excessive levels of risks even if they are advanced enough to account for all the possible consequences.

c) Reduced the threshold of price impact and max slippage to protect users

d) Added links to concepts such as "Price Impact" and "Slippage" on our Docs for users to refer if they wish to read up. Additionally, Trade Parameter Customization and Degen Mode details have been added to our Docs for further clarity.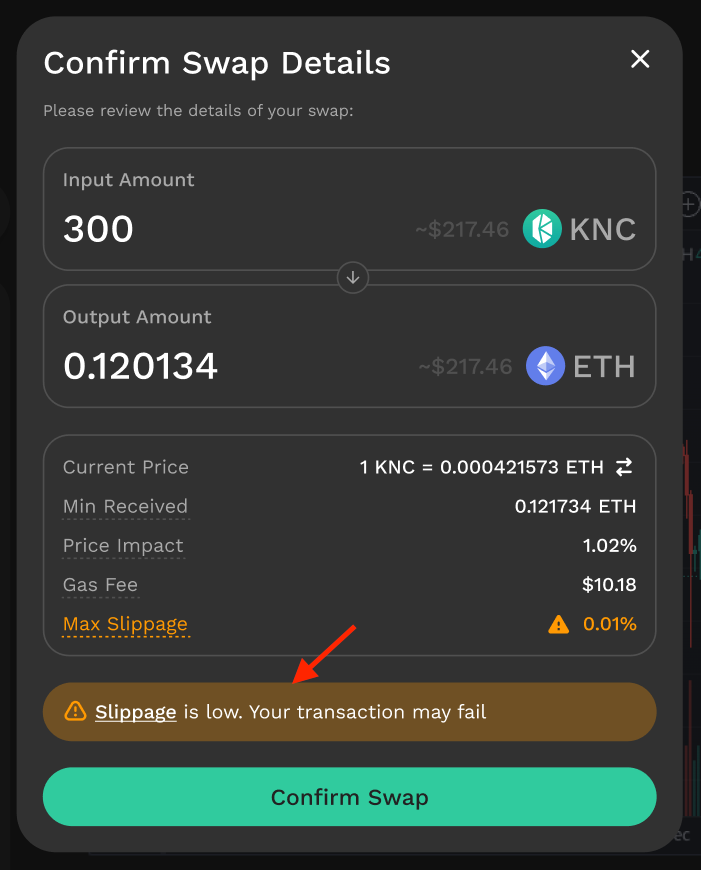 2) Improved Average APR calculations for Elastic Pools
Since improving the calculation methods as described in our February Product Update, our team discovered that if a large percentage of liquidity is removed near the end of the 30 minute interval, the APR tends to become skewed because the fees generated in this 30 min interval is still high, but in-range TVL calculated at end of interval is really low as liquidity was removed.
Therefore our team has adjusted the calculations to use the in-range TVL at the start of the 30 min interval instead of at the end of the interval. Fees generated would still be considered at the end of the 30 min interval.
This way, we prevent fluctuations that could result in irrationally high APRs in our Elastic pools.

More in-depth details on calculations on the APRs can be found on our Docs.



3) Customisable Allowance Limits & Temporary Swap Permits
On 26 April, we introduced Customisable allowance limits and Gasless Approvals for EIP2612 tokens.
To recap, customisable allowance limits allows you to set specific or unlimited allowance limits for your token transactions, giving you greater control over your assets and ensures your designated funds are utilized according to your intended purposes.
Do take note this feature is not applicable to Metamask & Trust wallets as these wallets have implemented this feature natively. The KyberSwap UI enables users to set a limit no matter their preferred wallet provider.

Temporary Swap Permits allows you to save on gas fees with our Temporary Permit option when approving EIP2612 tokens KyberSwap has listed. You may refer to our Docs for the list of permissible tokens.

Approving a token via "Permit" does not require any gas and achieves the same effect as the ERC20 "Approve". If you see a "Permit" button, it means your token is eligible for gasless approvals.



4) Limit Order – UI improvement
Our team has enhanced your user experience by making the Limit Order process more convenient. Now, if a you have previously placed a Limit Order and subsequently transferred all your funds, we have added a red dot in the UI to notify you that you have an active order but insufficient available balance.

5) Sunsetting & Planned Revamp of KyberSwap Referral Program
A year ago, we created a Referral Fee Program where referrers earn through a small portion of their referees' trade (max 0.1%). This model proved to be unsustainable and usage was low. Therefore we have decided to discontinue this referral program while we devise a new fee configuration.

We would like to express our gratitude to all the users who have participated in this program. We encourage you to stay updated on our future plans.



Eager to know what new features are coming up next? Check out our Product Roadmap to know what the Kyber team has planned for you!
Have a great idea for a new product feature you'd like to see on KyberSwap? Make a Request here for our Product Team to evaluate and consider.
We are committed to providing you with a seamless trading experience and hope these updates will help you make the most of your trading journey on KyberSwap. Stay tuned for more updates in the coming months!
Trade smart with KyberSwap.