To commemorate KyberSwap's amazing partnership with Avalanche, KyberSwap's trading contest promises a sure-win for all with $50,000 in rewards!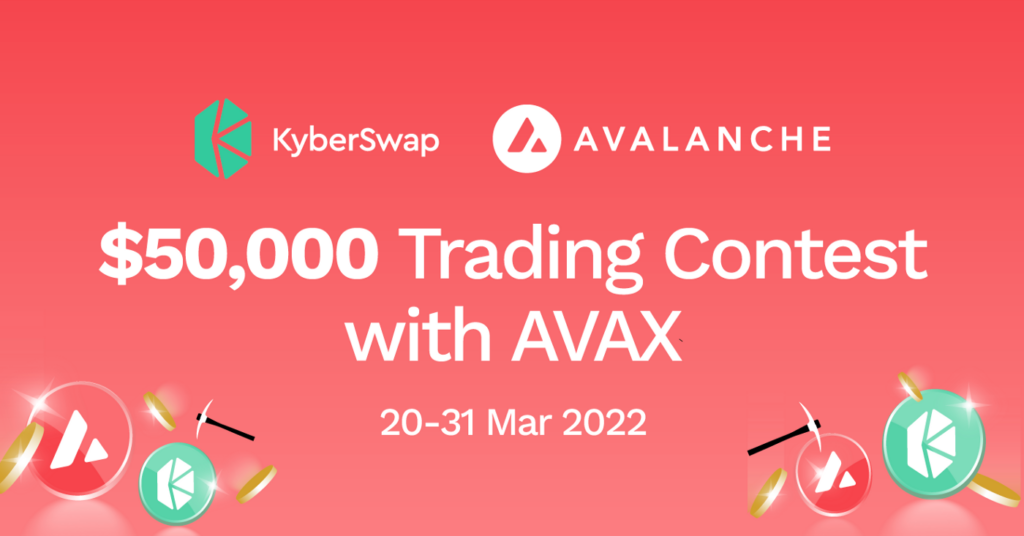 To celebrate the success of our partnership with Avalanche network and our $1M Avalanche Rush liquidity mining campaign, we have decided to bring all of our loyal traders to the party! We guarantee not only some seamless trading actions with our optimal DEX aggregator, but also a prize to bring home…for EVERYONE! With a total of $50,000 in rewards, no man will be left behind.
Trading prize pool: $50,000
Each wallet that trades the minimum of $100 will be eligible for a share of the prize pool
5 lucky traders (selected randomly) will receive $1,000
How to win:
Step 1: Visit kyberswap.com
Step 2: Make sure you are on the Avalanche network and have some AVAX tokens for gas transaction fees on Avalanche.
Step 3: Perform a token swap, with one of the tokens being AVAX (any token → AVAX or AVAX → any token). *Minimum trade is $100.
Important Note: All trade must be carried out on kyberswap.com.
Duration: From ~20 March 09:00 (EDT) to ~31 March 23:00 (EDT)
What are you waiting for? Swap $AVAX tokens on KyberSwap now!
---
In addition, check out our ongoing Avalanche Liquidity Mining Program with $1 Million in rewards! Learn more.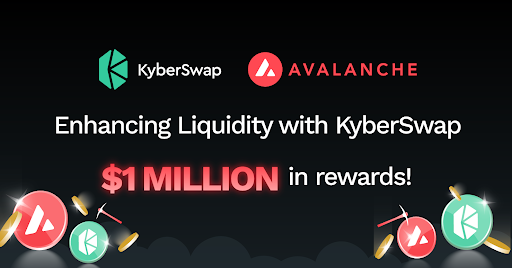 ---
About Avalanche
Website | Developers | Twitter | Telegram | Discord
About Kyber Network
Kyber Network is building a world where any token is usable anywhere. KyberSwap.com, our flagship Decentralized Exchange (DEX) aggregator, provides the best rates for traders in DeFi and maximizes returns for liquidity providers.
KyberSwap powers 100+ integrated projects and has facilitated over US$7 billion worth of transactions for thousands of users since its inception. Currently deployed across 9 chains including Ethereum, BNB Chain, Polygon, Avalanche, Fantom, Cronos, Arbitrum, Velas, Aurora.
KyberSwap | Discord | Website | Twitter | Forum | Blog | Reddit | Facebook |Developer Portal | Github |KyberSwap| KyberSwap Docs