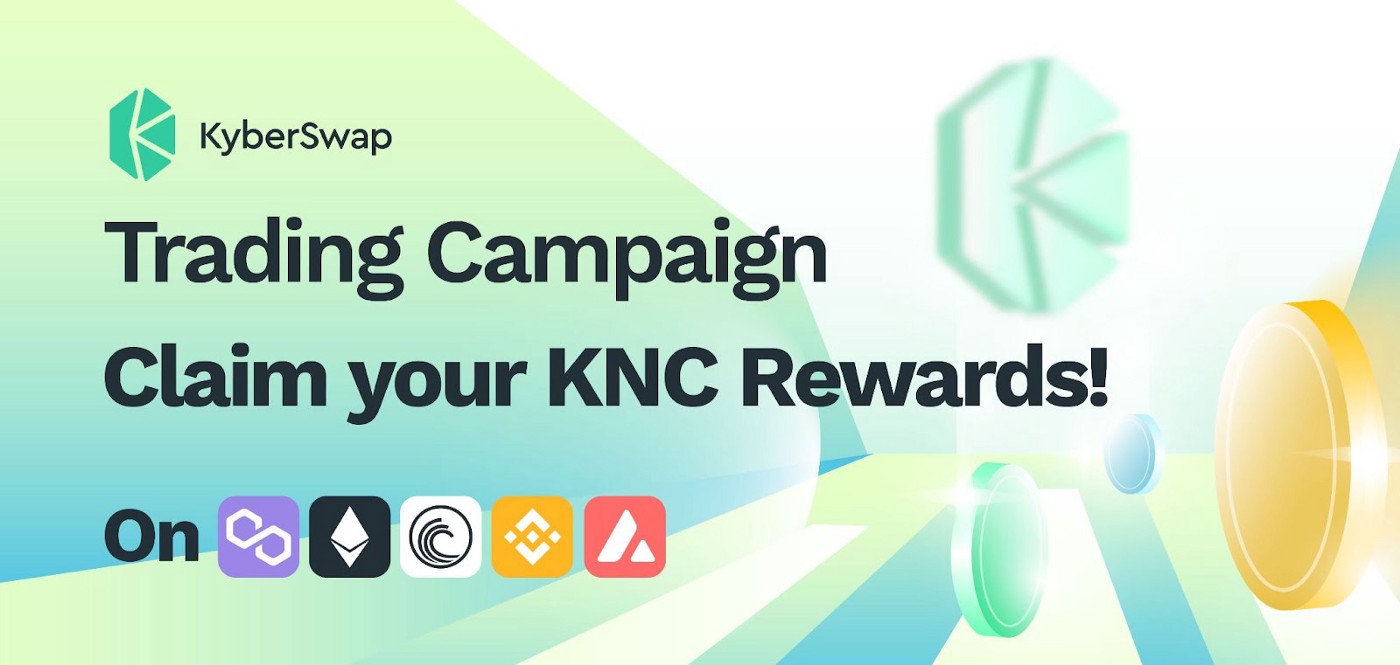 Thanks to everyone who participated in our KyberSwap Trading Contest!
It's been an EPIC trading battle, with over 24,000 KyberSwappers taking part, 500,000+ swaps conducted and over $175M volume traded in just TEN days!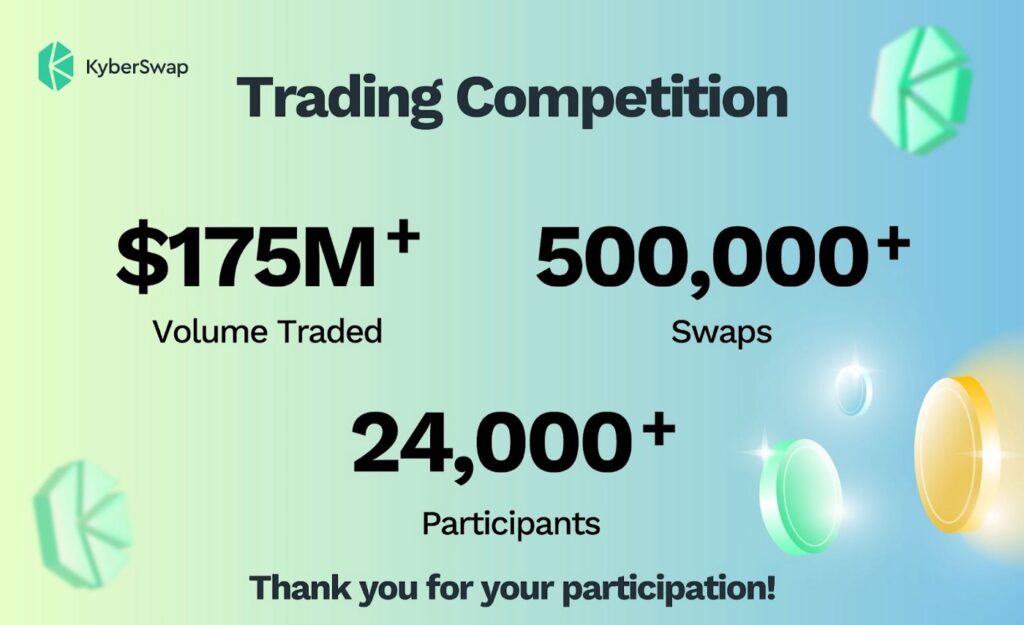 To recap on eligibility, KyberSwap users must have fulfilled the criteria stipulated in our previous post.
To recap on the criteria and rewards distribution, please refer to the following:
Each wallet that trades at least $100 in total trading volume will be eligible for this trading contest.
Swaps must be made in a token pair. Swaps between wrapped and unwrapped tokens (Eg: ETH ➡️ WETH, BNB ➡️ WBNB, AVAX ➡️ WAVAX, etc) will not be eligible.
Swaps must be completed on KyberSwap on any 1 of the following 5 chains
– Polygon
– Ethereum
– BitTorrent
– BNB Chain
– Avalanche
Contest Duration: 06 July ~03:00 UTC to 15 July, ~23:59 UTC
Rewards Distribution:
Rank 1–1st Winner
Rank 2–2nd Winner
Rank 3–3rd Winner
Rank 4 to 50–47 Winners
Rank 51 to 100–50 Winners
Rank 101 onwards — 500 Winners (To be chosen at random)
With our Trading Leaderboard, KyberSwappers can easily view their rankings and determine their corresponding rewards! You can also search for your wallet address on the "Lucky Winners" tab to find out if you're one of the random 500 lucky winners!
Check to see if you've won on our Campaigns page here.
How to Claim:
To claim your rewards, simply click on the "Claim Reward" button on the Campaign page here. Ensure you are on BNB chain and your wallet is connected. If you have multiple wallets, please ensure you are using the same wallet's address that appears on the leaderboard.
For example: If you used Wallet A & Wallet B to participate in the contest, but only Wallet A is eligible for rewards, you will not be able to claim rewards on Wallet B.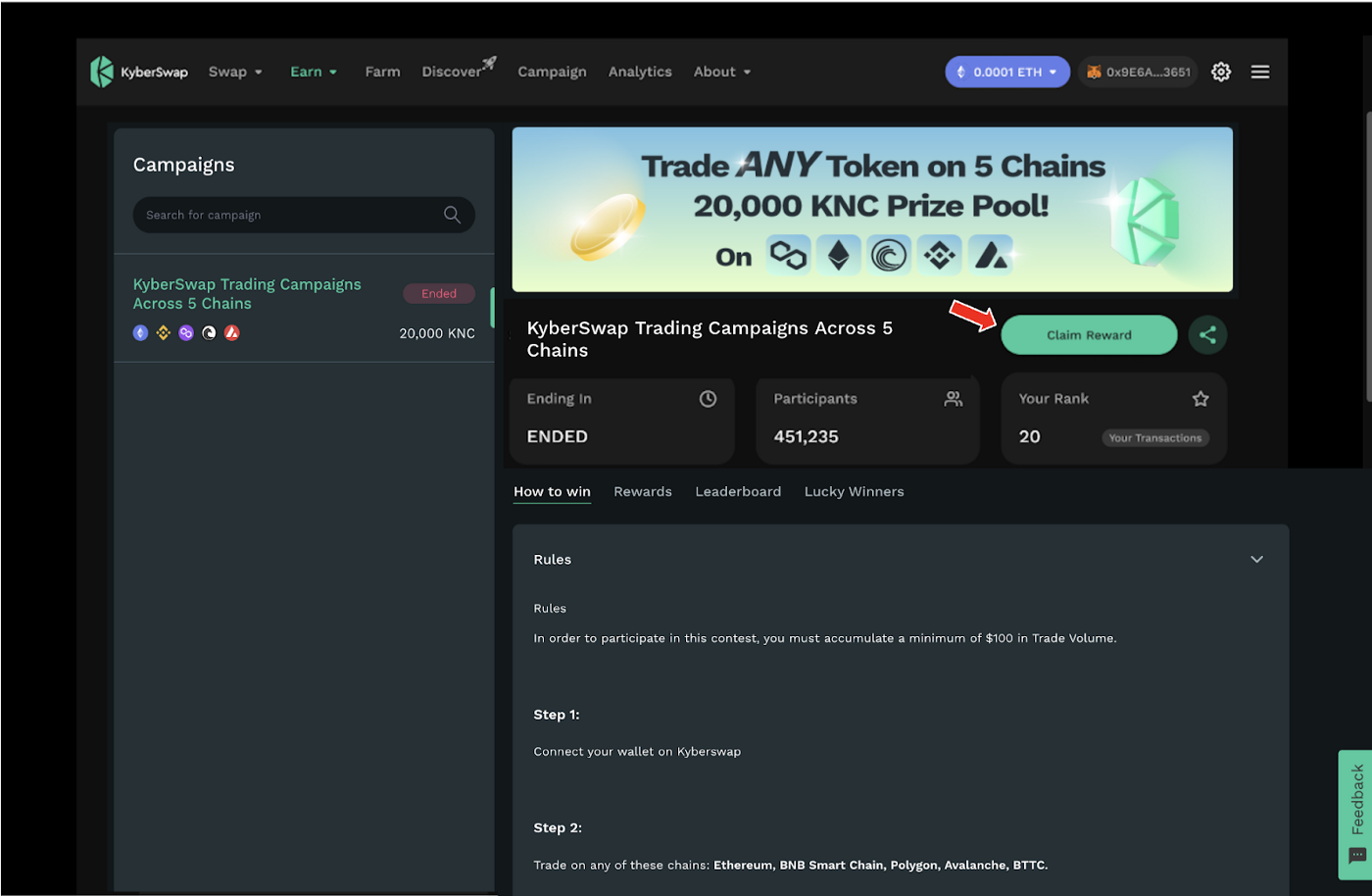 There is no time limit to claim your rewards.
*If the "Claim Rewards" button is greyed out, your wallet address is not eligible for rewards. Better luck next time!
MORE trading contests, incentive programs and maybe even a_ _ _ _ _ _ s coming your way SOON! So keep an eye out and follow our socials to ensure you don't miss out!