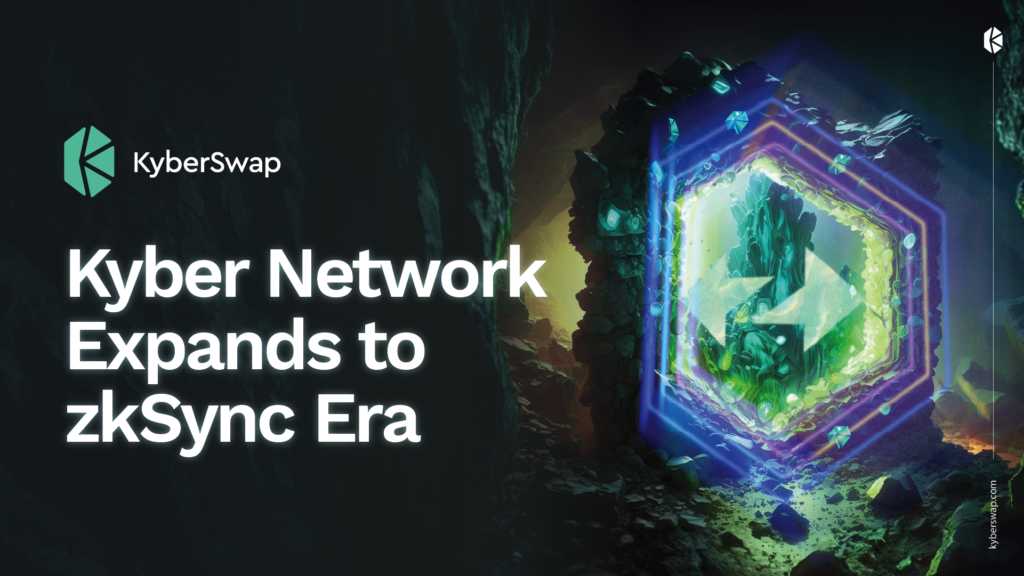 In the fast-changing world of DeFi, Kyber Network has always been focused on a consistent goal: to give our users the most optimal swap rates safely & securely as the most efficient DEX in DeFi.
Today, we are thrilled to announce a significant milestone for Kyber Network as we embark on a new journey by deploying KyberSwap on zkSync Era. This integration not only solidifies our position as a pioneering EVM DEX aggregator but also brings us closer to delivering the most optimal swap rates and seamless transactions in DeFi.
"We are thrilled to announce Kyber Network's expansion to zkSync Era, a groundbreaking milestone for our platform," said Victor Tran, CEO and Co-founder of Kyber Network. "zkSync Era sets itself apart with innovative features and aligns perfectly with our vision of providing the most efficient trading experience while preserving the core values of decentralization. We believe in zkSync Era's potential to revolutionize the industry, and we are excited to be at the forefront of this technological advancement."
As of now, Kyber Network has successfully deployed KyberSwap's aggregator and Classic liquidity protocol on zkSync Era, laying a strong foundation for further advancements and innovations in the near future. Rest assured, there are more exciting developments to come as we continue to push the boundaries of decentralized finance.
Our deployment on zkSync Era includes the integration of native DEXs, such as Mute, Switch, SyncSwap and Velocore, further augmenting our liquidity offerings. These strategic integrations allow KyberSwap to be well-positioned to continue to provide our users with the most efficient, cost-effective, and user-friendly trading experience possible, even on a new chain.
So take full advantage of this expansion when you trade on zkSync Era with KyberSwap where you'll experience the best swap rates available, and earn dynamic LP fees by providing liquidity to our Classic Pools.


What is zkSync Era?
zkSync Era is the first zero-knowledge zkEVM for Ethereum, offering a Layer-2 protocol scaling solution backed by state-of-the-art Zero Knowledge (ZK) technology.
Launched in June 2020, zkSync showcased an initial transaction capacity of 300 transactions per second. zkSync 2.0 brought qualitatively different features, such as Account Abstraction and EVM support through Solidity and Vyper.
On February 16, 2023, Matter Labs, the team behind zkSync, announced the rebranding of zkSync 2.0 into zkSync Era.
Furthermore, Matter Labs has received substantial funding, the largest among all L2 scaling solutions. This significant support further validates the immense potential of the zkSync Era.


What sets the ZkSync Era apart?
Native Account Abstraction: zkSync Era boasts native account abstraction, prioritizing user experience for mass adoption. Aligning with Ethereum's user-centric approach, zkSync Era ensures a seamless transition for Ethereum users, who primarily utilize EOA (Externally Owned Accounts).
Powerful LLVM Compiler: zkSync Era leverages a cutting edge LLVM (Low Level Virtual Machine) compiler to achieve maximum performance and onboard developers seamlessly. This compiler enables the translation of code from popular EVM languages like Solidity, Vyper, and Yul to run on their custom zkSync Era VM.

ZkSync Era's focus is on hyper-scalability, aiming to drive the widespread adoption of cryptocurrencies through cost-effective computation, efficient storage, and the potential for unlimited throughput in the future.
zkSync Era may still be in its early development stages, but the chain has already showcased a steady and consistent rise in TVL despite bearish market sentiments, highlighting its potential for exponential growth.
Furthermore, the upward trend in daily transactions, coupled with decreasing fees, signifies a stable network. This stability assures users of a seamless experience and paves the way for the emergence of new protocols operating within the zkSync Era ecosystem.
With our deployment on zkSync Era and a well-crafted roadmap, KyberSwap continues to lead the way towards providing our users with the top tools and services to create the best DeFi experience.
"We're excited to see zkSync Era's burgeoning DeFi ecosystem continue to flourish with the deployment of KyberSwap. Matter Labs, the team behind zkSync Era, is on a mission to accelerate the mass adoption of crypto for personal freedom", said Macro Cora, SVP of Business Operations at Matter Labs. "To do so, we're building a protocol that is trustless, secure, permissionless, affordable, easy to use, and limitlessly scalable. DEX aggregators like KyberSwap play an important role in the ecosystem by making DeFi easier to use and more affordable, ultimately driving greater adoption."


What are Kyber Network's plans for zkSync Era
With the deployment of our Aggregator & Classic Liquidity Protocol, KyberSwap is well-positioned to take the lead as the primary Aggregator and liquidity backbone on zkSync Era, offering users a comprehensive and efficient trading experience as well as providing essential support to other protocols and partners.
To further bolster liquidity options and strengthen the ecosystem, we are actively forging collaborations with esteemed partners such as Lido Finance and QiDao Protocol and working closely with DEXs and aggregators to integrate our pools, expanding the accessibility and usability of our platform.
A major milestone on our roadmap is to bring a Rush of Liquidity with Elastic Liquidity and Farms. This strategic step will create a surge in Total Value Locked (TVL) on zkSync Era, ensuring vital liquidity for protocols, the foundation, and our valued partners.
In addition to liquidity enhancements, we are proud to announce that we will be deploying KyberAI, the first real AI-enabled trading tool on zkSync Era. This will empower zkSync Era users to trade with greater insight and confidence, opening new possibilities in the realm of DeFi trading.
While we work on delivering these exciting updates, we'll sprinkle some side quests for our adventurous DeFi explorers along the way! Early adopters will have the opportunity to go on quests throughout the ecosystem, rewards, exciting NFTs and other incentives.
We remain dedicated to increasing TVL, trading volume, and usage dramatically until the expected airdrop in Q4.
A Big Reveal will take place at the end of 2023, where Kyber Network will assess all activity and recognize the most loyal and committed users and advocates of KyberSwap and zkSync Era. Stay tuned for updates on how these exceptional contributors will be rewarded for their unwavering support.
As we embark on this new adventure into zkSync Era, unlocking new possibilities and expanding our horizons, we invite you to join us on this exciting journey. Trade with confidence and experience the power of KyberSwap on zkSync Era.
Stay tuned for more exciting updates as we continue to push the boundaries of Decentralized Finance and empower our users in the ever-evolving crypto landscape. Together, let's shape the future of trading and unlock the true potential of decentralized finance.