Welcome to KyberSwap's August 2023 Product Update!

We are excited to share with you the latest updates and improvements to our platform that will further enhance your trading experience. Our team has been working hard to bring you new features and improvements that we believe will make KyberSwap an even better choice for all your decentralized needs.
In this blog post, we will dive into the details of our latest product updates. We hope you find these updates as exciting as we do and that they will enable you to make the most out of your trading experience on KyberSwap.
Thank you for your continued support, and let's jump in!


1. KyberSwap Arrives On Base
Developed by Coinbase, Base is an Ethereum L2 leveraging Optimism's OP stack. In 3 short weeks, Base has cemented itself as one of the main L2 players with a wide ecosystem of dApps supporting over $200M in TVL.
As part of the pioneering batch of dApps, KyberSwap further accelerates this growth with the launch of KyberSwap Elastic and KyberSwap Aggregator on Base. Aside from supercharged yields, KyberSwap users will get access to superior swap rates with trades being routed through 19 integrated DEXs.
For those looking to swap tokens to and from Base, KyberSwap has also integrated with Squid to enable cross-chain swaps. Users new to Base can take advantage of this feature to get Base ETH and tokens.
Expect better rates as KyberSwap continues to connect liquidity sources across the rapidly expanding Base ecosystem. Please visit our Docs to view the full list of Supported Exchanges And Networks.



2. KyberSwap Expands To Polygon zkEVM
Continuing with KyberSwap's expansion across the zkEVM space, KyberSwap is excited to announce that we have deployed our Aggregator as well as liquidity protocols (Classic and Elastic) contracts on Polygon zkEVM. KyberSwap users can now swap and earn at superior rates on Polygon zkEVM!
In addition to supercharged yield generation opportunities, swaps via the KyberSwap Aggregatator on Polygon zkEVM will be optimally routed via the following DEXs:
At KyberSwap, we are consistently ensuring users and dApps get easy access to the most capitally efficient capital sources across multiple chains. You can view the full list of chains and the DEXs integrated with KyberSwap on our Docs.



3. Support For 4 New Wallets: Blocto, Krystal, Rabby, Safe
KyberSwap has added support for 4 new wallets enabling our users to choose from a total of 9 wallet options! The Web3 wallet space is rapidly evolving with new interfaces and convenience targeted at onboarding the next billion users. KyberSwap continues to support this vision and has rolled out support for the following wallets:
Trade with your favourite wallet and experience the same great experience on KyberSwap. You can refer to our Docs for a complete list of supported wallets as well as guides on getting started.


4. KyberSwap Widget: Customize And View Trade Routes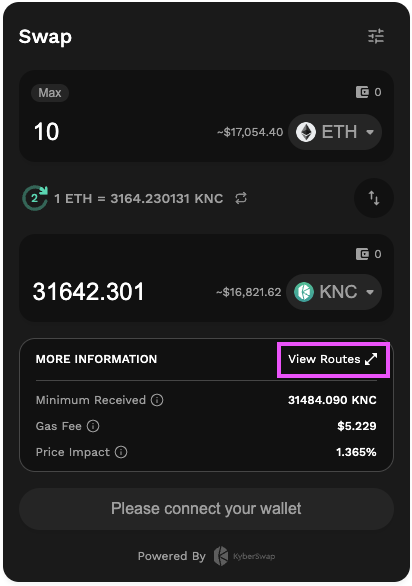 The KyberSwap Widget has been enhanced with support for customizing and displaying trade routes. Integrators can now easily customize trades going through the widget by configuring a list of DEX IDs. Trades via the widget will only be routed via the whitelisted DEX IDs. Moreover, users of the widget will also be able to view the trade routes directly in the widge
Please refer to Customizing The KyberSwap Widget for more information on the various configuration options such as fees, trade routes, token lists, and themes.
5. My Earnings For KyberSwap Classic Pools
The My Earnings page now supports KyberSwap Classic pools providing liquidity providers a single page to track their returns across all their Classic pools on every supported chain. You can now view your KyberSwap Classic historical and current earnings broken down chains, individual tokens, and even different timeframes.
Visit our Docs to read more about how you can save time by using KyberSwap's Earnings Dashboard.



6. More liquidity sources with newly integrated DEXs
As an aggregator, KyberSwap is constantly working together with the wider DEX community to create synergies and expand the DeFi liquidity network. Through sourcing and connecting various liquidity sources, KyberSwap ensures that users will always get the best rates while trades are always routed to the most efficient DEXs.
During the month of August 2023, we are happy to welcome the following DEXs into our Aggregator ecosystem:
Aerodrome Finance is a next-generation AMM designed to serve as Base's central liquidity hub, combining a powerful liquidity incentive engine, vote-lock governance model, and friendly user experience. Aerodrome inherits the latest features from Velodrome V2.

Aerodrome launched on 28th of August, 2023 on BASE network.
Alienbase is the Base-native DEX for degen earthlings.

A DEX on the base chain. Farm and stake tokens.

The apex decentralized exchange on Base Chain. As pioneers in the field, BaseSwap offer investors a transparent and efficient gateway to elevate their investment portfolios. Experience the evolution of trading without the complexities, hidden fees, or unnecessary taxes you'll get elsewhere. Why settle for less? Empower your financial journey with BaseSwap, and watch your assets thrive. 
Baso offers an attractive alternative to the current liquidity incentivisation mechanisms. The original mechanism of aligning protocol emissions with fees generated, not simply liquidity, is now enhanced. It allows protocols and large stakeholders to become veNFT "voters", using their locked voting power to direct future emissions and collect fees from the pools they voted for.
Velocimeter on Base. Velocimeter presents an attractive platform to overcome liquidity needs of projects.
Velocimeter was based on Velodrome which had made improvements to the Solidly codebase/logic to carry out the original intended mechanism of allowing voters to fairly compensate LPs for impermanent loss.
DackieSwap allows you swap and earn on Base. DackieSwap offers concentrated liquidity market maker, swaps, IDOs, and NFT pools.
DoveSwap is an automated liquidity protocol powered by a constant product formula and implemented in a system of non-upgradeable smart contracts on the Polygon zkEVM blockchain. It obviates the need for trusted intermediaries, prioritizing decentralization, censorship resistance, and security.

Velocimeter on Fantom. Velocimeter presents an attractive platform to overcome liquidity needs of projects.
Velocimeter was based on Velodrome which had made improvements to the Solidly codebase/logic to carry out the original intended mechanism of allowing voters to fairly compensate LPs for impermanent loss.


HorizonDEX is a Concentrated Liquidity DEX which let users allocate liquidity within a custom price range, enabling traders to maximize their efficiency and minimize slippage.

Maverick Protocol offers a new infrastructure for decentralized finance, built to facilitate the most liquid markets for traders, liquidity providers, DAO treasuries, and developers, powered by a revolutionary Automated Market Maker (AMM).
By automating the concentration of liquidity as the price moves and allowing LPs to follow the price of an asset in a single direction, Maverick represents a paradigm shift in the way smart contracts manage liquidity. Maverick is the first Dynamic Distribution AMM, capable of automating liquidity strategies that before now have required daily maintenance or the use of metaprotocols.


The Pearl team envisions Pearl as Polygon's native liquidity layer, prioritizing RWAs, and promoting value generation. Pearl provides a liquidity solution for both new and existing protocols, solving for initial liquidity challenges while also serving as an efficient solution to long-term liquidity incentivization. Pearl is owned by its users—protocols and investors—with their collective contributions helping to establish Pearl as one of DeFi's premier AMMs.

RAMSES is an innovative ve(3,3) DEX that builds upon Andre Cronje's original vision of Solidly. While the fundamental principles of Solidly have been largely overlooked, RAMSES aims to revive and prioritize three core tenets: COmmunity, Decentralisation, Functionality

Retro is more than just a decentralized exchange and automated market maker. We are a solution for protocols on Polygon to incentivize liquidity and earn revenue. For users, we provide a mix of tried-and-true as well as innovative ve(3,3) tokenomics to bring them greater yields and liquidity.  Our structure and commitment to maximizing gains for stakeholders will continue to drive us to make changes and improvements to the ve(3,3) model.

RocketSwap is the first protocol to trade on Base & opBNB and provide liquidity automatically.

SwapBased is an automated liquidity protocol implemented in a system of non-upgradeable smart contracts on the Base blockchain.

SwapBased offers Swaps, Single Staking, Bridging, Perpetuals and Concentrated Liquidity all in one place!

Synthswap is the leading DEX on Base, completely audited by PeckShield.
Compared to its competitors, Synthswap enables trading with the lowest fees! Rewards from Staking and Yield Farming are among the most lucrative.
All this and more is possible thanks to highly efficient Concentrated Liquidity. Uniquely to the Base ecosystem, Synthswap will offer its users Active Liquidity Management.


The Thena team envisions THENA as being the native liquidity layer of BNB Chain, enabling value creation by opening the gates for new protocols that wish to solve the cold start liquidity problem, as well as for established protocols looking for a long-term solution to reduce costs to incentivize their liquidity. THENA is a public good owned by protocols and users, with both parties contributing to THENA's status as the leading AMM.

Velodrome Finance is a next-generation AMM that combines the best of Curve, Convex and Uniswap, designed to serve as Optimism's central liquidity hub. Velodrome's flywheel allows protocols to build deep liquidity in a capital-efficient manner by directing $VELO emissions to their pools.
The above 18 DEXs joins more than 100 other DEXs that are building on top of the KyberSwap Aggregator ecosystem. You can view the full list of supported exchanges on our Docs.


7. KyberSwap Launches Our Bug Bounty Program
KyberSwap remains committed to the safety and security of our user's funds. As part of our ongoing efforts to improve the safety of our platform, we have launched a Bug Bounty Program on Immunefi where White Hats can get up to $200,000 in rewards for disclosing the vulnerability to KyberSwap.

Please refer to the program on Immunefi for further details regarding bug bounties.


This wraps up our KyberSwap August 2023 Product Update!
Check out our Product Roadmap for a peek at new and exciting features which the KyberSwap team is busy building. You can even create a new product feature request if you have a great idea which you'd like to see on KyberSwap!
KyberSwap continues to grow with the support of our community and we are eager to get our new and improved features into the hands of users as soon as possible. The KyberSwap team strongly believes that our product will continue to drive more value for our users as they navigate the complex world of DeFi.Trade smart with KyberSwap.