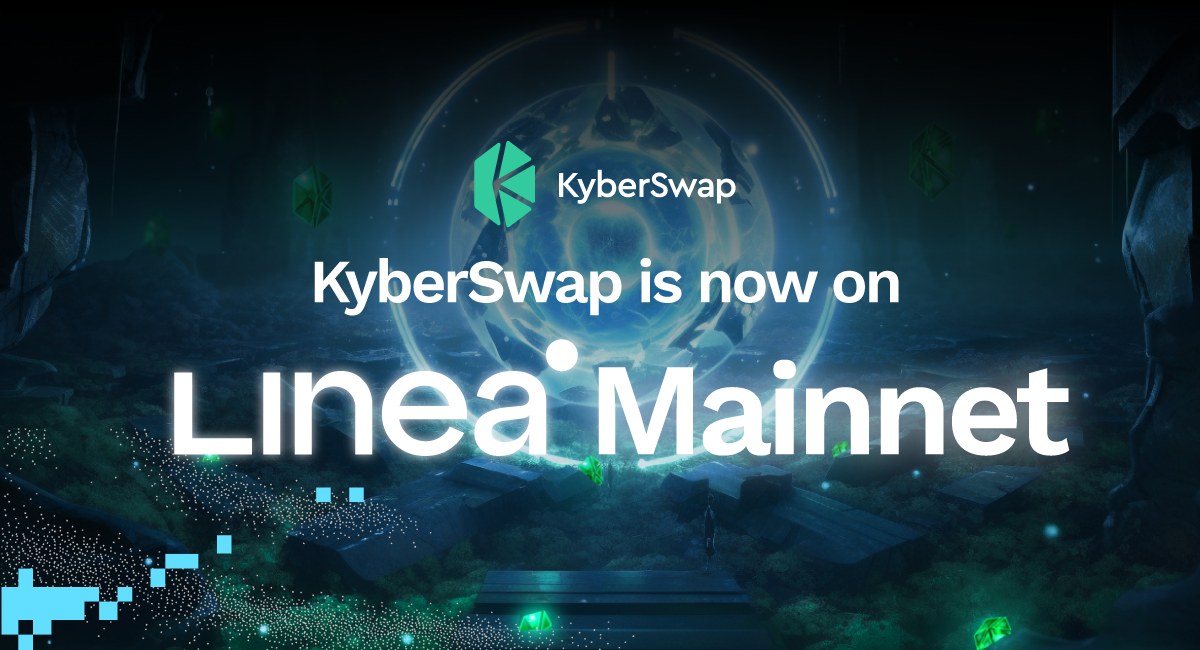 We're excited to announce crossing a major milestone in our ecosystem: KyberSwap has expanded to Linea Network!

In the rapidly evolving landscape of decentralized finance (DeFi), KyberSwap remains dedicated to delivering superior swap rates swiftly, securely, and cost-effectively.

Leveraging our aggregator routing capabilities and capital-efficient liquidity protocols, early adopters on Linea can now seamlessly swap. This allows them to earn while enjoying superior rates and reduced slippage.

Since our deployment on Linea Mainnet in July 2023, KyberSwap has soared to secure the #1 position in both Total Value Locked (TVL) and trading Volume on Linea!




As we deploy more solutions on Linea, we continue to move forward in building KyberSwap as the pioneering EVM DEX. This strategic move empowers DeFi users on Linea with enhanced liquidity options and powerful aggregation capabilities.


What is Linea Network?
Linea, a zkEVM rollup network launched by ConsenSys, is redefining user experience and scalability for Ethereum. With over 100 protocols, partners, dApps, and web3 integrations like MetaMask, Linea rich ecosystem offers fast, low-fee, high-throughput DeFi solutions.
Linea's mainnet launch follows a successful testnet phase that saw 5.4 million unique wallets commit over 43 million transactions in three months, making Linea one of the largest active projects on Goerli.

The mainnet boasts upgrades like an outer-proof system and dynamic fee mechanism. Batch conflation supports lower transaction costs up to 15 times cheaper than Ethereum Layer 1.


What sets Linea Network apart?
zkEVM Type 2 Technology: Linea's adoption of zkEVM (a fully compatible Zk-Rollup solution) enhances the development experience for programmers. The EVM-like structure ensures strong composability, allowing DApps to migrate seamlessly with minimal source code modifications.
Developed by ConsenSys: Backed by ConsenSys, Linea benefits from the expertise and resources of a prominent player behind successful projects like Metamask and Infura. ConsenSys R&D has dedicated substantial efforts to zkEVM research and development, culminating in the launch of Linea.
Developer-Friendly: Linea network offers direct integration with developer tools such as Metamask, Infura, Truffle, and Besu. Developers can leverage the built-in Metamask wallet, Infura's APIs and Web3 infrastructure, Truffle for Solidity contract development, and Besu for zkEVM optimization through battle-testing.


Empowering DeFi on Linea with KyberSwap:
KyberSwap has been an unwavering supporter of Linea network, having contributed to their DeFi Week with our own campaign held on Linea's testnet.
With Linea's mainnet introduction, our commitment to ecosystem growth remains unwavering, underscoring our collective dedication to advancing DeFi adoption and innovation.
"We are thrilled to announce KyberSwap's expansion to Linea," said Victor Tran, CEO and Co-founder of Kyber Network. "This marks a significant DeFi milestone, combining KyberSwap's prowess with Linea's groundbreaking technology for unprecedented potential. By joining forces, we are poised to revolutionize the way users engage with decentralized finance, offering enhanced liquidity options, powerful aggregation capabilities, and a seamless trading experience. We are excited to embark on this new chapter and shape the future of DeFi together on the Linea network."
Poised to establish ourselves as the leading aggregator on Linea, we target to encompass at least 80% of the network's Total Value Locked (TVL), solidifying our position in the ecosystem.

Our deployment on Linea now includes integration of DEXs such as SyncSwap, EchoDEX, Horizon and PancakeSwap v2. As a DEX, KyberSwap will also function as a liquidity source. Through our Elastic & Classic liquidity protocols, KyberSwap empowers DeFi users to optimise yield generation, navigating the DeFi ecosystem with ease.

By aggregating liquidity from these native sources, KyberSwap ensures competitively superior rates and a seamless trading experience for Linea users.


Next Steps and Beyond
To deepen community engagement and education, KyberSwap hosted a Linea-dedicated KyberTalks, a MegaAMA featuring the Linea team and partner protocols MetaMask, Velocore, OpenOcean and more, to share their thoughts, provide valuable insights and foster collaboration. If you've missed it, catch our recording on Twitter!
In addition, KyberSwap will be launching more exciting campaigns for Linea users! Expect lucrative liquidity mining initiatives & co-marketing campaigns aimed to bolster liquidity, encourage participation, and drive growth within the Linea ecosystem.
Stay tuned as we uncover more updates and milestones, a testament to our joint effort in reshaping the DeFi sphere. Check out our detailed roadmap for Linea's future prospects.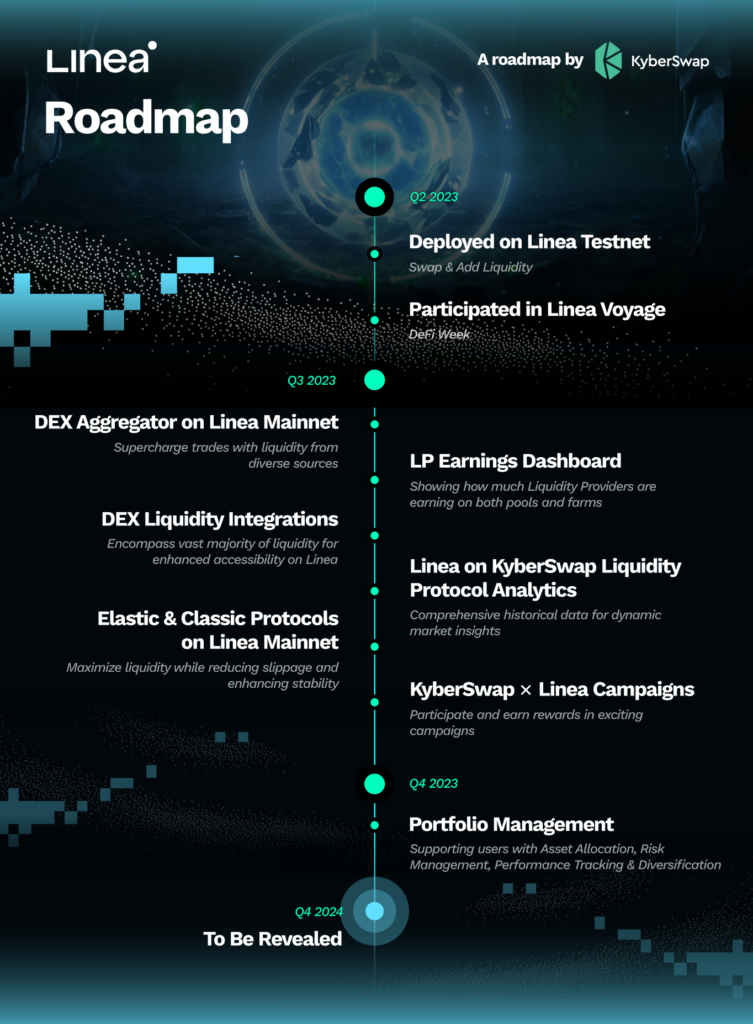 Envisioning DeFi Adoption with Linea:
We firmly believe that Linea's seamless integration with Metamask, courtesy of its connection to the ConsenSys family, will play a pivotal role in driving DeFi adoption. By offering a familiar and user-friendly experience, Linea unlocks the full potential of DeFi for users worldwide.


Are you bullish on Linea and KyberSwap? Become a KyberSwap Ambassador and be at the forefront of receiving updates, product releases, and alpha from the Kyber Network team. Play a pivotal role in growing the Kyber ecosystem and reap the rewards for your contributions.
The integration of KyberSwap with Linea Mainnet ushers in a new era of possibilities for DeFi. With enhanced liquidity protocols, advanced aggregation capabilities, and collaborative campaigns, KyberSwap empowers users to navigate the DeFi landscape effortlessly.
Join us in shaping the future of DeFi, as we continue to push the boundaries, innovate and empower our users in the ever-evolving crypto landscape to unlock the true potential of decentralized finance.