Welcome Kyberians, to KyberSwap's June 2023 Product Update!

Experience the power of KyberSwap's latest features, designed to enhance your DeFi journey. Combining experience & innovation, our team has been working hard to bring you new features and improvements to ensure KyberSwap remains the go-to platform for your decentralized needs.
Dive in and explore the wonders of our latest KyberSwap updates!
---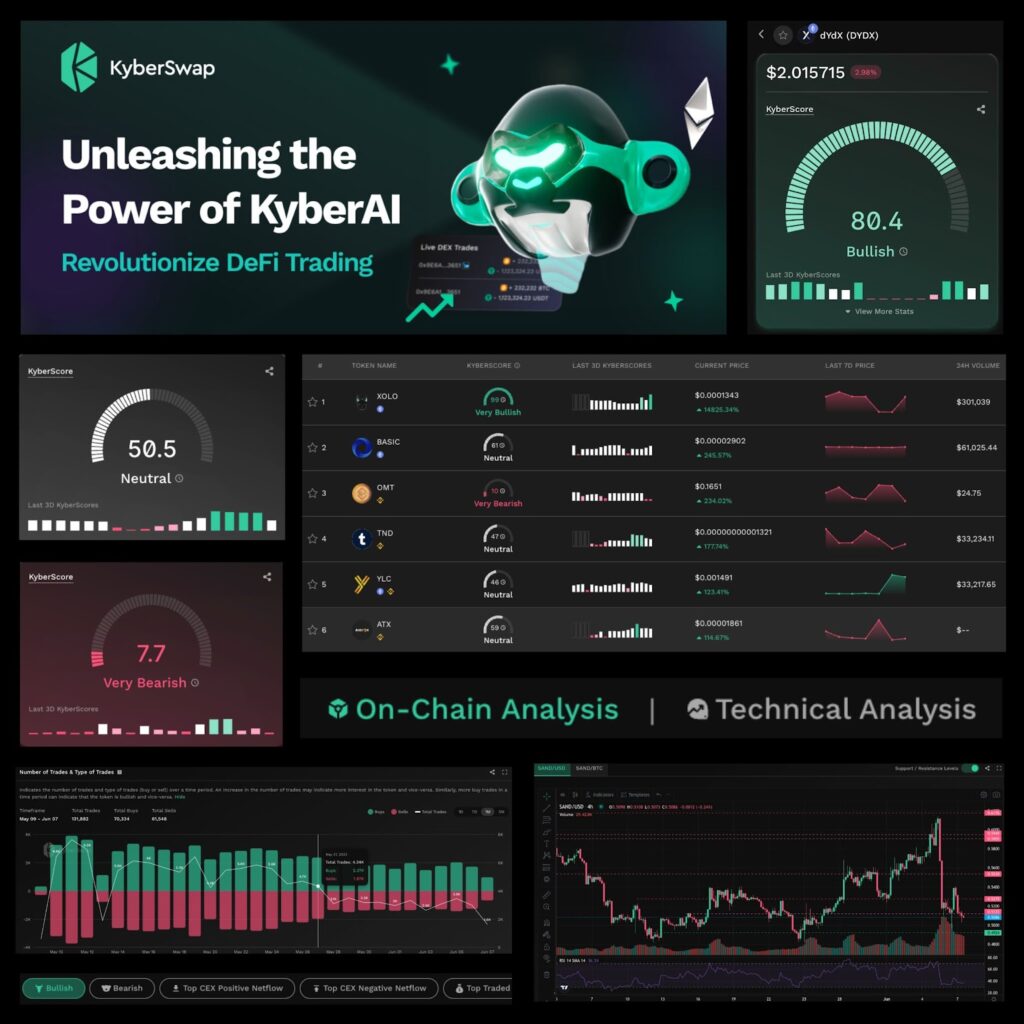 In an effort to bring more transparency into the DeFi space and empower DeFi users at all stages of their trading journey, KyberSwap has enhanced our current trading suite with valuable data insights derived via KyberAI.
With KyberAI, users gain access to a wealth of market data that is usually only afforded to institutional traders or high net worth individuals. KyberAI aggregates both on-chain and off-chain data across multiple chains and condenses this wealth of data into actionable insights which can be conveniently accessed via the KyberSwap Interface. 
KyberAI has also launched with our flagship KyberScore which leverages the latest advancements in AI to provide users with valuable insights into token performance in the DeFi markets. By taking advantage of a range of off-chain technical analysis metrics as well as on-chain signals, the KyberScore model has been optimized to identify whenever a token has bullish or bearish potential in the next 24 hours. KyberScore condenses all the complexities of interpreting multiple market factors into a single number enabling traders of all abilities to make more informed trading decisions.
KyberAI currently supports more than 4000 tokens deployed across the following 7 chains:
Ethereum (ChainID: 1)
BSC (ChainID: 56)
Arbitrum (ChainID: 42161)
Polygon (ChainID: 137)
Optimism (ChainID: 10)
Fantom (ChainID: 250)
Avalanche (ChainID: 43114)
Please visit our Docs for the full details of KyberAI and how you can leverage its trading insights to get alpha before it happens. KyberAI is currently undergoing its beta testing phase whereby access is granted to our most active and influential KyberSwap community members. You can join the waitlist here and get accelerated access by sharing your referral code.
---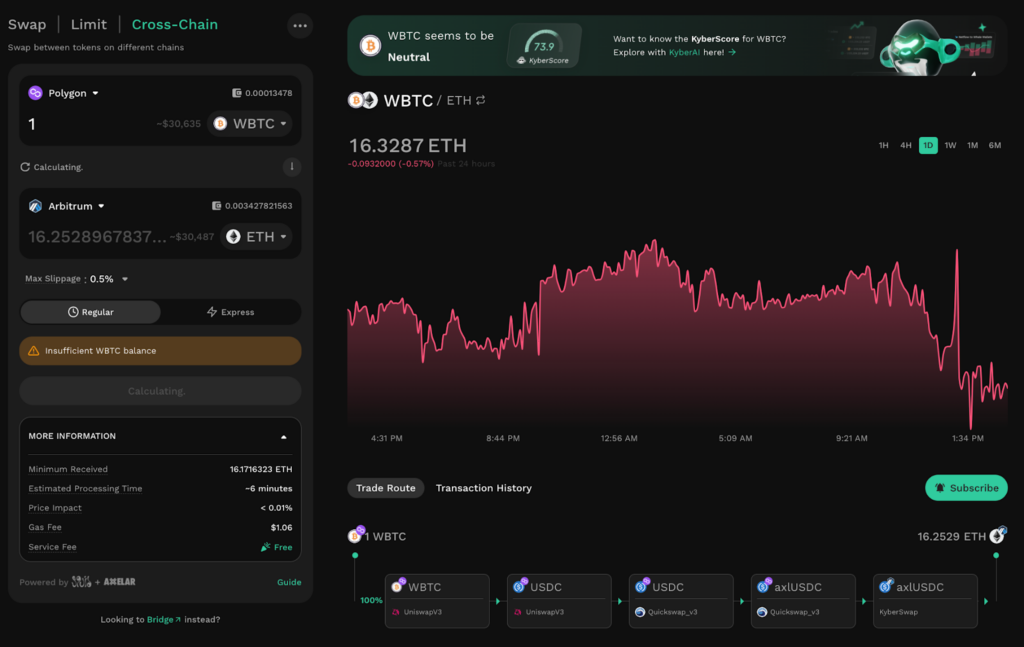 KyberSwap has integrated the Squid cross-chain swap and liquidity routing protocol to enable our users to perform cross-chain swaps directly on https://kyberswap.com/cross-chain. 
KyberSwap users now have the option to swap between different tokens across multiple chains in a single transaction. No more having to create multiple transactions to transfer value from a token on a source chain to another token on a destination chain (i.e. swap → bridge → swap). For users that require a simple bridge transaction, users can continue to bridge on KyberSwap via Multichain.
Squid is integrated on KyberSwap through API front end functionality to provide users with an option to conveniently swap tokens across the following supported chains:
Ethereum (ChainID: 1)
BSC (ChainID: 56)
Arbitrum (ChainID: 42161)
Polygon (ChainID: 137)
Fantom (ChainID: 250)
Avalanche (ChainID: 43114)
For a full guide on how to swap between different tokens across chains on KyberSwap, please refer to our Docs.
---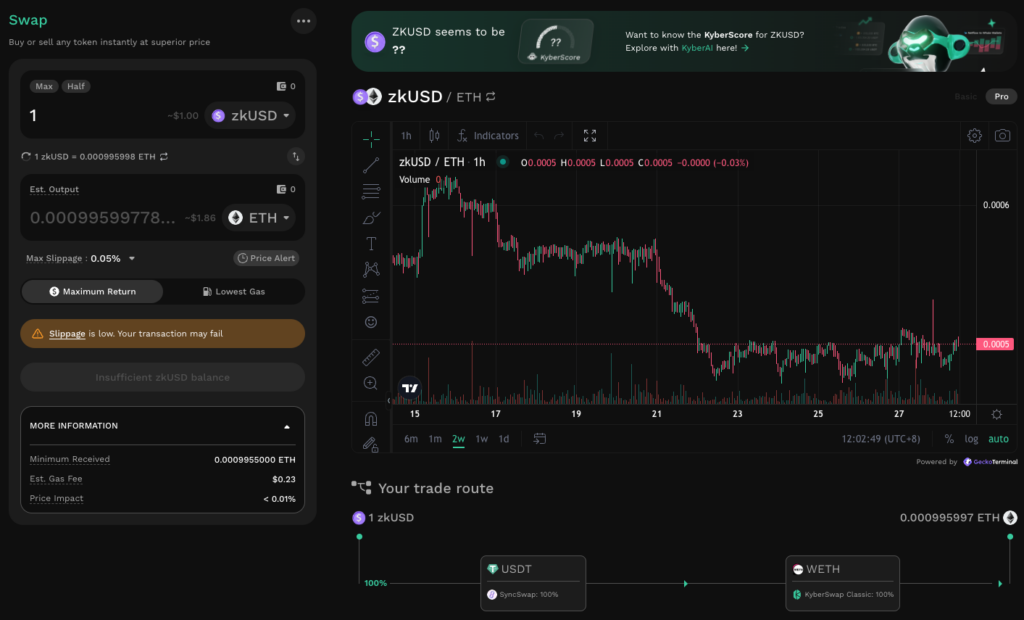 With ZK-rollups paving the way towards trustless L2 finality (i.e. not relying on the honesty of incentivized actors as per optimistic rollups), KyberSwap is excited to announce that we have deployed our DEX Aggregator and Classic contracts on zkSync Era. KyberSwap users can now swap and earn at superior rates on zkSync Era!
In addition to KyberSwap Classic, swaps via the KyberSwap Aggregatator on zkSync Era will be routed via the following DEX pioneers:
Mute Switch
SyncSwap
Velocore
At KyberSwap, we are consistently pushing the boundaries of what is possible on ZK-rollups so do keep a lookout as we work hard to roll out our Elastic protocol on zkSync Era. This will enable our users to access even more capital efficient liquidity resulting in supercharged yields for liquidity providers as well as better rates for traders.
You can view the official announcement on our Blog or view the full list of networks supported by KyberSwap on our Docs.
---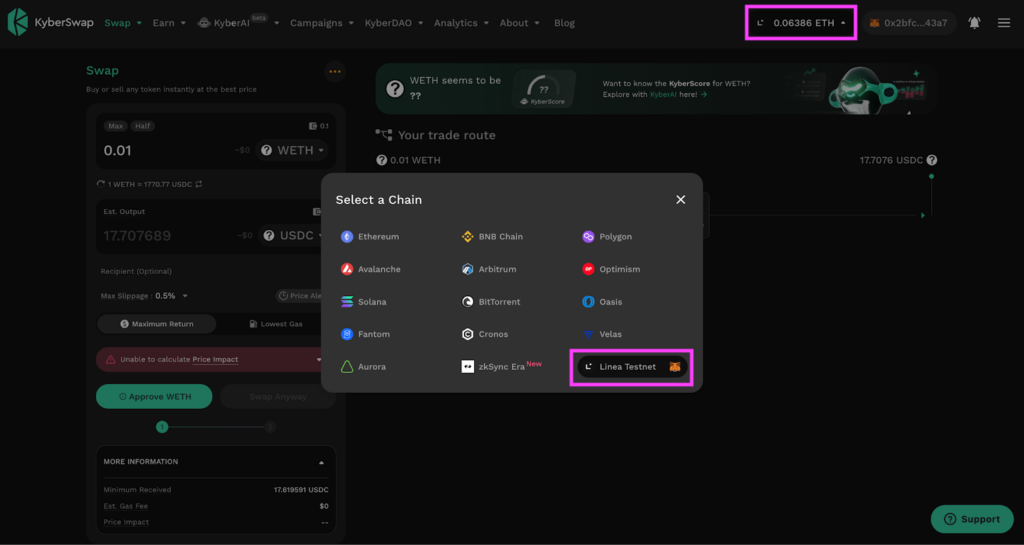 In the spirit of expanding across the zkEVM space, KyberSwap is now available on the Linea Testnet! Interested users can now experiment with KyberSwap on the Linea Testnet before its official mainnet launch (coming soon).
KyberSwap is optimistic about the future of zkEVMs and will continue to expand across the most promising ZK-rollups to provide our users with greater flexibility and opportunities across the DeFi space.
You can refer to the Use KyberSwap guide on Linea Docs for a walkthrough on the various KyberSwap features currently available on Linea.
---
5. Remove Liquidity For Staked Positions
KyberSwap Elastic enables LPs to conveniently remove liquidity while their positions are still staked in a farm. Liquidity for staked positions are removed from the farm with rewards being automatically harvested. Moreover, NFTs representing the staked position remain in the farm allowing LPs to immediately start earning farming rewards again by adding liquidity to a previously staked position.
This time-saving feature ensures that LPs can easily readjust their positions while still maximizing their farming rewards.
---
6. Multiple Viewing Options For Elastic Farms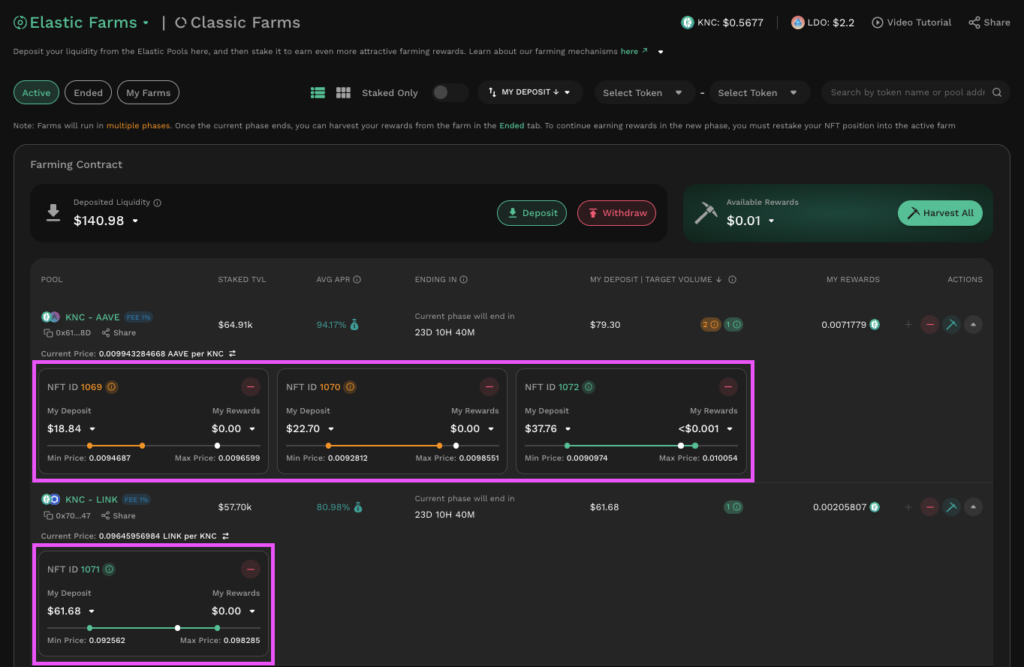 In an effort to improve the user experience for KyberSwap yield farmers, users are now provided the option to view all their farming positions in a list view. LPs with staked positions can now easily see all their active and inactive positions in a single page without having to scroll.
You can refer to our Docs on the various options available.
---
KyberSwap has upgraded to Wallet Connect V2 enabling users to enjoy multichain support and a consistent wallet experience across all chains. In addition to multi-chain upgrades, Wallet Connect V2 also comes with improved security and performance improvements. Please refer to the Wallet Connect V2 Docs for further details on the latest improvements.
---
8. More liquidity sources with newly integrated DEXs
As an aggregator, KyberSwap is constantly working together with the wider DEX community to create synergies and expand the DeFi liquidity network. Through sourcing and connecting various liquidity sources, KyberSwap ensures that users will always get the best rates while trades are always routed to the most efficient DEXs.
During the month of June 2023, we are happy to welcome the following DEXs into our Aggregator ecosystem:
Mute.Switch



Mute, at its core, is a DeFi platform building a liquidity hub for all protocols built on

zkSync

. More specifically Mute's flagship dApp, the Mute Switch, is an AMM DEX w/ limit orders, a farming platform, and Bond platform. Mute is a solution for protocols on zkSync to properly incentivize liquidity for their own use cases.



SyncSwap



SyncSwap is a seamless decentralized exchange (DEX) on the

zkSync Era

. Powered by zero-knowledge technology, SyncSwap brings more people easy-to-use and low-cost DeFi with complete Ethereum security.

Velocore



Velocore is a key DeFi component of the zkSync Era ecosystem, designed to reward users for providing liquidity. Built upon the strong foundation established by Solidly and Velodrome Finance, Velocore aims to foster growth and innovation within zkSync Era. As part of our grand vision, we plan to expand Velocore's capabilities by launching a lending market and supporting other builders. This strategic development will enable us to build powerful money legos on zkSync Era, further enhancing the DeFi landscape.



Verse



The Verse DEX is a full-featured

decentralized exchange

. It is a key component of the

Bitcoin.com

/Verse ecosystem, providing anyone in the world with a secure way to permissionlessly swap cryptocurrencies without having to rely on third-party custodians. You can also earn yield by providing liquidity to the Verse DEX. 
Mute.Switch, SyncSwap, Velocore, and Verse joins more than 70 other DEXs that are building on top of the KyberSwap Aggregator ecosystem. You can view the full list of supported exchanges on our Docs.
---
This wraps up our KyberSwap June 2023 Product Update!
Check out our Product Roadmap for a peek at new and exciting features which the KyberSwap team is busy building. You can even create a new product feature request if you have a great idea which you'd like to see on KyberSwap!
KyberSwap continues to grow with the support of our community and we are eager to get our new and improved features into the hands of users as soon as possible. The KyberSwap team strongly believes that our product will continue to drive more value for our users as they navigate the complex world of DeFi.
Trade smart with KyberSwap.