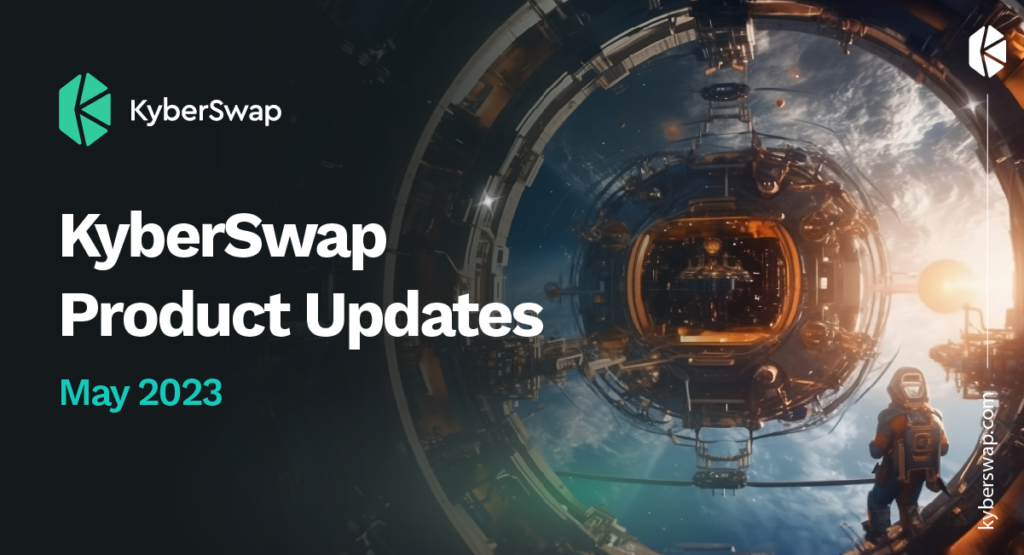 Welcome Kyberians, to KyberSwap's May Product Update!

Step into our updates and improvements made to the mothership, where innovation and experience intertwines to elevate your DeFi journey. With unwavering commitment, our team has been crafting new features & enhancements to push KyberSwap to new heights as the unparalleled choice for all your decentralized needs.
Now, let us delve into the details of our latest product updates. Through this article, allow us to walk you through these updates and we hope you will be able to utilize them to empower you to unlock the full potential of KyberSwap in your DeFi journey.
Thank you for your continued support, and let's jump in!


1. KyberSwap Elastic Comes Back Stronger
On 17 April 2023, KyberSwap validated a vulnerability in our Elastic codebase, reported by a community developer. This vulnerability had the potential to cause double-counting of liquidity deposits under a specific and uncommon condition.
All Elastic pools and farms were immediately paused with all user funds being safely withdrawn from the identified contracts following a coordinated effort by the KyberSwap team and community.
We are happy to announce that as of 25 May 2023, this has now been fixed with all the relevant Elastic protocol and farm contracts updated. You can refer to our Docs for the latest contract code,deployed addresses, as well as audits.
KyberSwap also took the opportunity to capitalize on the relaunching of Elastic contracts by adding in many long-awaited features together with this release which are covered below.
If you still have funds in the previous Elastic contracts, which have now been renamed Elastic Legacy, please refer to Remove Elastic Legacy Liquidity for a guide on how to retrieve your funds. Further information about Elastic Legacy can be found on our Docs.


2. TWAP Oracle
In conjunction with the Elastic relaunch, KyberSwap also unveiled a Time Weighted Average Price (TWAP) oracle enabling pool price data to be queried on-chain directly from the pool contracts. This significantly expands the range of potential on-chain use cases which require trustless access to the latest pool pricing data. With KyberSwap Elastic TWAP oracles, anyone connected to the blockchain will be able to build on top of Elastic pool's historical price feed.
Project teams and integrators looking to leverage Elastic pool pricing data can do so by referring to our developer guide as well as TWAP concept guides.


3. More liquidity sources with newly integrated DEXs
As an aggregator, KyberSwap is constantly working together with the wider DEX community to create synergies and expand the DeFi liquidity network. Through sourcing and connecting various liquidity sources, KyberSwap ensures that users will always get the best rates while trades are always routed to the most efficient DEXs.
During the month of May 2023, we are happy to welcome the following DEXs into our Aggregator ecosystem:
Chronos is a community-owned decentralized exchange (DEX) and liquidity provider constructed on the Arbitrum Layer 2 (L2) network, aimed at fostering DeFi growth through sustainable liquidity incentives.
Chronos optimizes and innovates the ve(3,3) model to facilitate reliable liquidity provision for both new and established protocols, generating value for users and the ecosystem.
Chronos has been integrated with the KyberSwap Aggregator on Arbitrum.
RAMSES is an innovative ve(3,3) DEX that builds upon Andre Cronje's original vision of Solidly. While the fundamental principles of Solidly have been largely overlooked, RAMSES aims to revive and prioritize three core tenets: Community, Decentralization, Functionality

By revitalizing these core tenets, RAMSES seeks to bring forth a DEX that not only aligns with the original vision of Solidly but also introduces novel functionalities and prioritizes the needs of the community.

RAMSES has been integrated with KyberSwap's Aggregator on Arbitrum.
Chronos and RAMSES joins more than 70 other DEXs that are building on top of the KyberSwap Aggregator ecosystem. You can view the full list of supported exchanges on our Docs.
This wraps up our KyberSwap May 2023 Product Update!
Check out our Product Roadmap for a peek at new and exciting features which the KyberSwap team is busy building. You can even create a new product feature request if you have a great idea which you'd like to see on KyberSwap!
KyberSwap continues to grow with the support of our community and we are eager to get our new and improved features into the hands of users as soon as possible. The KyberSwap team strongly believes that our product will continue to drive more value for our users as they navigate the complex world of DeFi.

Trade smart with KyberSwap.