Update, 14 October, 6.30PM +7GMT:
Extension of Ethereum Proof of Work (EthPoW) Chain Support
KyberSwap will continue providing users access to EthPoW chain. There has been significant user demand for EthPoW integration on KyberSwap. The team will review data to determine future actions.
If usage of EthPoW chain reduces on KyberSwap to the point of no transactions within a given week, we will turn off the support. Conversely, if there is rising demand on EthPoW chain and users want us to provide them more services, we will enable more features on EthPoW chain.
Now, users can continue accessing EthPoW chain on KyberSwap after tomorrow. We will release more updates when we have them.
Original Announcement: 16 September 2022
TL;DR: If you want to access and swap your Ethereum Proof of Work (EthPoW) assets, you can head over to KyberSwap.com now.
The vote has passed! Merge is complete. Want to access and swap @EthereumPoW assets? Head to https://t.co/9Bw8Izn3qT now. 1 month support! pic.twitter.com/BGsCnQ6kMR

— Kyber Network (@KyberNetwork) September 15, 2022
The Ethereum Merge is one of the most monumental events in blockchain history. Leading to the only canonical Ethereum Proof of Stake (PoS) Chain, a faction of the community created a Ethereum Proof of Work fork. As a result, anyone that has tokens on Ethereum chain previously would receive both Proof of Stake and Proof of Work assets. Read more on the Merge below:
1/10
The #EthereumMerge is complete. What does it mean, and what's next? 🤔

💡A thread 👇 pic.twitter.com/rFNyokw72z

— Kyber Network (@KyberNetwork) September 15, 2022
KyberSwap has deep roots with Ethereum, having had Vitalik Buterin as our founding advisor, being built on Ethereum and integrated with several EVM-compatible chains. Kyber Network even created the wrapped Bitcoin asset on Ethereum, the most traded asset onchain.
6/10#KyberSwap is proud of our #Ethereum origins, having been advised by @VitalikButerin, initiating the creation of wBTC and working with Eth & EVM-compatible chains with our https://t.co/9Bw8Izn3qT liquidity protocols and aggregator🔀 pic.twitter.com/S22c2QUHb5

— Kyber Network (@KyberNetwork) September 15, 2022
There were many questions by users about what to do about the Merge and how to access any EthPoW assets. KyberSwap's goal is to make DeFi easy, fast, secure and accessible for all. While always supporting EthPoS as the only canonical chain, we set out to see if there was demand and support to enable EthPoW access on our UI. Even if so, we would enable it only for 1 month, to allow users to access and swap their assets during this time.
Eth PoS is the only canonical chain on KyberSwap with all existing & upcoming features available.
Vote: For EthPoW post #merge, we are considering a 1 month period for features like swap & liquidity protocol. We will not develop more features for EthPoW. Do you support this?

— Kyber Network (@KyberNetwork) September 12, 2022
More than 60% of respondees showed support for this plan. Post merge, the team worked on EthPoW integration and interface and are proud to share that you can get support to access and swap your $ETHW and other EthPoW assets for the next 30 days. Head over to KyberSwap.com and connect your DeFi wallet, switch chain to EthPoW, to start using the UI! As we support EthPoS as the only canonical chain, after this period, the UI for EthPoW will be disabled.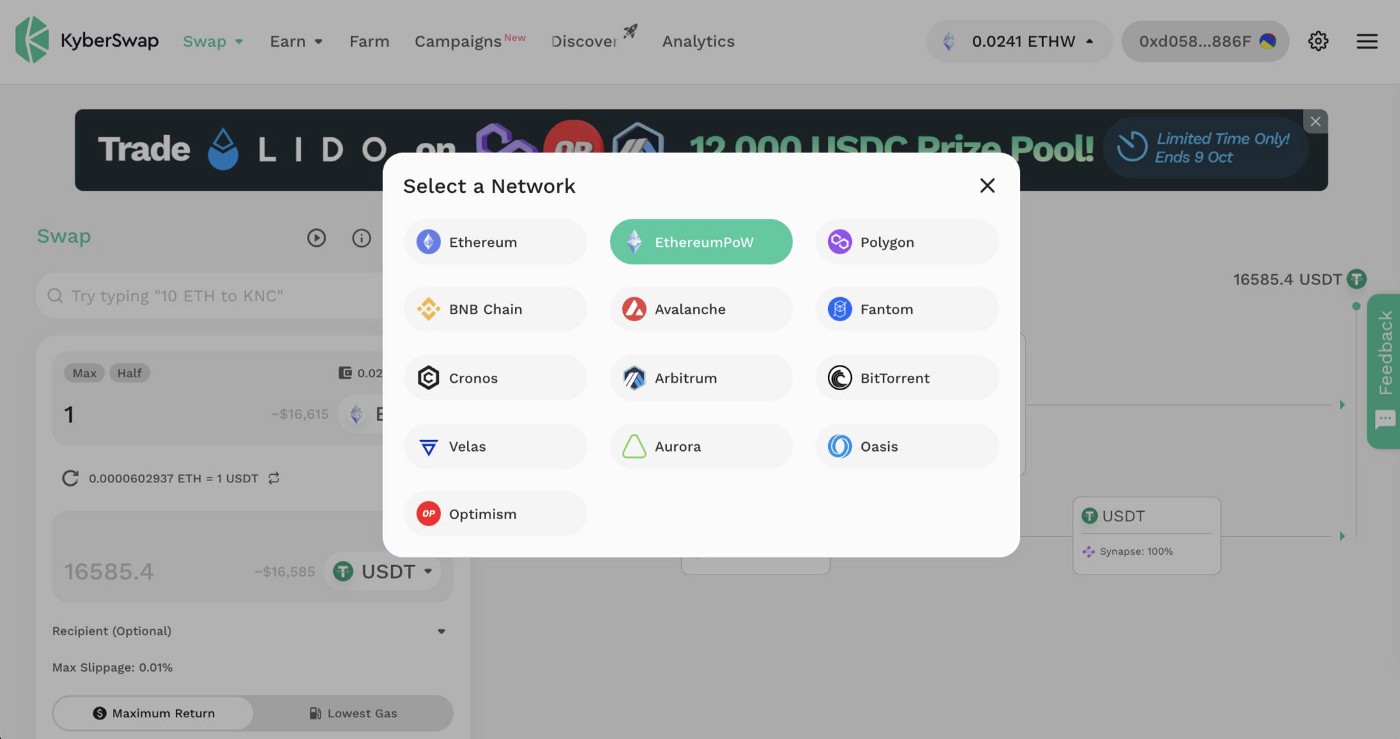 Disclaimer: Before using EthPoW on KyberSwap, you should be aware of any risks, such as Replay Attacks. More info here:
1/ Be aware of Replay Attacks before using #EthereumPoW! Post @Ethereum #Merge, some users may become victims to Replay Attacks and lose their assets. What exactly is a Replay Attack, how does it happen and how can you avoid it? A thread 🧵 pic.twitter.com/L2q9PZ5sbz

— Kyber Network (@KyberNetwork) September 16, 2022
So if you are excited about Ethereum, PoS and PoW, we hope you appreciate this support that KyberSwap is providing to users. We are excited to have witnessed this momentous occasion in blockchain together with you, and look forward to what is next!