KyberSwap's first ever Trading Contest exclusively on Cronos Chain with 10,000 USDC in rewards for 193 lucky winners!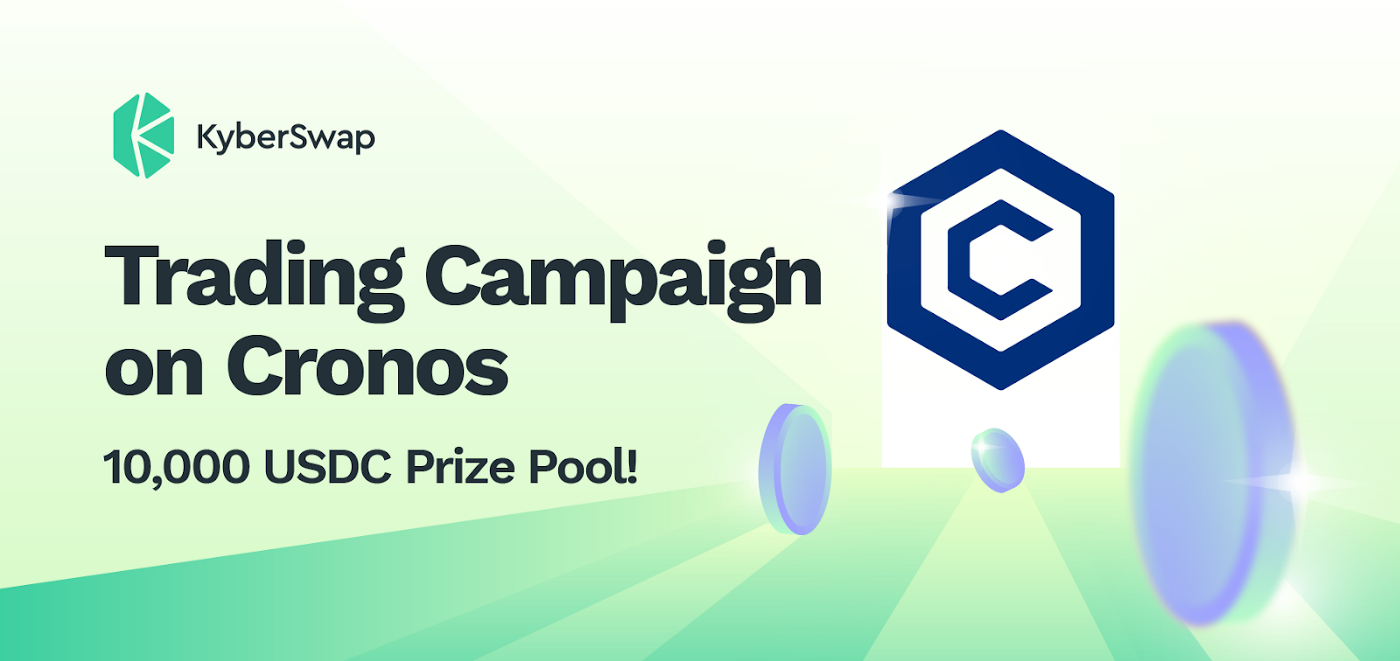 For the next 10 days, Cronos users can perform any token swap on Cronos on KyberSwap and stand to win a share of the 10,000 USDC rewards pool!
New to Cronos but want to get in on the action? Buy CRO on MEXC Global or with the Crypto.com app!
What is Cronos?
Powered by Ethermint, Cronos allows rapid porting of apps and smart contracts from Ethereum and EVM-compatible chains.
Cronos is the first blockchain network that interoperates with both the Ethereum and Cosmos ecosystems, supporting DeFi, NFTs, and the metaverse. It aims to massively scale the Web3 user community by providing builders with the ability to instantly port apps and crypto assets from other chains with low cost, high throughput, and fast finality.
Built with IBC protocol, Cronos allows for interoperability and bridging to the Crypto.org Chain: a fully decentralized, open-source, and energy efficient public chain with high speed and low fees. It also facilitates interoperability with other IBC-enabled chains (e.g. Cosmos Hub, Terra) in a decentralized way.
Cronos's base settlement currency is $CRO, the native token of its parallel blockchain, the Crypto.org Chain.
Where to buy CRO?
CRO is a multi-network token supported by Ethereum's ERC20, Crypto.com's native chain — Cronos Chain, and Cronos Network.
Users can get CRO in the following ways:
Buy CRO on MEXC Global or the Crypto.com app and withdraw directly into your CRO wallet OR
Buy CRO on any supported CEX (Eg: FTX, Binance, etc) and bridge onto your Cronos wallet. Learn how to use the bridge with this handy Walkthrough!
*CRO token Address (Cronos): 0x5C7F8A570d578ED84E63fdFA7b1eE72dEae1AE23
KyberSwap x Cronos Chain Trading Contest Details
Total rewards: 10,000 USDC for 193 lucky winners
Contest Duration
Start: 26th Jul ~04:00 UTC
End Date: 4th Aug ~15:59 UTC
Token swaps MUST be made on Cronos chain on KyberSwap.
Swaps must be made in a token pair. Swaps between wrapped and unwrapped tokens (Eg: CRO ➡️ WCRO, ETH ➡️ WETH, BTC ➡️ WBTC, etc) will not be eligible.
Each wallet that trades at least $50 in total trading volume will be eligible for this trading contest
Out of the trading prize pool, rewards will be distributed by the ranking system. Check out our ranked rewards below!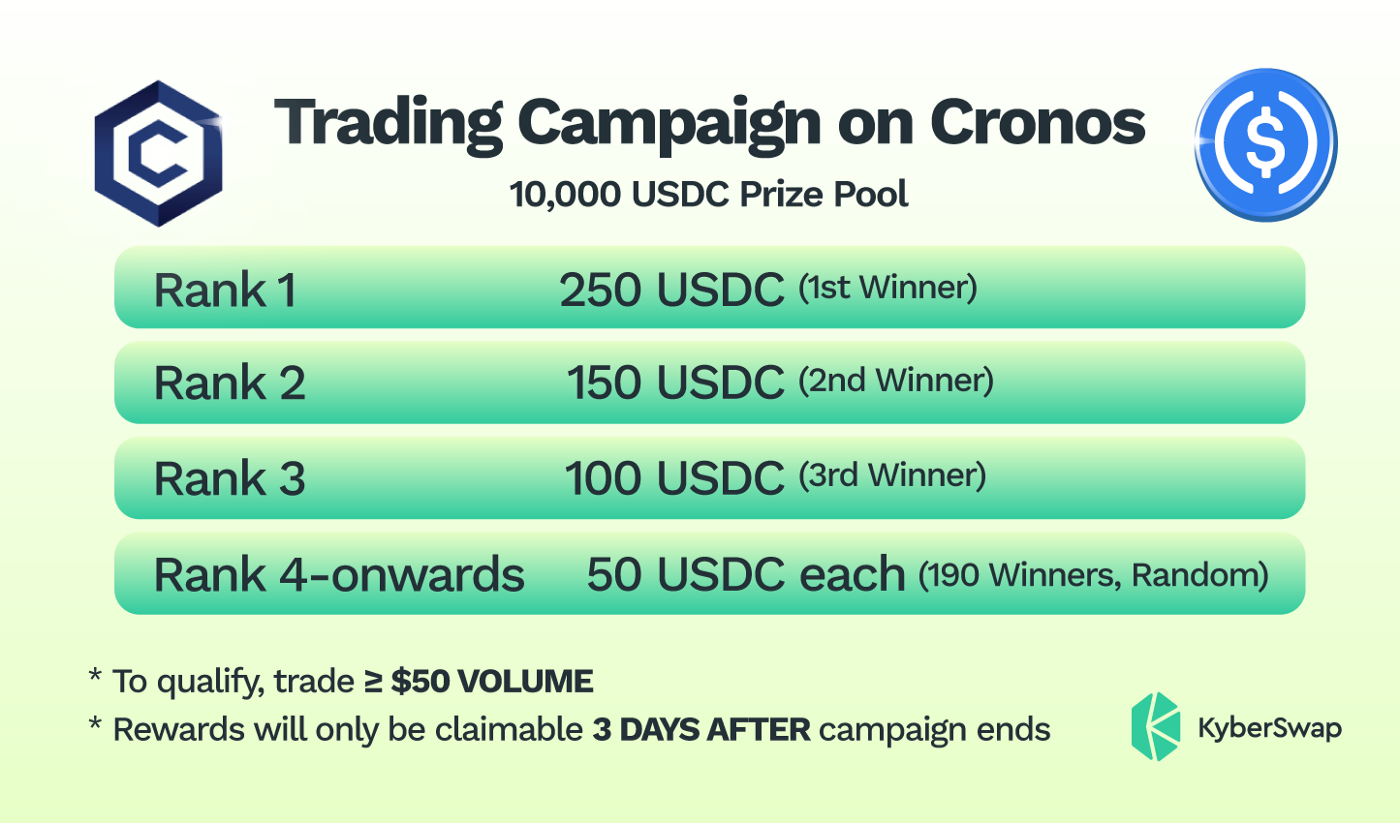 Ranking Distribution: 193 Winners in Total
Rank 1: 250 USDC
Rank 2: 150 USDC
Rank 3: 100 USDC
Rank 4 — onwards: 50 USDC per winner (190 winners will be chosen at random)
Note: Ranking system is based on points. $1 Trading Volume equals to 1 point on the Leaderboard. Example: $100 trade vol = 100 points, $500 trade vol = 500 points. The Leaderboard will refresh every 5 minutes.
The more you trade, the higher your rank and the higher your rewards!
Further Details:
Prizes will be claimable on directly via the KyberSwap Campaigns page on Cronos Chain 3 working days after the campaign has ended. Users will have to claim the rewards on their own. There is no time limit to claim your rewards.
Traders will be able to view their ranking placement directly on the Leaderboard to know whether or not they qualify for the Trading Contest and what ranking tier they fall in.
Kyberswap reserves the right to disqualify any user that violates, cheats, or abuses the campaign at its own discretion. All decisions made by the Kyber team are final.