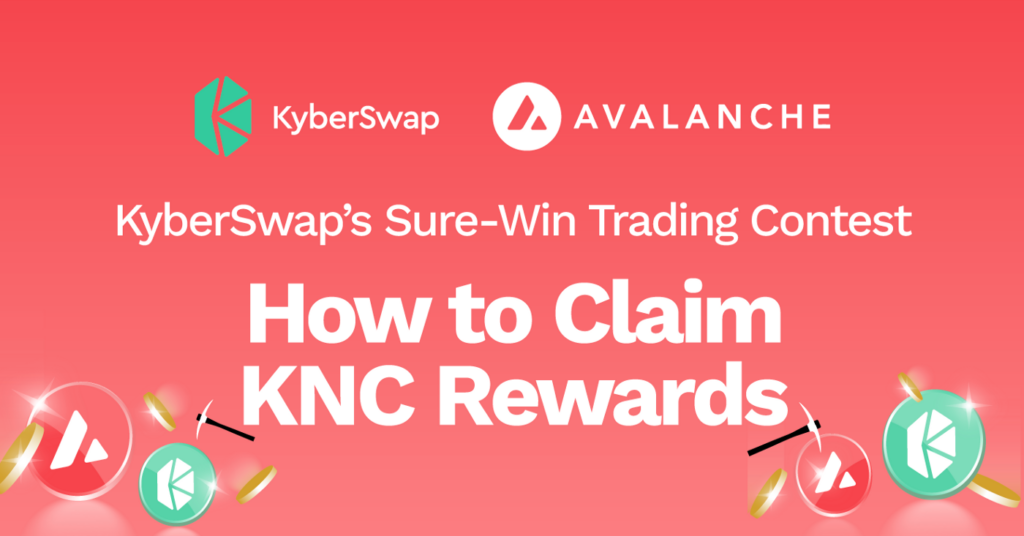 Thank you everyone who participated in our Trading Contest on Avalanche Network!
To our loyal traders, the moment you have been waiting for is finally here!
A total of 5,545wallet addresses have fulfilled the stimulated criteria within the time frame.
In addition, 5 lucky traders have been randomly selected to receive $1000 from the prize pool!
Congratulations to our 5 lucky winners!
0x3eaxxxxxxxxxxxxxxxxxxxxxxxxxxxxxxxxx44639
0x6acxxxxxxxxxxxxxxxxxxxxxxxxxxxxxxx9ecb7
0xe52xxxxxxxxxxxxxxxxxxxxxxxxxxxxxxxx5a9b0
0x334xxxxxxxxxxxxxxxxxxxxxxxxxxxxxxxxx8ea5c
0x0f8xxxxxxxxxxxxxxxxxxxxxxxxxxxxxxxxx0b48f
$50,000 Trading prize pool
To recap on eligibility, KyberSwap users must have fulfilled the criteria stipulated in our previous post.
To recap on the criteria, please refer to the following:
Each wallet must have traded a minimum of $100 on Avalanche Network. (This refers to trade volume, not trade amount).
The token swaps MUST involve the $AVAX token ((any token → $AVAX or $AVAX → any token)
All trades must have been carried out on kyberswap.com within the timeframe from ~20 March 09:00 (EDT) to ~31 March 23:00 (EDT).
How to Claim:
Claiming will be carried out on the Avalanche Network on KyberSwap. Please ensure you have some $AVAX tokens in your wallet for gas fees before you claim your rewards.
Head to KyberSwap and connect your wallet. This has to be the same wallet you used to meet the conditions of the Trading Contest.
Ensure you are on the Avalanche Network.
Click on the menu option at the top right and then click the 'Claim Rewards' button
In the dialog that opens, you will see the KNC reward amount you are eligible to claim
Click the 'Claim' button
*Important note: Winners have 2 months to claim their rewards.
For those of you who didn't win, fret not! We've still got some exciting campaigns lined up for you! Check out our ongoing Liquidity Mining incentives with Avalanche, BENQI and BitTorrent!
---
About Kyber Network
Kyber Network is building a world where any token is usable anywhere. KyberSwap.com, our flagship Decentralized Exchange (DEX), provides the best rates for traders in DeFi and maximizes returns for liquidity providers.
KyberSwap powers 100+ integrated projects and has facilitated over US$7 billion worth of transactions for thousands of users since its inception. Currently deployed across 11 chains including Ethereum, BNB Chain, Polygon, Avalanche, Fantom, Cronos, Arbitrum, Velas, Aurora, Oasis and BitTorrent.
KyberSwap | Discord | Website | Twitter | Forum | Blog | Reddit | Facebook |Developer Portal | Github |KyberSwap| KyberSwap Docs