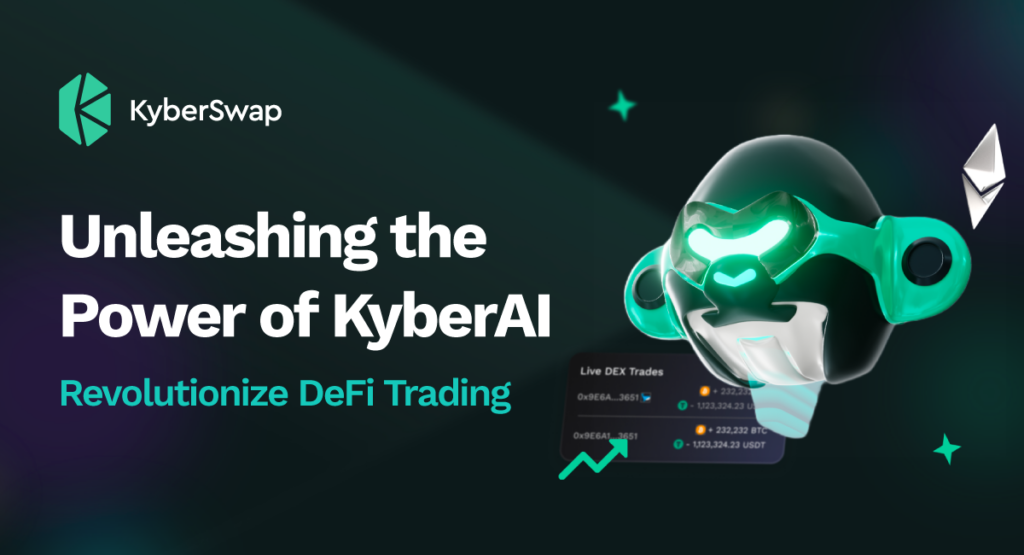 Calling all Kyberians. The wait is over.
Embark on a transformational journey through the ever-evolving DeFi realm, where traders relentlessly pursue the ultimate edge (i.e., alpha).
In the fast-paced world of crypto, traders face a multitude of challenges in their daily trading, from staying informed through multiple news sources to conducting thorough research and analyzing market movements. It's a high-pressure environment that demands quick and informed decisions.
Say hello to KyberAI, a revolutionary suite of data tools by KyberSwap that empowers you with unparalleled trading intelligence. KyberAI is designed to help you navigate the vast realms of opportunities, providing advanced trading insights and powerful tools to make data-driven decisions, discover hidden trends, and unlock new frontiers in your DeFi journey.
With KyberAI, you can leave behind the complexities and minimize uncertainties of trading. Gain valuable insights, seize opportunities, and elevate your trading game to new heights.
Join our waitlist now to experience the power of KyberAI firsthand. Be among the first to access advanced trading intelligence and revolutionize your trading strategies.
*KyberAI is a powerful tool that condenses on-chain data for user convenience. Information provided is not financial advice. Users should be aware of risks in token swaps and liquidity provision.


The Rise of KyberAI

KyberAI was created with the purpose of consolidating valuable market data, enabling KyberSwap users to supercharge their trades through the power of data and AI. Through KyberAI, users can access a wealth of market data typically accessible only to institutional traders or high net worth individuals. KyberAI consolidates on-chain and off-chain data from various data sources, distilling this abundance of information into actionable insights easily accessible through the KyberSwap Interface.
Powered by cutting-edge machine learning algorithms and state-of-the-art data analysis tools, KyberAI is designed to be the ultimate ally for both seasoned traders and newcomers seeking to navigate the complex world of DeFi.


Unveiling KyberAI's Features
Leveraging on the latest advancements in AI, KyberScore condenses the wealth of on and off-chain token data into a single number indicating the extent of a token's bullishness or bearishness over the next 24 hours.
Having been trained based on the historical data of 2,334 tokens, KyberScore unearths opportunities which might not be easily found through conventional trading methods. As KyberScore can only improve with time, traders stand to benefit greatly by leveraging KyberScore to make more informed trading decisions.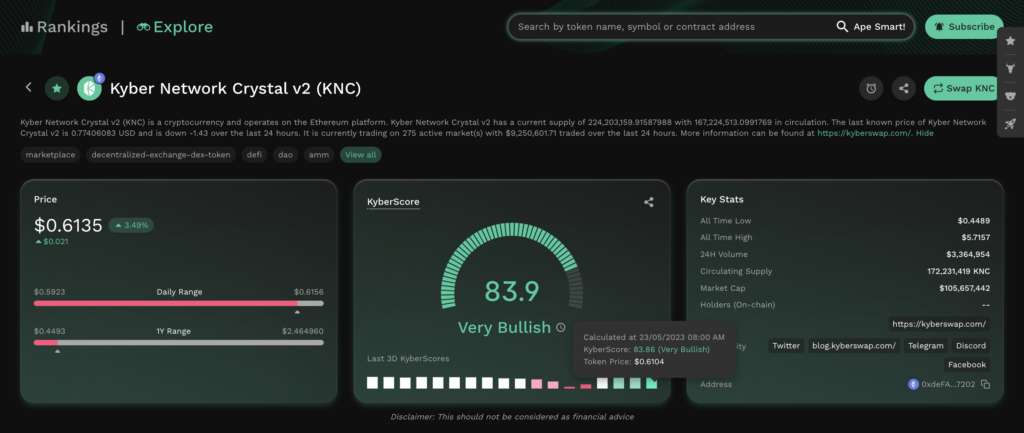 To complement KyberScore, KyberAI does all the hard work of sorting and processing all the data points into easily digestible visualizations that enable traders to get a comprehensive view of the markets. From on-chain indicators that cover trades, holders, or whales to technical indicators based on off-chain pricing and market data, these indicators empower traders to make well-informed decisions based on a holistic view of the market.

As an added bonus, traders can even take advantage of the interactive TA live charts which exposes a full suite of technical tools for further analysis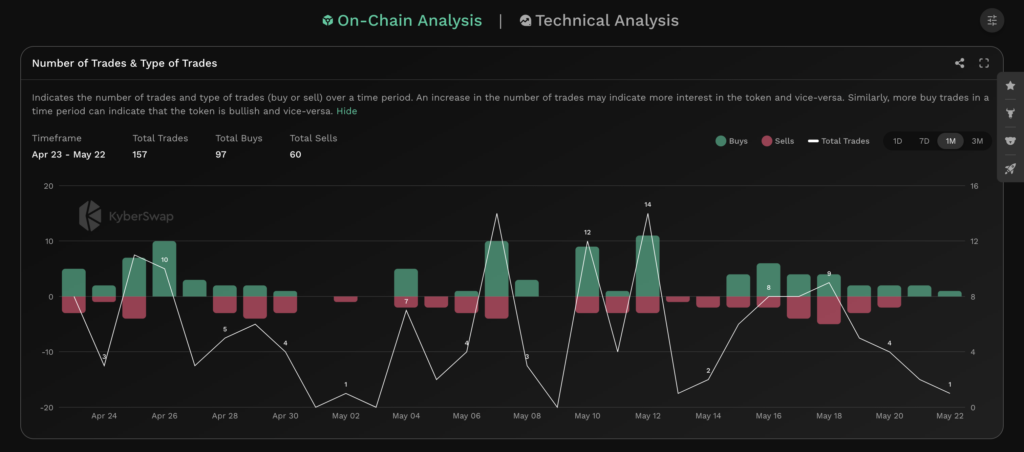 What comes next?
To complement the powerful insights provided by KyberAI, KyberSwap offers additional features to execute trading strategies effectively.
Once you've made your trading decision, leverage on KyberSwap's other features to execute your chosen strategy.
Getting the best rates is essential in DeFi trading, and KyberSwap Aggregator ensures just that. By seamlessly routing trades across multiple liquidity sources, KyberSwap Aggregator optimizes trades for price, depth, and slippage. Traders can confidently execute transactions, maximizing their gains and minimizing their costs.
Trade on your own terms with KyberSwap Limit Orders. Set your desired entry and exit prices, and execute trades automatically when the market conditions align with your strategy. It's a powerful tool that enables precise trade execution even when you're not actively monitoring the market.

Critically, users have complete ownership of their assets until a matching trade has been found.
KyberAI is not just for seasoned traders; KyberAI is for everyone seeking to navigate the DeFi universe with confidence. By democratizing access to advanced trading intelligence, KyberAI empowers traders of all levels to make data-driven decisions and tap into hidden opportunities. Whether you're a DeFi enthusiast, a professional trader, or a newcomer exploring the space, KyberAI provides the tools you need to succeed.


Incorporate KyberAI into your Trading Strategy:
KyberAI condenses a wealth of information and data points into 1 user-friendly interface. Here are some ways you can unlock the full potential of KyberAI's user-friendly interface: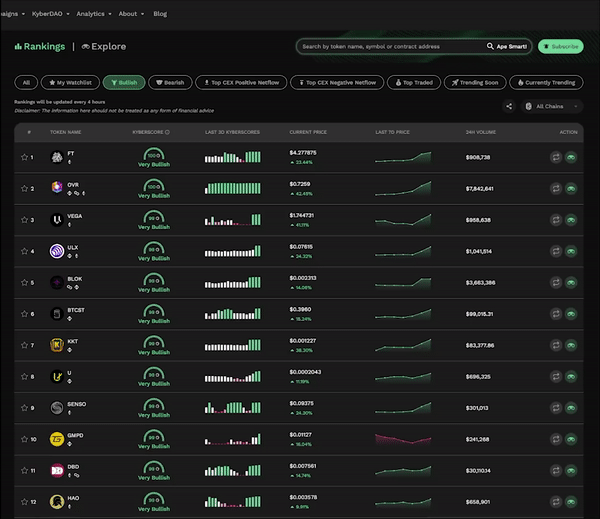 Identify tokens with high potential trading volume: Filter tokens between "Bullish", Bearish", "Trending Soon" and other categories to identify tokens that have a potential surge or downturn in trading volume to give yourself a heads-up on tokens that may experience increased trading activity in the near future.


Look for signals from KyberScore: Once you have identified a token with significant trading potential, check KyberScore to see if it's giving a Bullish, Bearish or Neutral signal. KyberScore predicts the directional movement of a token based on on-chain and technical analysis indicators every 4 hours and can offer a good daily short-term trade strategy.


Set a short-term trade strategy: Once you have identified a token with high potential and a bullish signal from KyberScore, set a short-term trade strategy with take-profit and stop-loss levels that adapt to the token's volatility.
Remember to utilize KyberSwap's Limit Order feature to set your trade automatically and manage your level of acceptable risk.


Combine indicators to make more informed trading decisions: Use CEX Positive or Negative netflow and support/resistance levels to support the Bullish or Bearish signals from KyberScore.
If the netflow from centralized exchanges indicates activity such as token accumulation, and the resistance level is broken, it confirms the bullish signal from KyberScore and you can plan your next steps accordingly.

As the DeFi ecosystem continues to evolve, KyberAI evolves alongside it. KyberSwap remains committed to staying at the forefront of technological advancements, continuously enhancing KyberAI and expanding data insights. With access to advanced trading intelligence, KyberAI empowers traders of all levels to succeed in the ever-expanding DeFi universe.

Harness the power of KyberAI and unlock new frontiers in your DeFi trading journey.

KyberAI is currently supported on Ethereum, BNB, Arbitrum, Polygon, Optimism, Fantom and Avalanche. Learn more about KyberAI from our Docs.

Join our waitlist to be amongst the first to access advanced trading intelligence and revolutionise your trading strategies.
Can't wait to get started? Share your unique Referral Code with friends and boost your spot on the waitlist! The more users who sign up using your code, the higher you'll move up the list. Sign up and start referring now to secure your spot!