Great news for KNC holders! You can now easily stake KNC and vote on KyberDAO proposals to earn rewards directly on kyberswap.com here: https://kyberswap.com/kyberdao/stake-knc
For consistency, we will soon be deprecating the old KyberDAO site kyber.org and visitors will be auto-redirected to the new page. But to cater to this transition period, kyber.org will remain active until around the end of February, 2023. The terms of use on KyberSwap (that users need to accept before connecting their wallet) will also be changed, though this does not impact how KyberSwap currently functions.
Since this is just a change to the UI and not the smart contracts, if you have KNC staked or KNC rewards on kyber.org, you DO NOT need to move your assets. You can access them on kyberswap.com.
On the back of this new KyberDAO UI, we will start exploring and executing on many more new KNC use cases that will create value for KNC holders and KyberSwap users alike.


Aligning Incentives Within the KyberSwap Ecosystem
Currently, it is possible that many KyberSwap users =/= KNC holders, since they both have vastly different motivations. KyberSwap is a multi-chain DEX aggregator and liquidity platform. KyberSwap users value the best trading and liquidity provision experience – the best token swap rates as traders and best earning potential as LPs in our pools. On the other hand, KNC holders are primarily motivated to govern KyberSwap well to drive growth and in turn receive higher reward APR% from trading fees. But they may not be KyberSwap users themselves.
It is imperative that we change this current dynamic and align incentives and governance participation between KyberSwap users and KNC holders to create one strong, single community that is hyper-focused on growth and innovation.
The natural first step we are taking is to consolidate the KyberDAO UI, which is currently hosted on a separate site kyber.org, within the KyberSwap.com platform itself. This provides greater convenience for users to actively use both KyberSwap and KyberDAO, while enhancing operational efficiency for the KyberSwap team. In addition, we are now able to better identify and execute powerful synergies between the KNC token and KyberSwap usage.
This marks the beginning of a new era of growth and innovation for KyberSwap and KNC, where adoption for one strongly contributes to the adoption of the other.


What are KyberDAO and KNC?
KyberDAO is a decentralized autonomous organization (DAO) and community platform that allows KNC (Kyber Network Crystal) token holders to participate in governance.
KNC holders can stake their tokens to vote on improvement proposals. In return, they receive various rewards including fees generated on KyberSwap through trading activities. Within this context, KNC is a utility and governance token, and an integral part of KyberSwap. The frontend user interface for KyberDAO, previously hosted on the url kyber.org, has just been migrated to https://kyberswap.com/kyberdao/stake-knc


What can you do now on KyberDAO?
1. Stake KNC
All KNC holders can stake their tokens on KyberSwap at any time. KNC holders who stake their tokens are able to vote and earn a proportionate share of fees (currently 10%) generated via trade volume on KyberSwap liquidity pools. You can swap other tokens into KNC on kyberswap.com itself.
As such, staking KNC on KyberDAO is your on-chain "proof-of-commitment" towards KyberSwap. Staked KNC helps verify on-chain the users who are the most incentivized to ensure KyberSwap's adoption and growth, since there is a direct correlation between the fees generated and the fees KNC stakers earn when they vote. More volume, more fees, more rewards!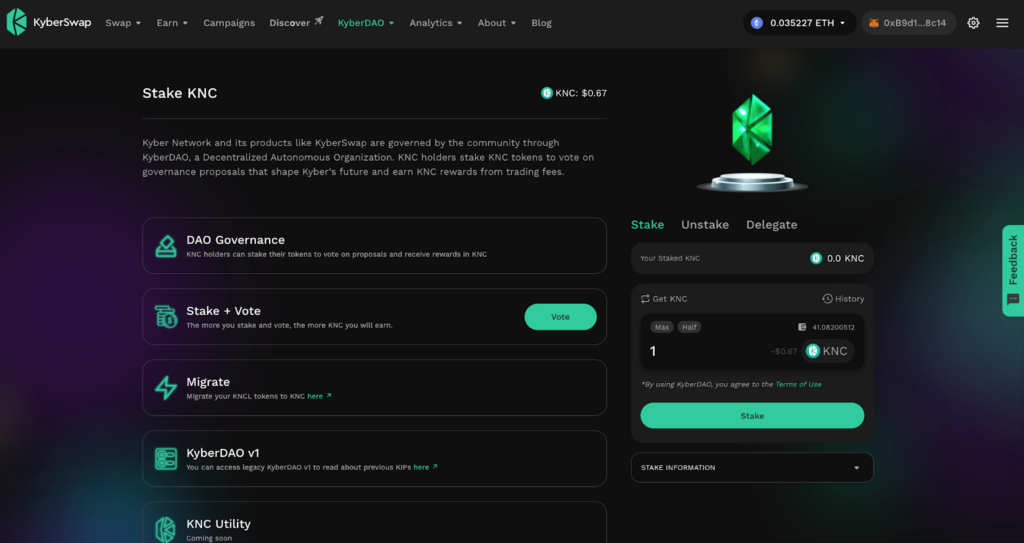 Delegate your KNC: After staking KNC, you also have the option to delegate your voting power to a 3rd-party address (e.g. friends/projects) to vote on your behalf, under the 'Delegate' tab. This would be an external arrangement between you and the 3rd party, as rewards have to be claimed and distributed back to you by the 3rd-party voter. KyberSwap does not manage this process.
2. Vote on KIPs (Kyber Improvement Proposals) and earn rewards
Once your KNC is staked, you can vote on any active KIP by navigating to the Vote page. Voting is done fully on-chain on Ethereum and power is bestowed based on the proportion of your staked KNC amount (or KNC delegated to you) out of total KNC staked. Staking in the current epoch (time period of ~2 weeks) allows you to vote in the next epoch. If there are no ongoing KIPs, fees will continue to accrue on KyberDAO and distributed to all voters after the next KIP is voted on.
Note that as a KNC staker, you only earn fees if you vote on KIPs, and you would have to vote on all active KIPs to receive your full reward for that epoch. For more details on the staking and voting process, please read our docs and FAQ: https://docs.kyberswap.com/kyber-dao/kyber-dao-introduction
By incentivizing governance participation in a way that the incentives depend on product adoption and innovation, the growth and success of KyberSwap is inextricably tied to the value created for KNC token holders.
3. Claim Rewards
After you have voted on active KIPs in the current epoch, you would earn rewards based on your staked KNC amount. Rewards are distributed in the form of KNC (trading fees are converted to KNC before reward distribution) a period of time after each KIP. Once you have received your rewards, you are able to claim them at ANY TIME.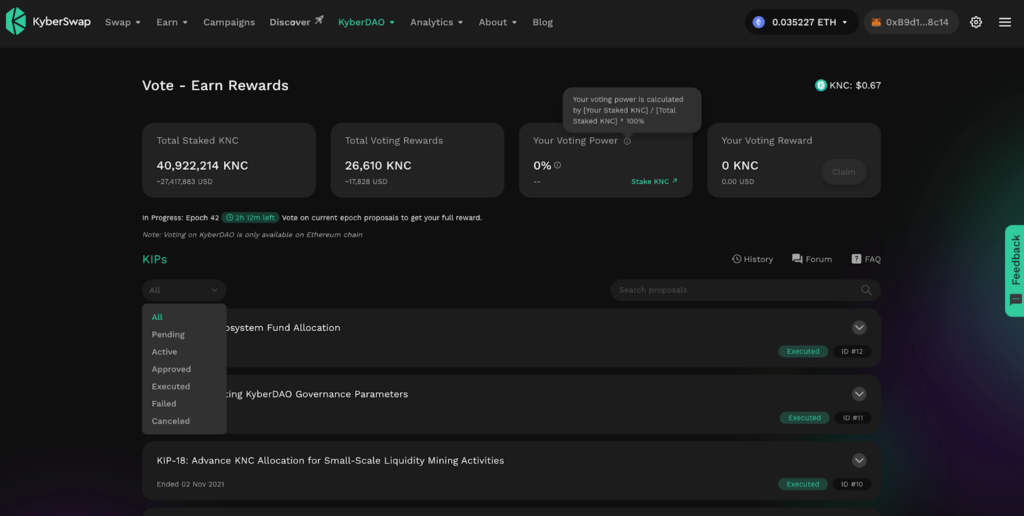 4. Request for new product features and KNC utility
KyberDAO comprises KNC holders and users working together as one community to drive growth and innovation for KyberSwap. We are constantly optimizing our DEX aggregator and liquidity platform in order to provide the most value to our users. We always seek to understand the needs of our users and have created a feature request page https://kyberswap.canny.io/feature-request?category=knc-utility for anyone to submit product and KNC utility ideas and vote on them. This would provide guidance when it comes to which product features to develop. Voting for product requests here is done off-chain (gas not needed) and is meant as a temperature check.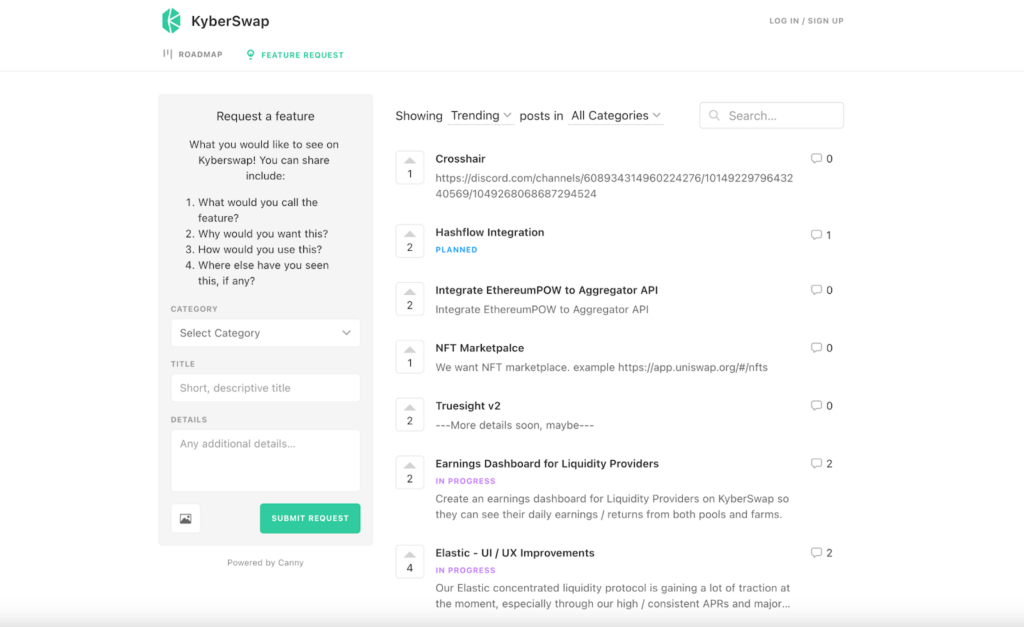 At KyberSwap, we also want to be as transparent as possible. Thus, we have a product roadmap here https://kyberswap.canny.io/ where anyone can see what we are currently working on.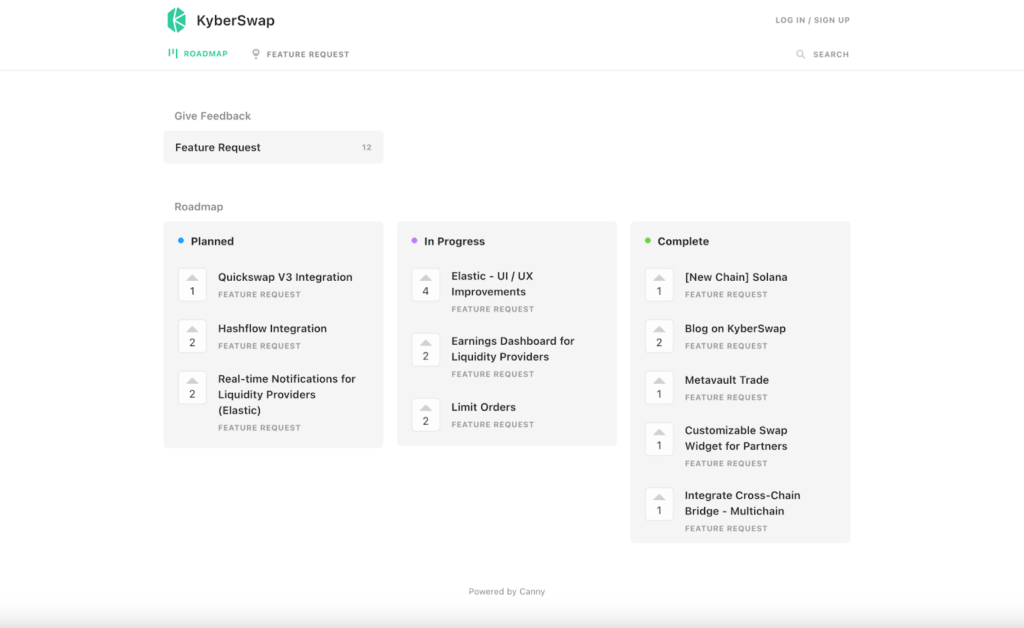 Do I need to do anything if I have KNC staked or KNC rewards on kyber.org?
No. You DO NOT need to move your KNC assets. You can access them on KyberSwap.com just like you did before.
What would happen to the old kyber.org UI?
All functions and features on the old kyber.org UI are already available on the new UI on KyberSwap.com.
The kyber.org site will remain active until the end of February 2023. After that, users visiting kyber.org would be automatically redirected to the new UI.
For users still holding old KNCL (KNC Legacy) tokens or have unclaimed KNCL rewards, the KyberDAO v1 page at legacy.kyber.org is still accessible. We encourage you to claim your KNCL token rewards there and migrate them to the latest version of KNC asap using the simple migration tool on KyberSwap.com. The old KNCL token has 0 utility and has been delisted from most exchanges, and KyberDAO might vote on a KNCL migration deadline in the near future. For more details on the KNC upgrade/migration that happened last year in 2021, please read: https://blog.kyber.network/knc-token-migration-guide-fda08bfe62c2
KNC: https://www.coingecko.com/en/coins/kyber-network-crystal
Old KNCL: https://www.coingecko.com/en/coins/kyber-network-legacy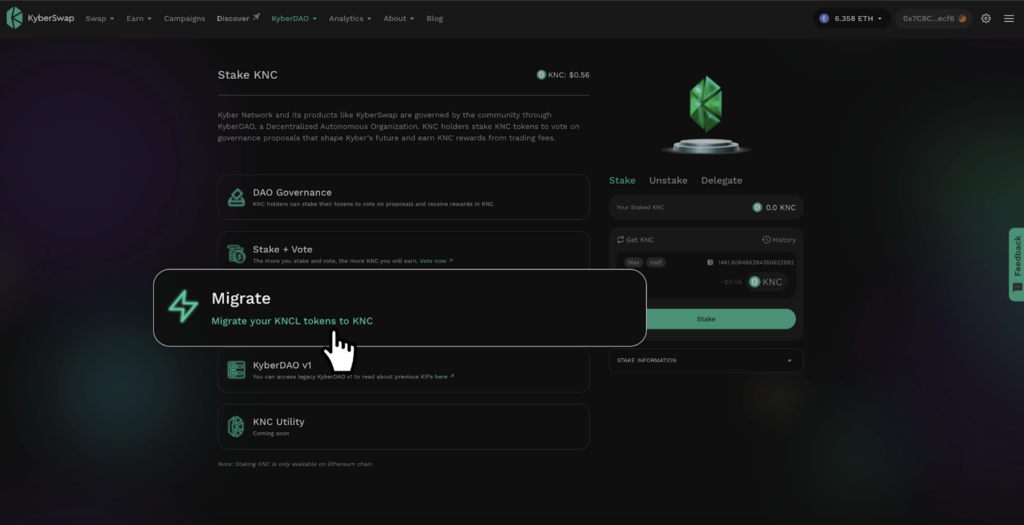 Are there changes to the KyberSwap UI terms of use?
We will soon be revising the KyberSwap terms of use to account for this UI migration of KyberDAO to kyberswap.com. But the process of connecting to and using KyberSwap has not changed. Whenever you connect your wallet, you are able to see the date of the last revision of the terms of use. We will also make a follow-up announcement when the revision has been made.

Next Steps: Increasing KNC utility on kyberswap.com
Apart from the ability to vote and earn a proportionate share of fees, KNC stakers will soon also gain access to a suite of benefits when they use the KyberSwap.com kyberswap.com platform. We are exploring various new use cases that would vastly improve the utility of the KNC token such as:
'Cashback' for gas compensation for traders
Trading campaign bonus
LP activity rewards
Raffles
Airdrops
NFTs
…and many more.

We welcome community feedback on this topic! We want to empower the whole community to take a larger role in our KyberDAO governance and KyberSwap product development. Please submit requests and vote on them here https://kyberswap.canny.io/feature-request?category=knc-utility. You can further discuss these request topics on our forum at https://gov.kyber.org/
Recent crises in the crypto space has shown us once again the need for a non-custodial/self-custody solution for trading and liquidity provision #Notyourkeysnotyourcoins.
KyberSwap provides this and more, and is well-positioned to eventually become the No.1 multi-chain DEX aggregator and liquidity platform. We hope to work closely with the KNC community to achieve our aims and drive the DeFi ecosystem forward.
Bookmark this url: https://kyberswap.com/kyberdao/stake-knc
Read the FAQ: https://docs.kyberswap.com/kyber-dao/kyber-dao-introduction
Follow KyberDAO on Twitter and Telegram to stay updated about all things KyberDAO.