Thoughts by Victor Tran, CEO, Kyber Network
Understanding and organizing data is a challenging task, but it's not the only thing needed. I believe that for a tech company to thrive, it must achieve a certain level of success with its core algorithm. The real game-changers in the tech world emerge from these fundamental algorithms. It's not just about handling data – it's about creating, refining, and utilizing it effectively. Companies like Grab, Uber, Google, and ChatGPT owe their success to this very principle.
At Kyber, we place a special emphasis on the precision of our algorithms. One of our flagship products is KyberSwap's aggregator. Within this aggregator API lies a core component that's dedicated to finding the best way to trade from one type of cryptocurrency (let's say X coin) to another, all while navigating a complex landscape of cash conditions and smart contracts. We're talking about a vast number of coins and an extensive network of cash points. These algorithms are not only complex but also resource-intensive. What's more, it's crucial to reuse the data generated by these algorithms, rather than just focusing on their end results. This is how a company can create substantial value and ultimately expect to turn a profit.
In the illustration below, you'll observe the intricate mathematics at play. Despite the complexity, the system admirably handles about 1500 requests per second. The p95 response time stands at 400 milliseconds, while the p75 is an impressive 52 milliseconds. It's a nearly seamless operation, but achieving this level of performance isn't a walk in the park. It requires solving a multitude of intricate mathematical puzzles.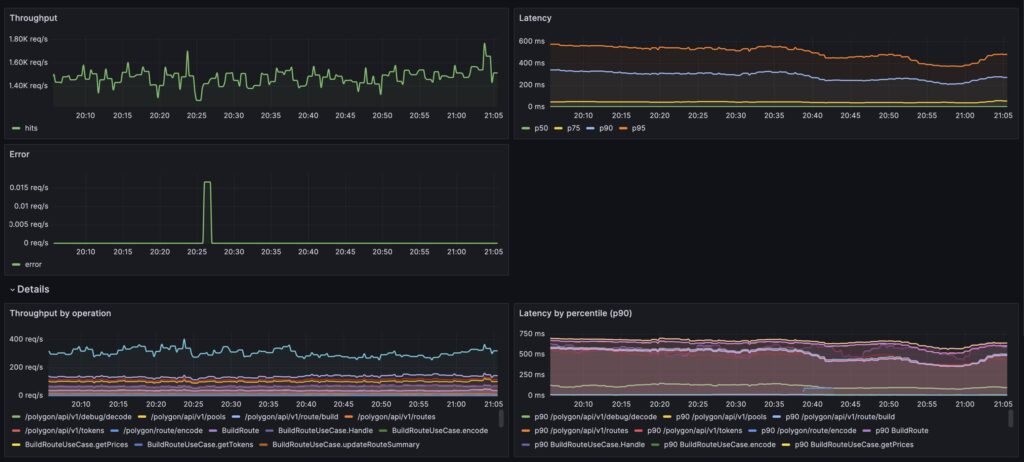 When engineers consider potential employers, they often inquire about the company's engineering culture and code review processes. While these aspects are important, they truly come into play when a company possesses a solid mathematical foundation, fostering a genuine engineering culture. That's where the real magic happens.
If Kyber has something to boast about, it's undoubtedly our engineering team. They stand head and shoulders above their peers in blockchain companies worldwide.
P.S: Many of our partners prefer Kyber's API over the competition because of its impressive speed, robust request processing capabilities, and unwavering stability. This speaks volumes about Kyber's standing in the industry.