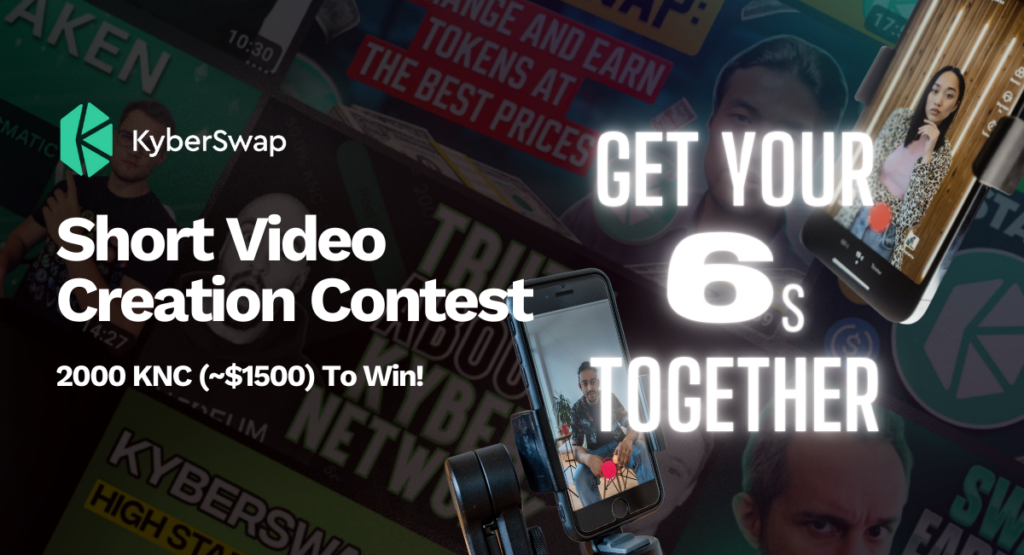 In anticipation of KyberSwap's remarkable 6-year anniversary, we're eager to hear your stories about your own DeFi journeys. Share your experiences, insights, and reflections on the ever-evolving world of DeFi! Share the essence of DeFi through your lens in our "Creator of the Month contest: Get Your 6 Together". Whether you're a seasoned expert or an enthusiastic newcomer, our contest welcomes entries from all backgrounds. What's even more exciting is that submissions will be accepted in 11 languages, so everyone in our community can ensure your voice is heard!
What is the "Get your 6s Together" contest?
KyberSwap's "Creator of the Month – Get your 6s Together" is a contest designed to celebrate our vibrant community's creative flair through short-form videos that delves into users' unique perspectives. Share your impressions, reasons, tips & tricks, knowledge, stories, or any other aspect of your DeFi experience.
Contest Duration: 09:00 UTC 31 Oct, 2023 → 09:00 UTC 20 Nov, 2023
Reward: 2000 KNC (~$1500)

How to participate
Step 1: Create a short-form video showcasing 6 viewpoints,stories,tips,moments,favorite features, etc from your experience in the world of DeFi, with at least one of them featuring KyberSwap.
Step 2: Publish your video on your preferred platform(s), such as X, TikTok, Facebook Reels, YouTube Shorts, or Instagram Reels. Be sure to include the hashtags #Getyour6stogether in your post.
Step 3: Join KyberSwap's Discord and submit the link to your posted video in the #creator-of-the-month channel on Discord.
Reward Allocation
| | |
| --- | --- |
| Category | Total reward (KNC) |
| Creator of the Month (6 winners) | 136 KNC each |
| Entertainment (6 winners) | 76 KNC each |
| Quality (6 winners) | 76 KNC each |
| Lucky Participant (6 winners) | 46 KNC each |
Creator of the Month: Submissions are chosen by the KyberSwap team for their exceptional and outstanding content.
Entertainment: Submissions are chosen by the KyberSwap team for being the most entertaining and enjoyable to watch, whether through humor, creativity, or storytelling.
Quality: Submissions are chosen by KyberSwap that showcase exceptional visual effects, graphics, or animations to enhance the viewer's experience.
Lucky Draw: Selecting 6 lucky participants from all eligible submissions that meet the requirements and have at least 500 views at the snapshot time.

Further Details:
Begin your narratives with "6 things," such as: 6 stories from my DeFi journey/6 insights into KyberSwap/6 ways to earn in DeFi…. Express your creativity, feature in at least 1 "thing" related to KyberSwap, and refrain from promoting other projects.
*Creating unique and original content increases your chances of winning.
You can choose to use any one of the following languages:English, Vietnamese, French, Spanish, German, Dutch, Hindi, Korean, Chinese, Indonesian, Nigerian.
So feel free to use whichever language you are most comfortable in!
It is recommended that video submissions have a duration of 15 to 60 seconds
Each participant is allowed to submit up to 3 entries.

Terms & Conditions
KyberSwap team and ambassadors are ineligible to receive rewards.
Each winner is entitled to only one award in one role/category.
KyberSwap may change contest details, with updates communicated promptly to participants.
KyberSwap maintains the right, at its sole discretion, to disqualify any user for rule violations, fraud, or contest exploitation and has the final decision on the final results.
The announcement of the results will occur in 5 working days after the activity ends.