"Buy low, sell high".

This saying is a fundamental saying for anything that requires transactional actions, from commerce, stocks and of course, crypto tokens.
But easier said than done. Watching for that line rise and go green would wear out all but the most enthusiastic arbitrage traders. Luckily there's a system that automatically ensures you can buy/sell your assets at your desired price. This is known as a Limit Order.

This function is invaluable to any decent crypto trader. And now, we're proud to announce KyberSwap has been equipped to provide this service to our users!
KyberSwap has been upgraded with Limit Order services for our ardent traders.
Simply head to the Swap tab on kyberswap.com, click on [Limit], select your token and key in the amount you wish to sell, along with the token you wish to buy. Remember to set your expiry limit. Then review your order and relax while you wait for your order to get filled!
That's not all!

KyberSwap users can opt to subscribe to our Notification features, where you will receive email notifications when your Limit Order is being filled, and even when it expires.
What are Limit Orders
Simply put, Limit Orders are directions given by the trader (aka you) to buy or sell tokens at a specified price or better. This affords better control over the prices you choose to sell or buy.
A buy limit order will be executed only at the limit price or a lower price.
A sell limit order will be executed only at the limit price or a higher one.
It is worth mentioning that filling an order is not guaranteed. Limit Orders can only be filled IF the price meets the order qualifications.


Why Use Limit Orders?
Like we mentioned earlier in this article, Limit Orders are a useful way of conducting trades, especially when volatile market movements are expected.
If you observe patterns in market movements, or believe a certain asset is currently inflated or undervalued, you can set a Limit Order to buy/sell when the price decreases/increases to a number you're happy with.
Why use Limit Orders on KyberSwap?
Limit Orders for cryptocurrencies are a more typical CeFi feature. There are currently very few DEXs that offer Limit Orders compared to CEXs and with this upgrade KyberSwap is proud to be part of this niche, offering our users a highly useful tool while enabling you to keep privacy and self-custody over your assets.
KyberSwap currently supports Limit Orders on:
Ethereum
Polygon
BNB
Avalanche
Fantom
Arbitrum
After research, these chains were selected for the initial launch based on factors such as traffic, trading volume, communities and other on-chain data. Our team will further evaluate when this function will be implemented on our remaining chains based on subsequent feedback and demand.
Our Limit Order service is 100% built in-house, which eliminates any third-party exploitation risk.
And unlike some CEXs, KyberSwap does not charge any fees for Limit Orders, keeping in line with our vision to make DeFi safe, rewarding and available to all.

*KyberSwap Limit Order Docs

How do I use Limit Orders on KyberSwap?
Do take note when placing an order on KyberSwap, traders must have a sufficient amount of assets they want to sell in their connected wallet. However, you can make multiple orders with the same or partial amount of assets. As long as you hold the funds in your wallet, your order can be executed.
For example:
Kelvin wants to place an order to buy 1000 USDC worth of KNC tokens. Kelvin must have 1000 USDC in his wallet when making the order. At the same time, Kelvin can also place another order to buy LDO tokens with the same 1000 USDC.
However, in the time waiting for KNC to reach the price he specified, Kelvin used 200 USDC to buy PGX tokens. Not long after, his initial order for KNC is met. Kelvin's order will only be executed for 800 USDC.
When setting a Limit Order, it is also important to set a realistic time limit. The order should match market realities as much as possible, and setting a too short time limit (such as 1 minute) would decrease your chances of finding a buyer/seller within that brief period.
There are also other factors to consider that could influence your order execution, such as a highly volatile exchange rate, insufficient market liquidity, too many traders with similar transactions, or orders set too high/low.
In the event limit orders are set too low and cannot be filled, we recommend setting a minimum order of $300 for orders placed on Ethereum and a minimum of $10 for orders placed on Polygon, BNB, Fantom, Arbitrum & Avalanche. Remember to account for on-chain gas fees when filling your orders.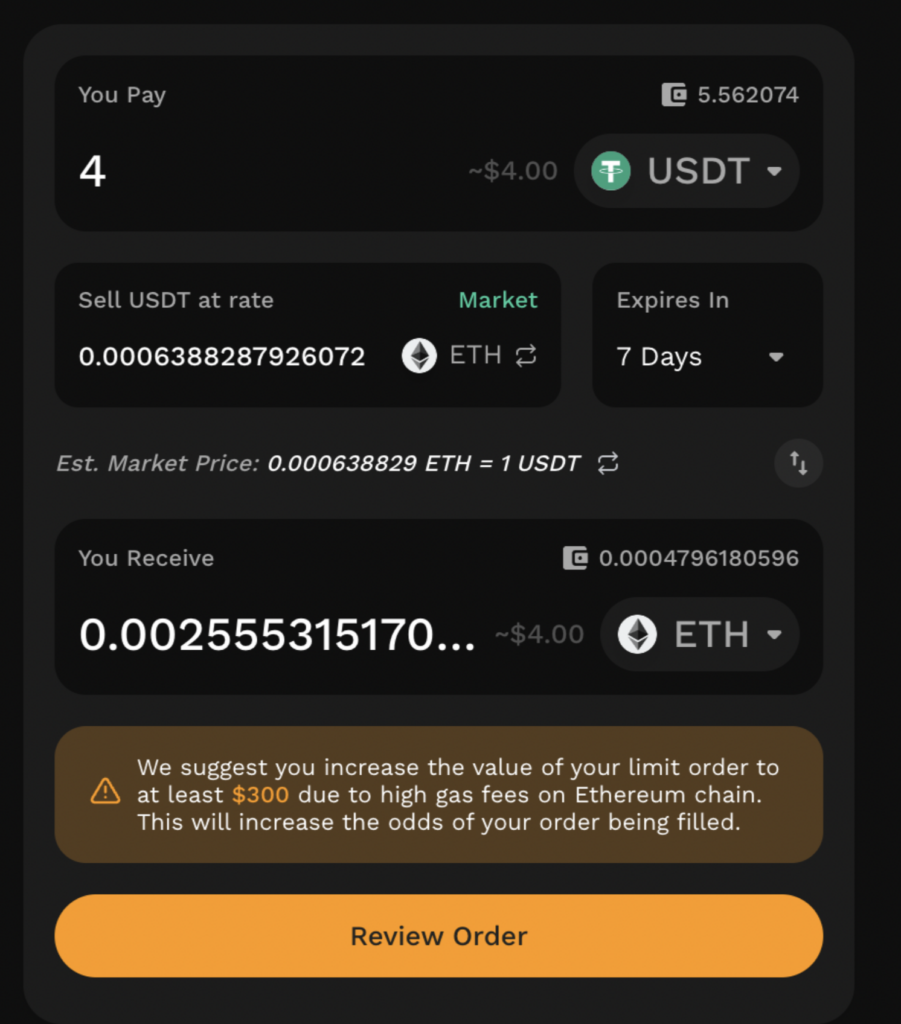 Important: Do take note that as a newly launched feature, this Limit Order function is currently on BETA mode. Our team will continue to closely monitor the results and optimise the feature regularly. Users will continue to maintain full self-custody over their assets.



Can I cancel my Limit Order after it is partially filled?
Yes, you can. Simply click the [Cancel] button on the order list and you can cancel your order at any time.
[Cancel All] will allow you to cancel all active orders with 1 click.

*Do take note cancelling orders will still incur gas fees.


Kyber Tip:
Trying using our new Limit Order service with Discover!
Keep an eye out for Trending Soon tokens and set an order to be executed when the token price increases by a predetermined benchmark and capture the upward trend, or set a Limit Order to sell a token after a calculated percentage increase and take immediate profits!
No more missing out on investment opportunities with kyberswap.com.
Happy Trading!
Even before the recent shockwaves to the crypto industry, KyberSwap has been positioned as a haven for 100% privacy, self-custody and security.
In realising our vision is to build a world where DeFi can be safe, easy, fast, cheap and accessible to all, our team is committed in continuously building and improving KyberSwap as one of the top DEXs in the space, equipped to provide traders with a full suite of trading services in a decentralised manner.
This feature development brings us one step closer to reaching that goal but we're a long way from resting on our laurels!

Let us know what other features you'd like to see on KyberSwap via our Feature Request page! Our team will review and evaluate and who knows! You just might see it on KyberSwap in the near future.
Trade & earn at the best rates on KyberSwap.